On May 30, Professor Mark Driscoll received the Hommage Émergence award, in recognition of the professional achievements of a member of the Ordre des ingénieurs du Québec (OIQ) who is under the age of 35, at the Grévin Museum in Montreal. Professor Driscoll won the award for his work in the area of spinal column engineering. Driscoll is an Assistant Professor in Mechanical Engineering.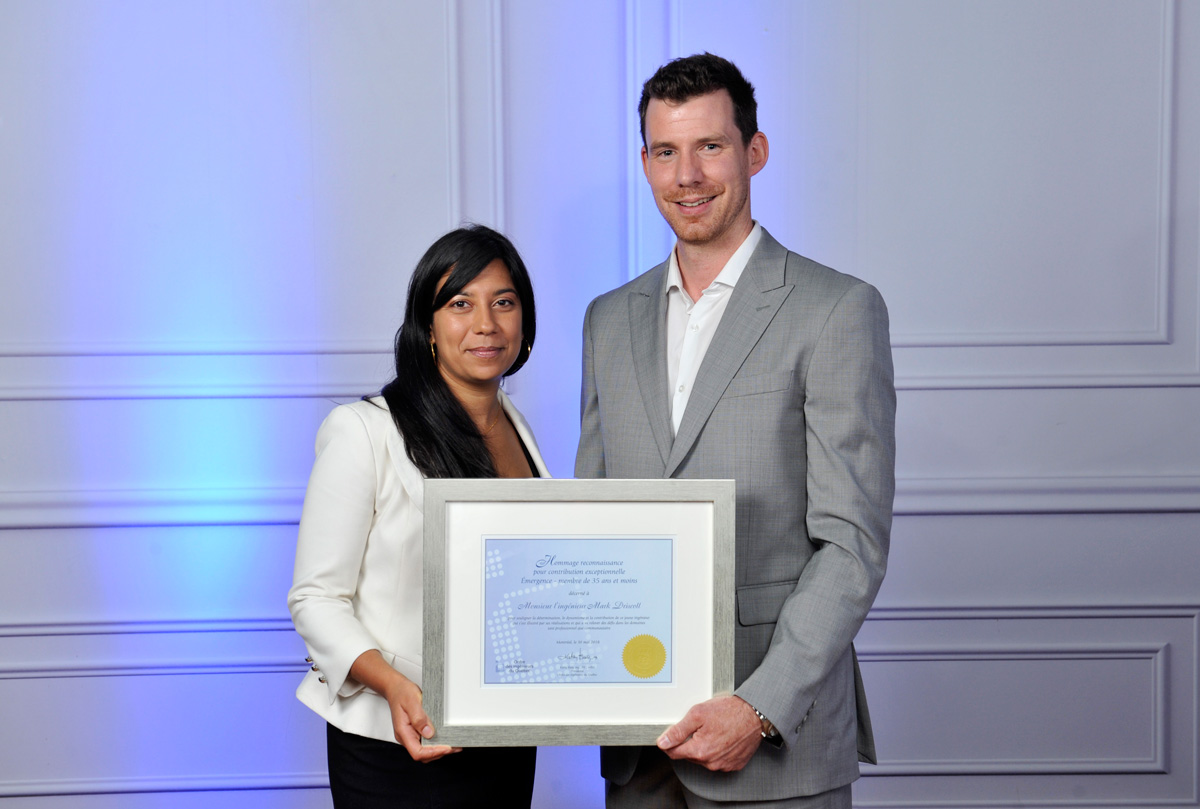 "Winning the OIQ award is both flattering and encouraging, and I share this award with the many people I have worked with," says Driscoll. "I am thankful to be surrounded at McGill by many engineers and clinicians with whom I collaborate, notably Rosaire Mongrain of the Department of Mechanical Engineering. Carl-Eric Aubin, of École Polytechnique, was my PhD director from 2008–2011, and is making impressive advances in the field while advising me."
He also attributes his career successes to his wife Jennifer Forbes, who keeps things on track with their three young children; and to his family, all of whom he describes as being Type A personalities.
Driscoll grew up in Laval, north of Montreal, and graduated from McGill in 2006 in Mechanical Engineering. Involved in a few start-up companies, from which he began working in his basement, he spent six years filing patent applications and developing novel medical devices which are now sold in several countries around the world.
Driscoll discovered that he really preferred research and teaching, and returned to academia in August 2016, when he joined McGill in the very department from which he received his undergraduate degree. He is now doing research and working on developments in spine biomechanics while teaching students, something he says he truly loves to do.
"The spine is the most inherently unstable functional segment in your body, so biomechanically, this is a very attractive problem, because I am a geek," he says.  "Back pain is an epidemic plaguing many countries.  Because of its complexity, there is much to be learned and developed, and findings can translate directly to helping people. I plan to bring what I learned in industry to academia to create new devices in diagnostics, treatment and surgical training."
Learn more about Mark Driscoll by watching the video below