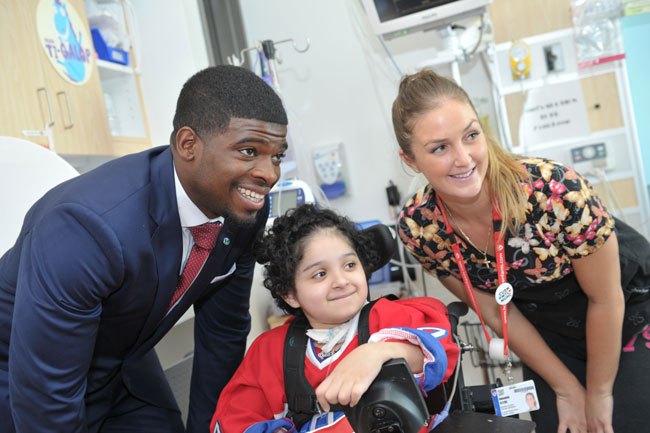 Habs defenseman donates $10 million to Children's
By Neale McDevitt
Everything about the Montreal Canadiens' P.K. Subban is big – his booming slap shot, his immense talent, his electric smile, his made-for-prime-time personality. It should come as no surprise then that earlier today the Habs' All-Star defenseman made the biggest philanthropic commitment by a sports figure in Canadian history when he donated a minimum of $10 million to the Montreal Children's Hospital Foundation.
"Last summer the Canadiens and the City of Montreal made a long-term commitment to me," Subban told the crowd that had gathered in the Hospital atrium that now bears his name. "Today, it is my turn to make a long-term commitment to Montreal."
Huge gift aside, that commitment also includes Subban serving as the Children's spokesperson for the next seven years.
"This is about how I live my life. This is about what is important in life," said Subban, who addressed the crowd in both French and English. "One day I won't be a hockey player any more – I'll just be someone who once played hockey. So what do I want people to remember me for other than being a hockey player?
"Every time you walk into this hospital, you'll know what I stand for," said Subban to cheers and applause.
In recognition of Subban's extraordinary gift, the Children's officially inaugurated the "P.K. Subban Atrium," the 486-square-meter, three-story public space located at the heart of the hospital's new facilities.
"P.K. is a person of character, who strives for success, always working at new ways to stay on top of his game and he understands the value of teamwork," Martine Alfonso, associate executive director of the Hospital. "He is an outstanding role model for our patients."
The new partnership will also see the creation of P.K.'s Helping Hand, a fund dedicated to assisting vulnerable families financially devastated by a child's illness.
"A lot of people don't realize that having a sick child often means one parent has to stop working, and it becomes tough to make ends meet," said Subban. "P.K.'s Helping Hand is dedicated to making sure that these parents don't have to worry about paying for necessities like food and medicine and can instead focus on what's most important: helping their child get well.
Also on hand at the press conference were members of Subban's family and Élise Béliveau, widow of Habs legend Jean Béliveau, who passed away this past December."I am proud to walk in the footsteps of my idol Jean Beliveau by giving back to the community and feel privileged to be able to help transform the lives of sick children and their families," said Subban, turning to Madame Béliveau. "I hope to honour your husband's memory [with this gesture]."
Subban's gift exceeds the $7 million dollars he will earn with the Habs this year. He is entering the second season of an eight-year, $72 million-contract with the team.