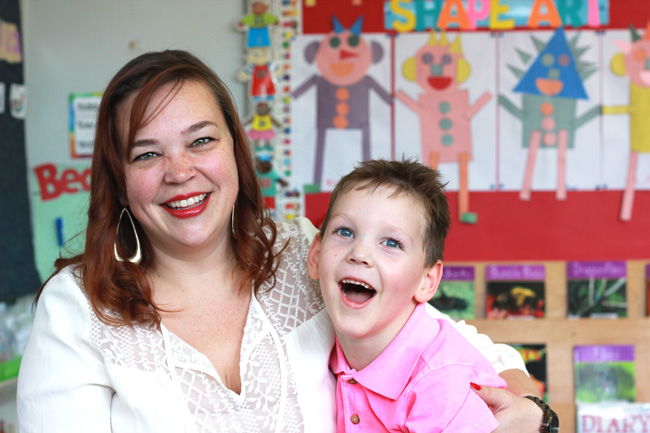 Cerebral palsy is caused by an abnormality or problem that occurs during early brain development, before, during or after birth, until the age of two years
By Julie Robert, MUHC Public Affairs
Bennett was just a few months old when Emily Diamond and her husband started to notice abnormal signs in their son's behaviour.
"I had some doubts deep down, but I tried to find excuses to explain his developmental delays," confides Emily. "Bennett had a hard time sitting upright, he didn't put anything in his mouth and he stiffened up as soon as he touched the ground with his feet."
As little Bennett grew, the suspicious behaviour became more frequent. The couple decided to consult a doctor and the diagnosis was made: Bennett had cerebral palsy, a neurodevelopmental disorder affecting motor skills and muscular strength from a very young age in children.
Bennett is one of 4,000 children suffering from cerebral palsy in Quebec. It is the leading cause of physical disability in childhood that manifests itself by motor developmental problems from an early age, often accompanied by epilepsy, learning and language disabilities, as well as hearing and visual impairments.
Cerebral palsy is caused by an abnormality or problem that occurs during early brain development, before birth, during or after birth, until the age of two years. The causes are varied – birth asphyxia, stroke, infections in the developing brain of infants or head trauma – but they are not always known.
The role of genetics
A team of researchers from the Research Institute of the McGill University Health Centre (RI-MUHC) and the Hospital for Sick Children (SickKids) in Toronto have just added a piece to the puzzle by putting forward the theory of genetic cause.
"We found a greater percentage of de novo (new) genetic abnormalities in our children with cerebral palsy compared to what previous researchers have found in other brain disorders such as autism, epilepsy or severe intellectual impairment," states one of the team researchers, Dr. Maryam Oskoui, paediatric neurologist at the Montreal Children's Hospital (MCH) of the MUHC and co-director of the Canadian Cerebral Palsy Registry. "This is a much greater contribution of genetics to CP than we previously thought. Better understanding of the interaction between these genetic factors and other identified risk factors is important.''
The researchers performed genetic testing on 115 children with cerebral palsy and their parents who were part of the Canadian Cerebral Palsy Registry, many of whom had other identified risk factors. By only looking for major genetic disorders, they discovered that ten per cent of these children had abnormalities.
"When I showed the results to our geneticists, they were astounded," explains Dr. Stephen Scherer, director of the Centre for Applied Genomics at SickKids. "In light of the findings, we suggest that genomic analysis be integrated into the diagnostic assessment of cerebral palsy."
The study also demonstrates that there are many different genes involved in cerebral palsy.
"Finding an underlying cause for a child's disability is an important undertaking in management," explains Dr. Michael Shevell, co-director of Canadian Cerebral Palsy Registry and chair of the Department of Pediatrics at the MCH-MUHC. "Parents want to know why their child has particular challenges. Finding a precise reason opens up multiple vistas related to understanding the disease, developing new treatments, prevention and rehabilitation. This study will provide the impetus to make genetic testing a standard part of the comprehensive assessment of the child with cerebral palsy."
Knowledge leads to better preparation
In Bennett's case, the cause of his condition is probably due to an aneurysm that Emily had in her 18th week of pregnancy. Her husband found her unconscious at their home and she spent several weeks in the hospital.
"Clearly, my traumatic event certainly caused Bennett's disease, but this new research, which will open doors to the field of genetics, will bring answers to other parents who don't know the cause of their child's disease," she says.
"It is important for the families to know so that they can be better prepared," adds Dr. Oskoui, who has been following Bennett since he was two years old. "Genetic testing is not routinely done or recommended, and genetic causes are searched for only in rare occasions when other causes of the disease cannot be found."
Two infants out of 1,000 are affected by cerebral palsy, but their profiles vary greatly. Some children have very few symptoms, while others are unable to walk on their own or communicate.
Dr. Oskoui points out that the studies could have major implications in the prevention and treatment of children with cerebral palsy, as well as on the therapeutic advice they are given.
While waiting for research to provide more answers, Bennett is on the verge of finishing his first year of pre-kindergarten at the MAB-Mackay Rehabilitation Centre, whose mission is, among other things, to help children and adolescents with motor deficits or communication disorders maximize their autonomy and participate in the life of their community, with the aim of improving their quality of life.
"Attempting to give Bennett as normal a life as possible, like every other little boy, is very important to my husband and me," confides Emily. "Obviously, we can't help but hope that one day a treatment will be found to cure Bennett, but for now, we are trying to move forward one step at a time."