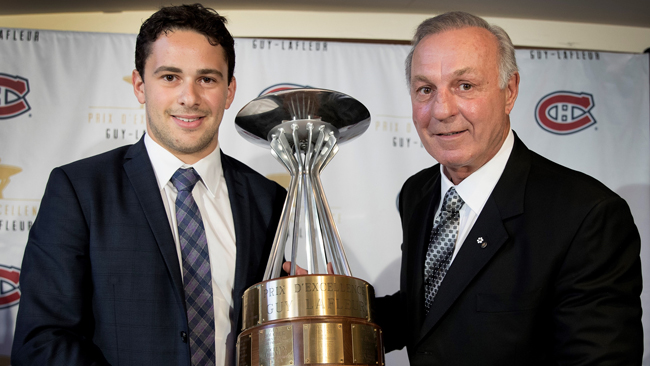 The Montreal Canadiens announced Monday that Nathan Chiarlitti, a defenceman with the McGill men's hockey team, has won the Guy Lafleur Award of Excellence for the Quebec university category as the player who best combines hockey success with academic achievement and citizenship. The 25-year-old native from Maple, Ont., becomes the 18th McGill player in 33 years to win the award – which is accompanied by a bursary valued at $6,000 over three years – since it was inaugurated in 1985. Among the former Redmen who previously won the honour is Ottawa Senators head coach Guy Boucher and ex-Montreal Canadiens left-winger Mathieu Darche.
The Habs also announced that Antoine Samuel, a goaltender with the QMJHL's Baie Comeau Drakkar, and defenceman Philippe Forcier of College Lafleche inthe Quebec Jr. AAA Hockey League, won the Guy Lafleur Award of Merit, which is accompanied by a $1,000 bursary.
Chiarlitti, who transferred to McGill from St. Francis Xavier University, previously played in the Ontario Hockey League with both Sarnia and Owen Sound and had an NHL tryout with Arizona in 2013. Recently appointed team captain of the McGill Redmen for 2017-18, Chiarlitti earned OUA East second team all-star status this season and previously was a two-time all-star with StFX. The 5-foot-11, 190-pound rearguard scored seven goals and 18 points in 30 games overall with the Redmen. In regular-season play, he tallied 13 points, including five goals in just 18 contests. He missed 10 league games while leading Canada to a bronze medal at the FISU Winter Games in Kazakhstan.
"Nathan is an elite player, who is also a high-end student and a terrific person," says Kelly Nobes, about to enter his eighth year as head coach at McGill. "He played an integral part in our success this season and led us back to the national championship tournament in Fredericton. He uses his speed and high-compete level to contribute in all aspects of the game and we are fortunate to have him on our team. Off the ice, he is relentless when it comes to volunteering for many various projects, whether they are related to McGill or the community at large."
In the classroom, Chiarlitti achieved a grade-point average of 3.91 (out of 4.0) in his first year of a master's degree in science, specializing in kinesiology and physical education. He earned Academic All-Canadian honours and qualified for the Principal's Student-athlete Honour Roll.
His community service was recognized nationally in 2016 when he received the Dr. Randy Gregg Award, a prestigious honour presented by U SPORTS to the player who best combines outstanding hockey ability with academic achievement and community involvement.
Chiarlitti has served as a volunteer for a multitude of causes, including the Canadian government program "ParticipACTION" (which encourages physical activity) and "Best Buddies" (which helps the intellectually disabled gain valuable life experiences). Some other organizations he has aided include the "Coady International Institute", which equips citizen leaders to address contemporary global challenges and opportunities. He has also volunteered with both "Fit 4 Life" and "Fit 4 Tots" (which promotes healthy lifestyles for youth), the "Antigonish Minor Hockey Association" and the Maritime Program of Hockey Excellence". He has also volunteered with "Caisis" (an online cancer data management system that integrates research with patient care), the "Canadian Assessment of Physical Literacy" and the "Thyroid Oncology Research Program" at the Queen Elizabeth Health Sciences Centre in Halifax.