By Meaghan Thurston
More than $1.2 million in funding from the Canada Foundation for Innovation (CFI) was announced today for infrastructure to support 12 innovative research projects at McGill. Among the projects that will benefit: Professor Nicole Li's work at the Faculty of Medicine's School of Communications Sciences and Disorders developing a computational model for patient-specific treatments for vocal-fold afflictions, which can end the careers of teachers, actors, singers, lawyers, coaches, broadcasters and others whose profession relies on their voice.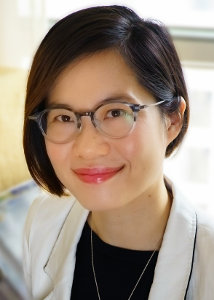 The new investments in research infrastructure will be made through the CFI's John R. Evans Leaders Fund, which is designed to help universities attract and retain the very best researchers by ensuring they have access to state-of-the-art equipment and facilities. Combined with matching funds from the Quebec government and contributions from equipment suppliers, the CFI announcement is expected to lead to about $3 million in new infrastructure investment at McGill.
"McGill University thanks the Canada Foundation for Innovation for its continued support for research and innovation through investments in research infrastructure," said Rosie Goldstein, Vice-Principal (Research and International Relations.) "The McGill research projects awarded the John R. Evans Leaders Fund, bolstered by advanced infrastructure, will have innumerable real-world impacts in areas as diverse as personalized medicine, volcanology and the development of energy-efficient technologies."
Professor Li, one of the researchers to receive funding in this competition, is at the cutting edge of developing non-invasive diagnostic tools through computer modelling to evaluate the pliable and soft vocal cords. Damage to the vocal cords is a common problem plaguing singers, teachers and other voice professionals: benign polyps, cysts, granulomas and nodules, which are growths akin to calluses that develop on the vocal cords and can bleed under the demands of performance, ultimately leave the vocal cords less pliable and soft; as a result, the voice becomes hoarse and cracks.
With the CFI funding, Prof. Li is looking forward to investing in important equipment and advancing the basic science behind the computer modelling: "[Our team] is the only one in the world developing such computational models for vocal fold healing," she says. "Regarding studying the genetic variation and activity related to vocal damage and repair in patients, no one else has done the systematic work that we're going to do. Our lab, together with other engineers at McGill, are trying to build a very strong and competitive voice program in the country which will include a clinical side. We want to make computer software for clinicians so that they can see which treatment will be optimal for their patients."
The complete list of McGill-led CFI-funded projects, totalling $1,222,910, includes: