On Jan. 29, 2017, a gunman entered the Centre culturel islamique de Québec (CCIQ) during evening prayers and opened fire, killing six men, Mamadou Tanou Barry, Ibrahima Barry, Khaled Belkacemi, Abdelkrim Hassane, Azzeddine Soufiane and Aboubaker Thabti.
This past Tuesday, exactly two years after that horrible day, dozens of people gathered in in the mezzanine of the Macdonald Engineering Building to pay tribute to the victims and to call for a society that embraces diversity.
The ceremony was just one of many memorial events held from coast to coast, from Vancouver, British Columbia, to Saint John's, Newfoundland. In Montreal, several events were held on Tuesday to remember the victims, starting with the vigil at McGill organized by the Associate Provost (Equity & Academic Policies), the Institute of Islamic Studies, and the Muslim Students Association. This event was held in partnership with Muslim Awareness Week.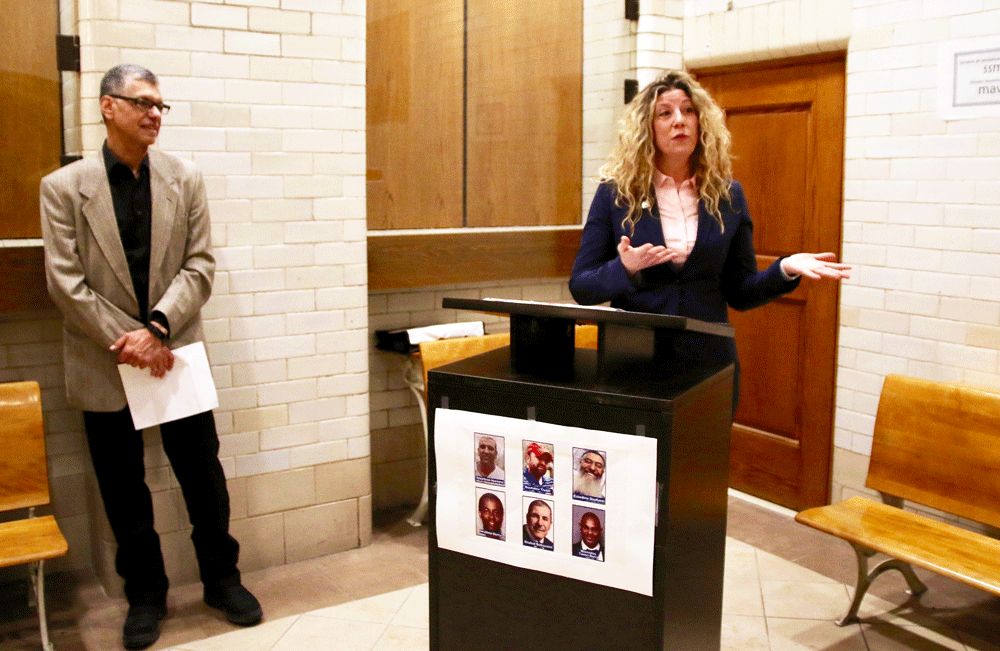 "Beyond just respecting and remembering the memories of those who died, we must try to get to the root cause of why such hate exists," said Ehab Lotayef, IT & Technical Services Manager and one of the organizers of Muslim Awareness Week in his opening remarks. "We believe that the root cause is not knowing each other. You fear who you don't know."
"We remember these men and their families, and keep them close to us in our acts and deeds, as we work to remain hopeful and persevere to show leadership and courage as we work to build and sustain communities committed to peace, acceptance, understanding and compassion," said Angela Campbell, Associate Provost (Equity & Academic Policies). "At McGill, we've been working hard to ensure that our campus community reflects these commitments. Through awareness-raising and community-building initiatives, we've focussed on promoting a climate and culture that not only tolerates, but accepts and celebrates diversity in all of its forms."
Jennifer Macarone, the MNA for Westmount–Saint-Louis, spoke of coming together as a community to combat hatred.
"Today, for me, is a day of hope," she said. "Today also represents an intersection of the things that inspire me. Remembering the past by honouring the victims and the community impacted by the tragic events that occurred two years ago; and working together to commit to real change through awareness, conversation and understanding.
"It's not lost on me that this vigil is being held at McGill, and not only because it is my alma mater, but it's also a premier educational institution," continued Macarone. "Education is really the basis of change. It is the basis of empowerment. Education is what makes us moral leaders, it breeds everything that is good. And it is the embodiment of hope."
Tree bears beautiful fruit
Riyad Merabi, president of the Muslim Students Association and a Mechanical Engineering student, spoke eloquently of the need to find beauty in the midst of darkness and horror.
"Our teachers tell us we must be like a tree: tall, strong and well-rooted," said Merabi. "When struck with a stone, it does not sway, nor do its branches break. Rather, it drops beautiful fruit for all to benefit.
"As such, we have a choice on how we respond and how we remember… We can choose to curse the darkness of ignorance, hatred, anger and all the other emotions that grip the fringes of our society. Or, we can choose to light a candle to it, illuminating the way for greater understanding, co-existence and, ultimately, love in our community.
"We at MSA McGill are proud Muslims, proud McGill students, proud members of society," continued Merabi. "We have chosen to do the latter by promoting knowledge, beauty, love, compassion – following in the example of the Prophet Muhammad… As he says, 'You will not have faith until you love each other.'"
Emotional plea
Lina Bensaidane, a McGill Law student, was last speaker at the vigil. Bensaidane spoke of her own personal connection to the CCIQ mosque. "I grew up in Quebec City and my family have strong ties to the mosque. I was there this past Friday," she said, noting her father prayed there regularly and, just hours before the shooting, her mother was at a charity event at the mosque.
"My heart stopped when I heard what had happened. Everyone here can understand – the idea of losing a loved one like this… When I tried to Facetime my father, thank God he answered," she said, pausing to wipe away her tears.
"We cannot forget the pain," said Bensaidane, who, this past fall, was named the inaugural winner of the Centre culturel islamique de Québec Memorial Award  for her work to advance the inclusion of Muslims in Quebec and Canadian society. "Today's political climate is such that we cannot allow ourselves to forget… This pain is a vector for change… And even if you do not feel the pain like I do, I know that you can empathize with me. And I know you can take a stand and speak out against [Islamophobia]… I think we all have a responsibility to speak out and to try to educate people around us."