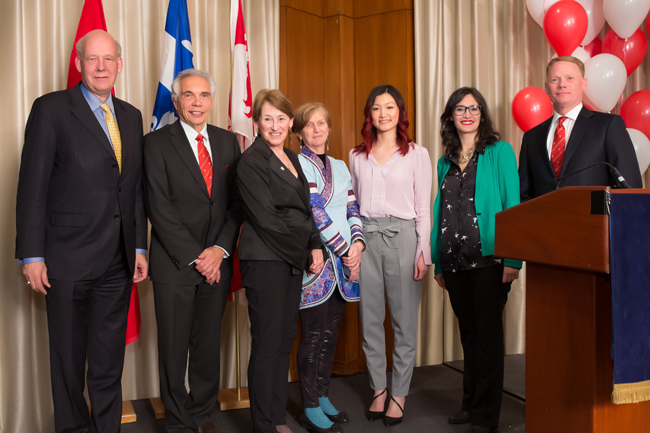 The Principal's Prizes for Engagement Through Media were awarded on March 15 at the Bravo Awards Gala, McGill's annual celebration of its prize-winning researchers. This year, the Prizes for Engagement Through Media expanded from two awards, to five, emphasizing the importance of outreach and public engagement through media by the University's researchers.
In creating the Prizes for Public Engagement last year, Principal and Vice-Chancellor Suzanne Fortier wanted to recognize efforts made by professors, post-doctoral fellows, research associates and graduate students who go beyond their studies and research to engage with the media or the public. By sharing the results of their research as well as their expertise with a broader audience, the recipients extend the reach and influence of their scholarship. In going out into the wider world they support McGill's commitment to engage with the community.
Winners must have media presence in news articles, blogs, YouTube videos, online discussions, opinion pieces, interviews in print, radio, or television, podcasts, or other forms of public engagement, such as science outreach groups, etc. Presence and engagement on social media are also valued.
The following are the winners and runners up of the 2017 Principal's Prize for Public Engagement:
Professor category
Winner: Catherine Potvin, Department of Biology, Faculty of Science
Professor Potvin holds the Canada Research Chair on Climate Change Mitigation and Tropical Forests. Prof. Potvin is a plant biologist specialized in tropical forest ecology and conservation. A long-standing advocate of action-research, Prof. Potvin engages people and organizations outside of academia to better effect change in the realm of climate change.
Prof. Potvin created and runs Sustainable Canada Dialogues (SCD), a multidisciplinary network comprised of more than 80 scholars from 38 universities and research institutions from all provinces looking for ways to advance climate change mitigation in Canada. She also leads Acting on Climate Change: Indigenous Innovations, a project to give visibility to inspiring Indigenous initiatives in climate action.
In these capacities, Prof. Potvin has tirelessly promoted her groups' work through a wide variety of media and public engagement efforts. She is widely published in scholarly publications, and also regularly appears on radio, television and podcasts, in English, French and Spanish. She is a much sought-after climate change expert in print and broadcast media. Prof. Potvin engages with everyone from labour unions and environmental NGOs to religious organizations and business coalitions via such vehicles as conference presentations and webinars. She does broadcast media interviews, writes op eds and opinion pieces, as well as being active on Facebook and Twitter. She has helped train people to produce videos as a way to bring together diverse ethnic groups and empower local youth.
As partner with the Montreal-based filmmaking NGO Wapikoni Mobile, she has helped highlight issues of Indigenous territory and land use conflict through prize-winning Indigenous made documentaries screened at festivals across the world.
Finalists:
Ahmed El-Geneidy, School of Urban Planning, Faculty of Engineering
Richard Gold, Faculty of Law
Robert Whitley, Department of Psychiatry, Faculty of Medicine
Graduate student category
Joint winners: Tina Gruosso and Vanessa Sung
Dr. Tina Gruosso is with the Gerald Bronfman Department of Oncology, where she is studying breast cancer and immunotherapy.
Dr. Gruosso is an accomplished scientist with strong leadership skills as well as an outstanding communicator and science advocate in both English and French. Dr. Gruosso was one of five co-authors of a successful open letter and online campaign addressed to the Prime Minister in support of the report of the Fundamental Science Review (FSR), chaired by McGill professor David Naylor, endorsed by student unions and associations representing more than 300,000 students.
Dr. Gruosso was a finalist at the 2017 edition of the scientific image competition "La preuve par l'image," and her image is currently displayed at the Montreal Biosphère where she has engaged with the public in discussion. As a volunteer with the McGill Goodman Cancer Research Center Public Forums, she has helped to educate the public about advances in cancer research. She has presented her cancer research to the Think Pink Club, a breast cancer awareness club at McGill, and led a tour of McGill's cancer genomics facility to several groups of donors from the public. She has published articles in scientific publications, written op-eds, appears in YouTube videos and speaks at many public events and forums.
Vanessa Sung is a PhD student in the Department of Biochemistry with Dr. Morag Park, Director, Goodman Cancer Research Centre Diane and Sal Guerrera Professor, Departments Oncology, Biochemistry and Medicine.
Along with Joint Winner of the Principal's Prize for Public Engagement Tina Gruosso Sung (see above), Vanessa Sung was one of five co-authors of the online campaign and open letter addressed to the Prime Minister in support of fundamental research endorsed by student unions and associations representing more than 300,000 students.
Sung is co-president of the Science and Policy Exchange, a novel student-led non-profit initiative that aims to engage and inform the general public and bridge the gap between academia, industry and government, addressing important issues such as the intersection of Science, technology, engineering and mathematics (STEM) education with Canada's economic prospects, gender disparities in STEM, climate related science, and personal ownership of genomic data.
Sung has appeared in YouTube videos, authored opinion pieces and done interviews, while simultaneously using social media to maximize the outreach of the message in favour of fundamental research. She has also been a dedicated volunteer with Communitas Montreal working with marginalized and previously incarcerated people.
Finalists:
Fernanda Pérez Gay, Integrated Program in Neuroscience, Faculty of Medicine
Jean-François Bélanger, Department of Political Science, Faculty of Arts
Sofia Misenheimer, Department of Art History and Communication Studies, Faculty of Arts
Outstanding Achievement Award
Joint winners: Joe Schwarcz and Karl Moore
Professor Joe Schwarcz, of the Department of Chemistry, probably has one of the most high-profile and effective media presence of any scientist in Canada. A PhD in Chemistry, he has a vast knowledge of science and its relationship to public information. He is well known for his informative and entertaining public lectures on topics ranging from health, nutrition and diet, to the chemistry of love, the science of aging and myths about chemicals. He is also very well known for his de-bunking of "junk" and fraudulent science, and as such serves a huge public good by deconstructing suspect or even ridiculous claims made by both scientists and non-scientists.
His weekly radio show, The Dr. Joe Show, on Montreal's CJAD and its Toronto affiliate, has an audience of about 100,000 people that tune in to his discussions about many aspects of science. He writes The Right Chemistry a weekly column in The Montreal Gazette, and does numerous television appearances and radio interviews, where he is called upon as an expert on many things relating to the public and science. In addition to conventional media, Prof. Schwarcz is Director of McGill's Office for Science and Society (OSS). Prof. Schwarz has 15 book titles to his credit.
Prof. Schwarcz also has an extensive web and social media presence with over 20,000 Facebook fans.  The OSS website, under his guidance, has been completely redesigned showcasing the tremendous amount of content and media activity coming out of the office on a weekly basis.
Karl Moore is an Associate Professor with a joint appointment in the Department of Strategy and Organization at the Desautels Faculty of Management and the Department of Neurology and Neurosurgery at the Faculty of Medicine. He has demonstrated a masterful engagement with the media of all forms, including print, radio, video and the full gamut of social media platforms. In 2017, he did over 100 interviews for radio, TV, print and magazines on various topics, most notably the aviation sector, as well as leadership in business, millennials and various other topics. He has been quoted in the New York Times, the Globe and Mail, the Washington Post, La Presse, Radio-Canada, the Australian Broadcasting Corporation and many more.
Prof. Moore hosts a popular weekly radio show The CEO Series on CJAD 800 featuring high profile guests such as Prime Minister Justin Trudeau, former PM Paul Martin, Patrick Pichette of Google, and Alain Bellemare of Bombardier.
He has used these platforms to draw attention to the work being done in the Desautels Faculty of Management. He has 14,000 followers on LinkedIn, over 6,800 followers on Twitter, 1,000 on Instagram and 415,000 hits on his YouTube Channel.
Special Recognition Award
Chemistry Outreach Group, Department of Chemistry, Faculty of Science
The Chemistry Outreach Group works to foster a deeper understanding of chemistry through fun and interactive experiments for students of all ages.
@McGill_Rare Instagram Collective, McGill University Library
With 5,902 international followers, from postings about Islamic calligraphy to tiny children's books, the Library Instagram account generates user questions and answers about the library's rare holdings and digital collections, a dialogue that benefits both librarian and audience.
@McGill_Architecture Instagram Group, Peter Guo-hua Fu School of School of Architecture
The McGill Architecture Instagram account features innovative research, critical practice and community engagement.