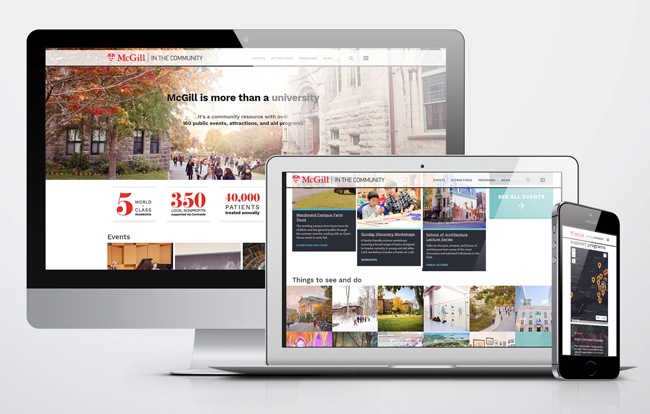 On first click of the new McGill in the Community website, users are told that the University's commitment to the world outside the Roddick Gates includes over $5 million raised for Centraide since 2002, supporting over 350 local non-profit organizations. The University has supplied almost $1 million of free dental treatment for some of Montreal's poorest people, and more than 1,000 legal cases have been reviewed by law students pro bono. It begs the question; "When do people find the time to go to class, work or conduct research?"
"McGill does not exist in a vacuum," says Louis Arseneault, Vice-Principal (Communications and External Relations). "We help shape the world around us in ways that range from sublime to almost unseen and, in return, we are shaped by the people who come here from around the globe – as students, as staff and as faculty. We hope that this website highlights the important relationships we've established with our community – locally and globally – as well as providing information on how we can create new links and how people can take advantage of our many offerings."
The McGill in the Community website is a resource that highlights the University's commitment to Montreal, Quebec, Canada and the world. Users can browse news articles about the good being done by McGill students, staff and faculty – be it bringing dentistry clinics to impoverished people in Nicaragua, braving a record-setting blizzard to raise money for Montreal's homeless, or organizing a barrier-breaking meeting with Montrealers and members of the Muslim community.
The website also provides more immediate information on how people can benefit from the plethora of programs run by McGill and McGillians, ranging from affordable swimming lessons for special needs children; to supporting the marketing, development and sale of innovative products of local companies and inventors.
As well, people can learn how they can pitch in and volunteer in any number of ways, while community organizations can find out how they can benefit from various McGill resources.
But McGill is also an important destination for Montrealers. Each year, the University stages more than 160 events that are open to the public – from operas to human rights lectures – that bring in game-changers from the worlds of art, academia and politics. Thousands of people visit the diverse collections at our various museums – including dinosaurs and Egyptian mummies at the Redpath Museum; and almost three million species of insects and arthropods at the Lyman Entomological Museum.
People train in our gyms, watch and discuss films at our venues and get back to nature on McGill's more than 1,000 hectares of forest, woodland marshes, swamps and wetland.
"The connection between McGill and Montreal is inextricable," says Arseneault. "If McGill was located somewhere else, neither the City nor the University would be the same."
Visit the McGill in the Community website