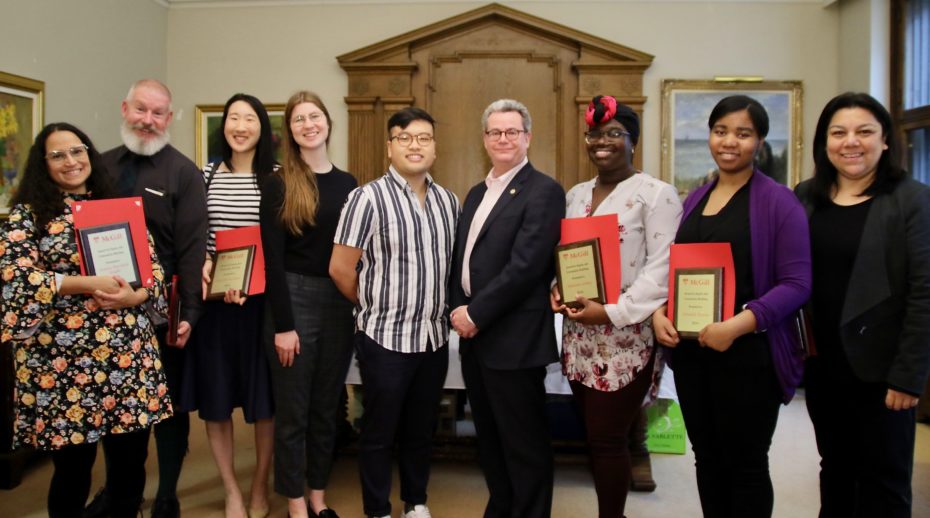 It was everything you'd expect of an awards ceremony celebrating the bridge-builders of McGill.
Students, staff and faculty squeezed into the West Lounge of the Royal Victoria College Resident for the annual McGill Equity and Community Building Awards. The awards recognize the people who foster links with the local community and who nurture an environment of equity at the University. Laughter and friendly chatter filled the air as children skipped through the forest of adult legs.
"Yes, I'm excited too!" said Angela Campbell, Associate Provost (Equity and Academic Policies) and MC for the event, when a child squealed with glee during her opening remarks.
"This is the 7th year that we recognize and celebrate McGill students, faculty, staff and teams who focus their energy on pursuits that enrich McGill's commitment to being an equitable and inclusive campus," said Provost Christopher Manfredi in his opening remarks. "I am grateful to all members of the McGill community who engage in this work, and to those who recognize and value their efforts. This commitment to equity is manifest in different important ways, as is reflected by the wonderful contributions of those whom we are gathered to recognize.
"Your work promotes dialogues across difference, enhances McGill's spirit and culture of openness, and helps to ensure that all members of our University community see themselves as welcomed, valued and capable of success."
The Awards recognize people in four streams: students; academic staff; administrative and support staff; and teams. This year, there were two winners in both the student and team categories. Here are this year's recipients along with the citations by Angela Campbell.
Academic Category: Dr. Janine Metallic
Dr. Janine Metallic is Assistant Professor in the Department of Integrated Studies in Education (DISE) at McGill. Her research interests center around Indigenous educational studies and language revitalization. Though newly appointed as a tenure track professor, Janine has been an active member of the McGill community for several years as a graduate student and a respected teacher. She has worked as a Mi'gmaw language consultant in McGill's Department of Linguistics, and was a member of the Provost's Task Force on Indigenous Studies and Indigenous Education.
Janine's nominators highlight the immediate impact her hire has had on the culture in DISE. In just six months, she has built a remarkable community of Indigenous graduate students known as Research and Indigenous Scholarship in Education, or, RISE. Together, Janine and RISE organized a SSHRC-funded symposium on building Indigenous research capacity. The symposium was entirely Indigenous-run and led, bringing together Indigenous community members from around Quebec with Indigenous and other students and faculty from across the University. And this is only the beginning – Janine's work promises to significantly impact the culture of teaching and learning for Indigenous students at McGill by raising awareness about issues related to decolonization, equity and inclusion for Indigenous peoples.
Administrator & Support Staff Category: Dr. Juanita Marchand Knight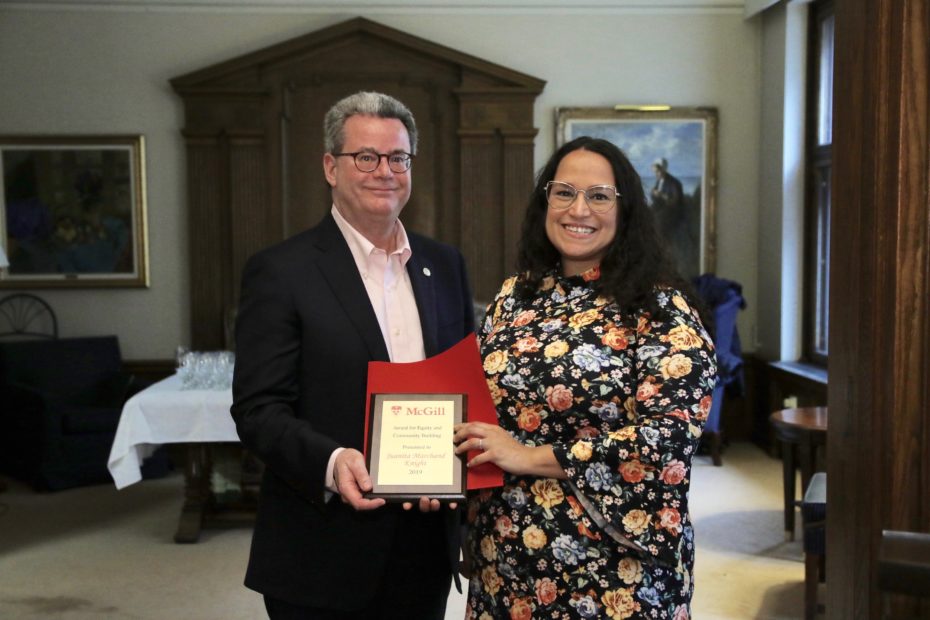 Dr. Juanita Marchand Knight is a Research Assistant and Project Coordinator in the area of Music Technology at the Schulich School of Music. They trained in Opera and Vocal Pedagogy at McGill and the University of Miami, and graduated from Vanier College's program in Audio Recording Technology.
Juanita was nominated for this award to recognize their significant role in growing a culture of inclusion and diversity at the Schulich School of Music. The nomination package submitted for these awards shows again and again that Juanita is a tireless voice of compassion, and a passionate advocate. Their contributions toward equity and community-building are remarkable in their scope, reaching people who are diverse in terms of race, ability, sexuality and gender identity. Their efforts are not confined to the School of Music, but reach across the McGill community, and beyond.
Whether assisting with accommodations at commencement ceremonies, or using voice lessons with trans and nonbinary people to support empowerment and self-determination, Juanita's activities model a profound commitment to equity and community-building. We are proud to recognize their efforts and celebrate their enthusiasm here today.
Student Category: Andreann Asibey
Andreann Asibey is in her final year of Undergraduate studies in Classics and African Studies.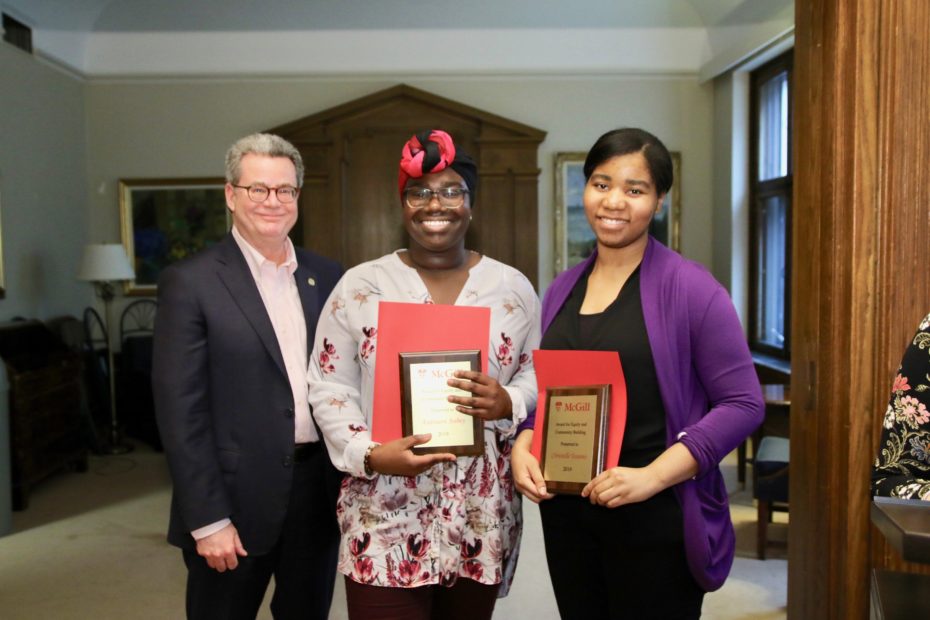 Since her first year at McGill, Drea has been a committed advocate for students of colour on campus. Her leadership within the Black Students' Network, The McGill African Student's Society and the African Studies Students' Association have played an important role in rallying and uniting McGill's underrepresented Black and African community. Drea capably represents SSMU to the Joint Board-Senate Committee on Equity; in this role, she has mediated equity complaints, provided individual advice, resources, and training, and chaired the SSMU Equity committee. This experience has enabled Drea to incorporate equity principles into many of SSMU's services.
Drea's emphasis on and commitment to community building leave her hopeful that McGill's attention to issues of equity and inclusion will continue to progress. We are proud to acknowledge her contributions to this progress today.
Student Category: Christelle Tessono
Christelle Tessono is a 3rd year Political Science student and the current President of the Black Students' Network of McGill.
Christelle's nomination package demonstrates a deep passion for community engagement. Her sustained efforts to support racialized students at McGill include active membership of the Joint Board Senate Committee on Equity Subcommittee for Racialized and Ethnic Persons, her service as a student representative for the McGill Black Alumni Association, where she connects current students with mentors in the alumni community, and in her role in the Office of the Dean of Students, where she is the Pedagogy & Development Coordinator for the Equity in Residences programming, Rez Life.
In her nomination statement for these awards, Christelle speaks about her desire to uplift peers, to empower students to use equity-minded tools, and to contribute to the creation of more equitable and inclusive spaces for the McGIll community. We are so pleased to recognize her efforts toward these goals today.
Team Category: The Community Health and Social Medicine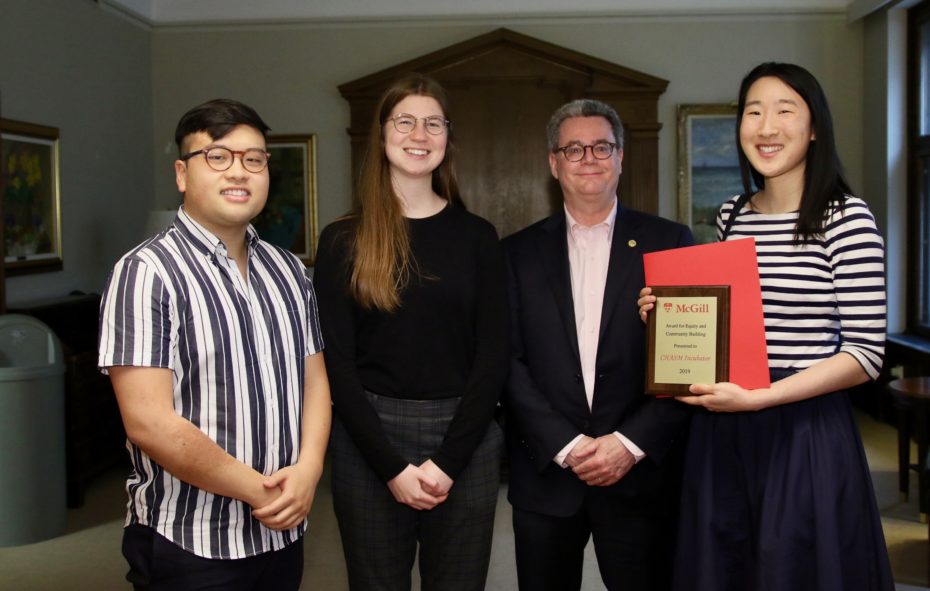 The Community Health and Social Medicine (CHASM) Incubator was founded by McGill medical students in June 2017 as part of the Medical Students' Society's Global Health portfolio. It is an interdisciplinary, student-run venture that aims to improve the health outcomes of local, marginalized communities. Currently in its second year, the group provides the framework and resources necessary to get new, great ideas that address health inequities existing in populations in Montreal up and running.
CHASM's program takes the most innovative aspects of start-up culture and blends them into a practical, project-based model. They nurture the ideas of community-based ventures and connect them to business and non-profit leaders. By providing each group with seed funding, educational workshops and resources designed with the help of McGill public health leaders, as well as tailored mentorship, CHASM strives to foster an ecosystem in which students and grassroots organizations are empowered to realize their mutual health system goals.
We are excited by the promise of the CHASM Incubator, and are happy to acknowledge their work with the presentation of this award.
Team Category: Patrick Hansen & Opera McGill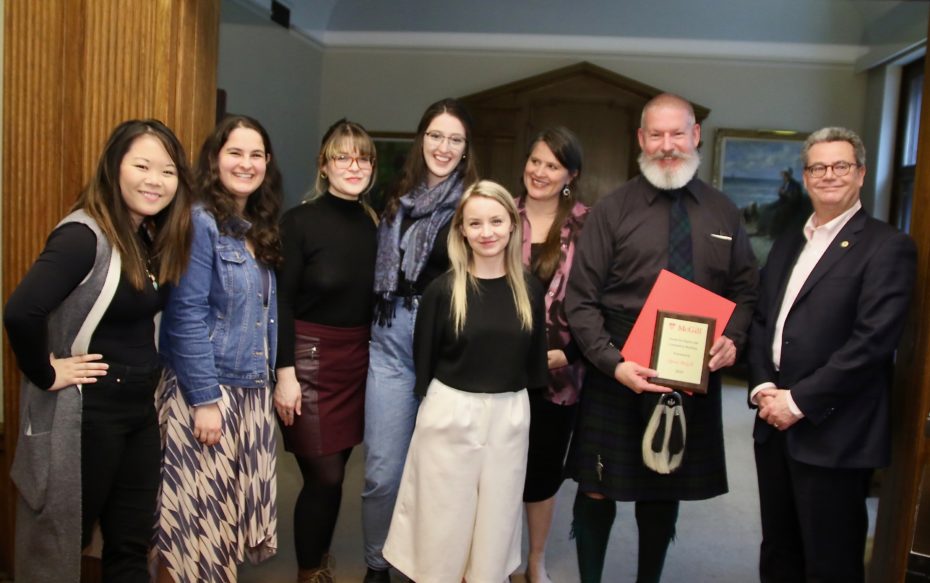 Opera McGill celebrated its 62nd season this year, which is remarkable, but today we celebrate their commitment to gender equity and community building. Led by Professor Patrick Hansen, Opera McGill has made deliberate efforts to draw awareness to the achievements of women creators in the field, whose work has largely gone unnoticed in the past.
As Brenda Ravenscroft, Dean of the Schulich School of Music, notes, Professor Hansen has recognized he is in a position to challenge the norms and traditions of opera in his role as Director of Opera McGill. While opera is traditionally strongly gendered, dominated by male composers, directors, producers, and conductors, Professor Hansen made the bold decision to tackle gender equity in the opera field.
This decision has led to a number of initiatives, including hosting an intensive workshop of 5 new operas by all-female creative teams in support of living women opera composers, and coordinating a national summit held at McGill in September 2018 called Opera's Changing Worlds, which featured prominent discussions on gender equity in opera.
This is not to mention performances – for instance, Opera McGill presented the first surviving opera by a female composer this past March. Professor Hansen and Opera McGill have found powerful ways to put equity into action and engage not only the School of Music and McGill, but the artistic community and general public in the process. For this, we happily present this award.