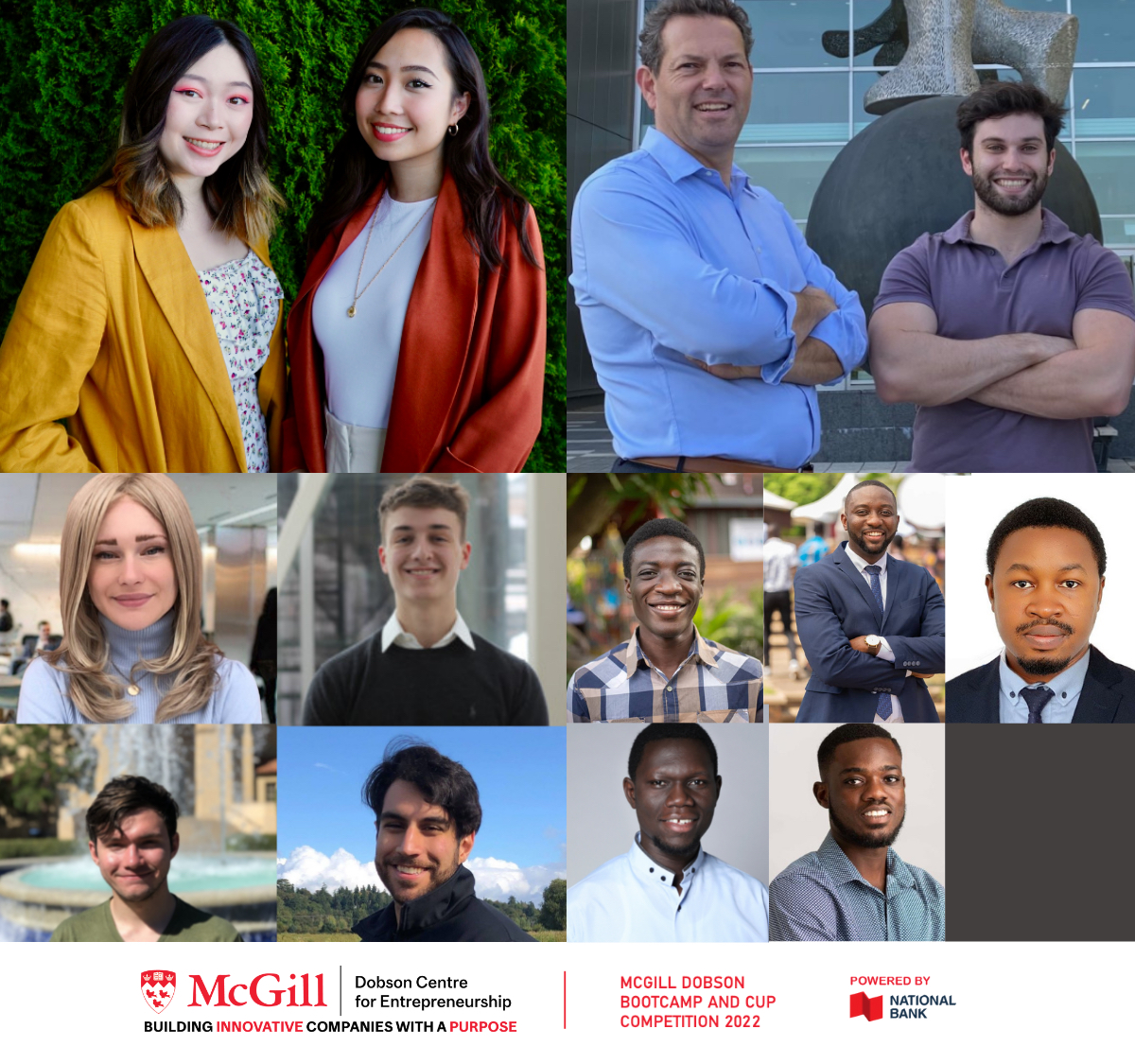 March 28 and 29 marked the final round of the 2022 McGill Dobson Cup, bringing together 24 teams of brilliant entrepreneurs from across eight McGill faculties, seven countries, and 16 partner universities to compete for over $200,000 in startup funding.
The McGill Dobson Centre for Entrepreneurship prides itself on being a launchpad for successful startups in every field across the globe and truly aims to embody the University's and Faculty's mission to foster future-ready leaders by promoting innovation, sustainability, equity, diversity, and inclusion. This year, the competition welcomed a diverse cohort of teams from across North America, Europe, and Africa.
"It is with the commitment of all of our collaborators and volunteers that we can have this day today," said Marie Josée Lamothe, Director of the McGill Dobson Centre for Entrepreneurship. "The community at the Dobson Centre today is represented by 400 active startups operating in 36 countries. Thanks to the resilience and drive of our entrepreneurs, we are proud to say that the Dobson Centre is in first place in Canada, for developing very successful women founders, and second (behind Waterloo University) in developing the most competitive startups in Canada, as well."
Diversity within innovation
This year's Dobson Cup highlighted the importance of supporting and embracing diversity within innovation. From startups exploring mental and sexual health to education accessibility, the finalists brought their diverse perspectives and backgrounds to create ground-breaking solutions to today's issues.
"The Dobson Cup is a fantastic initiative, and it was a great pleasure for me to be part of the jury for the Environmental Enterprise track," said Sonia Katiya, Associate Vice President of National Bank Canada, the competition's primary sponsor. "It was a wonderful experience being surrounded by such inspired, brilliant minds."
In total, forty-one teams were initially selected to partake in the competition which opened in January. Among the finalists, winners were chosen in four tracks: Health Science Enterprise, Environmental Enterprise, Social Innovation Enterprise, Technology Driven Enterprise.
Tackling some of society's most pressing issues
The winning startups tackle some of today's most-pressing health and societal issues through innovation, like SeeSpine, which placed first in the Health Science Enterprise category. SeeSpine is a telehealth application employing three-dimensional surface topography for radiation-free screening and monitoring of scoliosis in teens.
"Dr. Ouellet and I are both very grateful for this prize, there's been a lot of hard work over the past year or so and we're really grateful to see it pay off," said Evan Dimentberg, co-founder of SeeSpine.
Peko Produce, winner of the Environmental Enterprise track, addresses food waste and promotes access to affordable and healthy foods by delivering imperfect or surplus fruits and vegetables to consumers at up to 40 per cent off grocery prices.
"Thank you to McGill, thank you to Dobson," said Arielle Lok, co-founder of Peko Produce. "My years at McGill have been incredible and I am so grateful that I am supported by so many entrepreneurial people in the community."
Winners included:
SeeSpine (Health Science Enterprise)
Peko Produce (Environmental Enterprise)
Ozone Technologies (Social Innovation)
Elixir (Technology Driven Enterprise)
To read the full list of winners and runners up, and to learn more about their products and services, visit McGill's Dobson Center website.