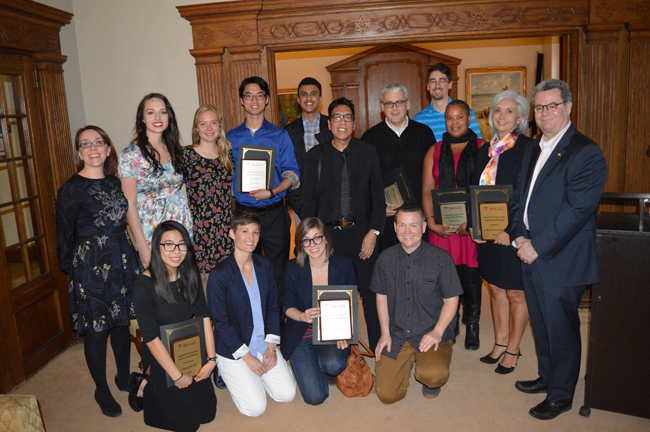 By McGill Reporter Staff
The mood was convivial at the ceremony for McGill's fifth annual Award for Equity and Community Building on May 1. And why not? This was a celebration of people who help make the University a better, stronger, more convivial, place.
Addressing the crowd of some 100 people, a smiling Angela Campbell, Associate Provost (Equity and Academic Policies) and professor in the Faculty of Law, said "There has been a marked boost in the quality and quantity of nominations for the annual Award for Equity and Community Building. The nominees are truly remarkable people doing fabulous work.  Together they represent an amazing, good news story for the University."
Provost and Vice-Principal (Academic) Christopher Manfredi echoed Campbell's sentiments. "In 2017, there were 17 nominees, all of remarkable calibre," he said. "I congratulate each of them sincerely."
McGill's Award for Equity and Community Building was approved by Senate and the Board of Governors in April 2012, to honour outstanding students, faculty and support staff members who demonstrate exceptional commitment in promoting equity, diversity and community engagement within McGill.
Within the award, there are four streams of recognition: students, administrative and support staff, faculty, and teams of members or combinations of any of the above groups. The award brings with it a monetary award and an engraved plaque.
This year's winners of McGill University's Award for Equity & Community Building are:
Student category
Christopher Ma (Neuroscience/founder of School of Music Montreal)
Christopher Ma, student in Neuroscience, decided to start his own music school to offer free access to music education for disadvantaged children. Three years later the School of Music Montreal has created a very successful program for equity and community building including weekly lessons, workshops, events and concerts.
Group or Team category (tie)
Beyond Me (student group dedicated to supporting children and teenagers with disabilities)
Beyond Me is a student-run non-profit organization providing one-on-one mentoring and tutoring services for special needs children and teens. Beyond Me initiated several new campaigns including McGill's first Disability Awareness Day.
Faculty of Engineering (for dedication to equity issues)
Tynan Jarrett, SEDE Equity Education advisor, and Jim A. Nicell, Dean / McGill Faculty of Engineering
The Faculty of Engineering and the Social Equity and Diversity Education (SEDE) office has prioritized diversity with the creation of a Standing Faculty Equity Committee, the development of a Faculty Equity Ambassadors program, and the inclusion of equity and implicit bias training for all undergraduate engineering students.
Administrative Staff category
Adrienne Piggott (Procurement Services / Chair of the Subcommittee on Racialized and Ethnic Persons)
Adrienne Piggott joined McGill in 2011 and serves as Chair of the Subcommittee for Racialized and Ethnic Persons. Her day job is in Procurement Services as the Manager of Process and Governance. Her Bucket List includes running the New York Marathon, and seeing a woman of colour become Provost of McGill.
"Our subcommittee members are wonderful and energizing. We celebrate every victory like it's the moon landing, no matter how small," said Piggot. "It is an aspirational award, but every little bit helps."
Academic Staff (tie)
Hiba Zafran (School of Physical and Occupational Therapy) 
Dr. Zafran is an occupational therapist-psychotherapist specializes in arts-based rehabilitation with individuals with severe mental illness. The youth she works with have experienced trauma, psychosis and severe mood disturbances. She is a leader in the treatment of immigration-related challenges, sexual abuse, substance reliance and/or questioning of gender identity. She was recognized for raising awareness around effects of stigma, power, privilege and oppression in healthcare.
Liliane Asseraf-Pasin (School of Physical and Occupational Therapy)
Dr Liliane Asseraf-Pasin, the Associate Director of the Physiotherapy Program at the School of Physical & Occupational Therapy, was instrumental in helping students from all over the world to graduate, shaping a more inclusive profession serving diversity in Quebec society. Among other things, she was honoured for her contribution to the creation of the Office of Interprofessional Education and Physical Therapy Equivalency Program.
"I am in the winding down part of my career, and so it is really satisfying to know that I was able to help so many worthy practitioners to integrate into their profession," said Asseraf-Pasin.