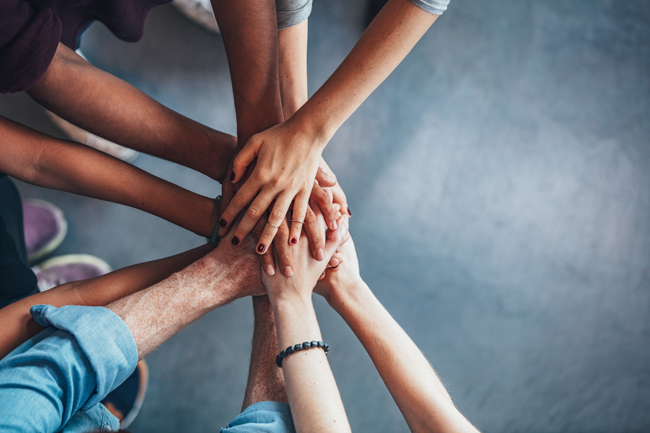 By Neale McDevitt
On April 12, the McGill community is invited to the special year-end showcase of Café Collab, a unique consultation initiative designed to enhance the University's support of students from different communities. In many ways, the showcase promises to be a nourishing main course of a meal that has taken months to prepare.
Beginning in September, the Social Equity and Diversity Office (SEDE) in conjunction with Scholarships and Student Aid (SSAO), hosted a series of art-based workshops, called Café Collab, with different student communities, including those who are trans, racialized, Indigenous, caregivers, parents, first-generation students or those who once were in youth in care.
"People from these various groups were encouraged to share their experiences in regards to accessing support services on campus," says Parker Finley, Project Coordinator – Café Collab, Social Equity and Diversity Office (SEDE). "From there we worked on translating this feedback into media pieces like memes, fairy tales and short films."
These workshops were run in conjunction with a series of dinner discussions in which students, faculty and staff – particularly those from Student Services – came together to collectively identify the ways in which Student Services can strengthen its support for students.
The media created in the preceding Café Collabs were used as the starting points for these collaborative discussions, partly because they help diffuse what sometimes can be very emotional topics. "We're trying to engage people in issues that can be hard to talk about," says Finley. "These tools make it easier to get the discussions rolling."
That, and cooking dinner together.
While people talked, listened and debated, a pot of soup simmered in the background. After an hour, the group would get up and prepare the rest of dinner – making salads and garlic bread, setting the table, etc. The rest of the discussion would take place around the dinner table – sometimes a very lively one.
"Talking over food is a nice thing to do," says Finley. "When we were designing this project, I thought about how dinners in my life have often been the setting for really good, deep discussions. I come from a big family and we have great debates over Thanksgiving dinner. This sentiment really informed how we designed this part of the project."
And on April 12, the rest of the McGill community is invited to sample the fruits of this collaboration, aat the year-end showcase. A series of stations will highlight the various topics raised over the course of the year; the media created by students; and the opportunities identified at the dinner discussions. People are encouraged to join in the ongoing discussion by adding their own suggestions to the Idea Board on how to foster a campus supportive of the diverse needs of the student body.
April 12, 4 to 7 p.m.; Lev Buckman Room 203, SSMU Building (3480 McTavish). Open to all. Light refreshments will be available. Get more information and RSVP (spaces are limited) today.