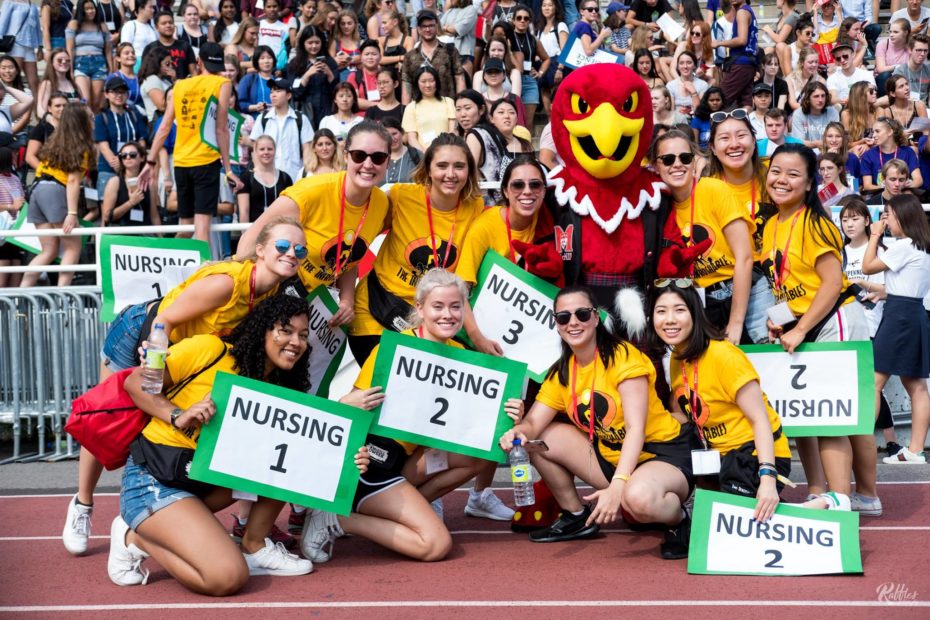 At the end of each August, some 4,000 new students begin their McGill lives, making new friendships, building communities and transitioning into the university world. Part of Orientation Week, Frosh plays an important role in introducing new students to the University, offering 12 events hosted by a Faculty student association, and five events hosted by different student groups.
This year, Frosh runs from August 29 through September 1, and while it may only span a few days, the work behind creating a positive experience for "Froshies" begins months in advance.
Frosh is completely student-run. About 100 upper-year students Coordinators are responsible for organizing, overseeing, and implementing the various events. In addition, there are more than 800 Leaders, chosen by the Coordinators, who guide the groups of new students, and more than 350 Orientation Staff (also known as O-Staff) who assist with logistics.
These students collaborate with many University offices, staff and administrators — notably the Office of the Dean of Students, the Office of the Provost and Vice-Principal (Academic), the Office for Students with Disabilities, the Student Wellness Hub, Campus Life & Engagement, and the Office for Sexual Violence Response, Support and Education (OSVRSE). Together, they take a multi-dimensional, holistic, community-based approach to advancing and maintaining a safer, inclusive, sustainable and meaningful Frosh experience.
Extensive preparation
In the months leading up to Frosh, they engage in extensive preparation, coordinating with community groups, improving Frosh policies, and training upper-year students. Frosh Coordinators, for example, receive between 25 and 60 hours of training (according to their responsibilities) on subjects such as harm reduction, equity, diversity, inclusion and accessibility.
The Frosh community has worked particularly hard to prevent sexual violence and educate students about consent, responding to disclosures, and providing support and resources to survivors. For example, the Frosh community has embraced McGill's new online sexual violence education program, titled "It Takes All of Us", making these learning modules mandatory for all Coordinators, Leaders, O-Staff, and Froshies before any Frosh event even begins.
"Our efforts to prevent sexual violence get stronger every year with trainings and increased exposure and awareness of these issues in our culture," says Belanna Gans, a Coordinator from the Faculty of Science. "We also have a strong focus on how to help those who survive acts of sexual violence." Belanna is one of several Coordinators who is working with Campus Life & Engagement to design the mandatory training sessions that Leaders and O-Staff receive. This year, the training sessions are putting a greater emphasis on applying consent beyond a sexual context.
"I believe teaching this can create a stronger understanding of consent which can help stop the perpetration of sexual violence," explains Belanna. "With a greater focus on consent outside a sexual context we can help combat peer pressure, more clearly focus on what the survivors of sexual violence want when helping them, and better prevent cases of sexual violence all to create a safer and more inclusive Frosh."
Added emphasis on sustainability
Numerous other efforts have been made by the Frosh community to uphold high standards for Frosh. This year, the Faculty Froshes are working to make their events gold-certified for sustainability. Coordinators are consulting the Office of Sustainability to reduce the environmental impact of events, partner with sustainable sponsors, and minimize accessibility barriers. Additionally, the Faculty Froshes offer "chill zones" where students can relax and take a break from social activities, as well as alternative events that do not include alcohol. Options such as these make Frosh more inclusive and help everyone feel welcome.
The Faculty Froshes also coordinate with the Milton-Parc Citizens' Committee and Montreal police to promote community relations, respect, and safety. A concrete example of this collaboration is 'street teams' in which upper-year students and University administrators are a visible presence in the Milton-Parc neighbourhood during Frosh as a way to illustrate a commitment to the wellbeing of incoming students, and the importance of our relationship with McGill's neighbors. Froshies also find it quite an interesting experience to encounter the Deputy Provost or the Dean of Students along Durocher Street at 10 o'clock on a Friday night on their way to an event!
See the Frosh website for more information.