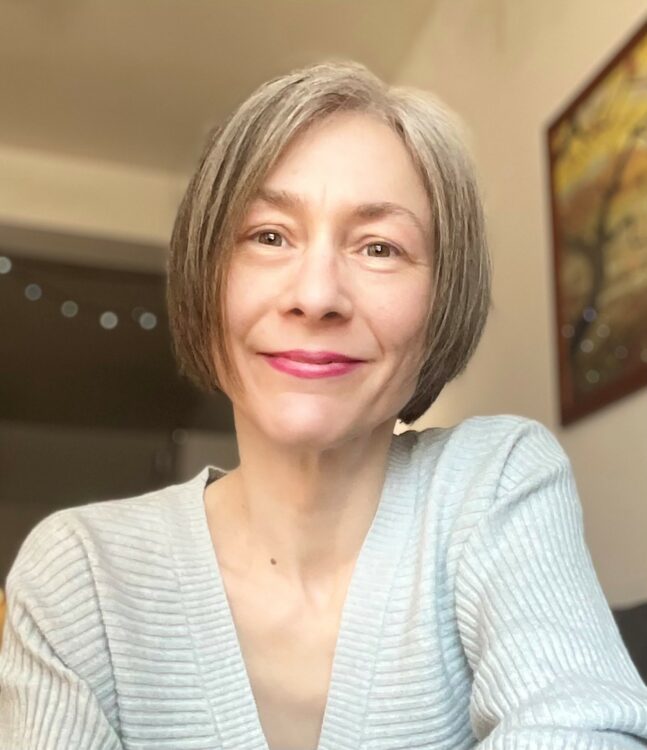 Throughout her life, Catherine Roy has fought for easier access to public spaces, and to raise awareness about the needs of people living with disabilities. 
Roy, a double tibial amputee and part-time wheelchair user, was appointed McGill's Accessibility Advisor in July 2021 to advise members of the community on issues relating to disability, accessibility and universal design, and to develop policies and practices that will have a systemic impact. Now part of the Equity Team in the Office of the Provost and Vice-Principal (Academic), she will also be a central figure in drafting the upcoming Strategic Accessibility Plan – a key component of the five-year Strategic EDI (Equity, Diversity & Inclusion) Plan. Launched in 2020, the Plan is aimed at enhancing the representation of underrepresented groups at the University in several key areas, including student experience, research, outreach, workforce and physical space. 
"As we move forward during Year Two of the implementation of the EDI Plan, we realize there is still much work to be done for accessibility and that a more concerted effort is needed to achieve our goals," Roy said. "Accessibility and disability are concerns to many stakeholders at McGill, whether students, staff or faculty. Accessibility permeates all activities at the University, whether it be learning, teaching, communicating, recruiting and staffing, or campus management. Bringing all these interests together to help build our vision is a crucial first step in this journey." 
A lifetime of advocacy 
Roy has spent her entire working life advising and advocating for marginalized groups, mainly in the non-profit sector. She has worked with several groups over the years, including the Canadian Human Rights Museum and the Federal Government's Multi-Stakeholder Forum on Open Government, and developed accessibility standards for the Quebec government's websites. From 1998 to 2004, she worked as a training and job development advisor with CAMO, a Montreal-based labour agency that  advised the government on issues regarding professional inclusion of people with disabilities, and also managed the federal government's Opportunities Fund in the province of Quebec. 
When she arrived at McGill, she was pleasantly surprised at how she was received. 
"For the last 30 years, I've been the accessibility girl," Roy said. "And when I show up someplace, it's usually, 'Oh no, not her. She's just going to tell us what we're doing wrong.' And what I've told everybody since I've been here is, I've rarely encountered such a willingness to listen as I have at McGill."  
Breaking the silence 
Over the years, Roy has worked not only with those with physical disabilities, but also cognitive disabilities. Among the issues she deals with is the fact many people with disabilities, particularly the less visible ones, choose to remain silent. 
"From my experience, some people are afraid to disclose disabilities because they're afraid of how they might be perceived," she says. "I've only been here for nine months, but from what I've observed, there really isn't a culture or community that we can point to with regards to disability. There are all these different groups, but they're all working separately on their own." 
According to the McGill Student Demographic Survey from May 2021, as many as eight per cent of students are living with some form of physical or cognitive disability. Among faculty and staff, the Biennial Report on Employment Equity from May 2021 shows the figures range between 1.7 and 5.2 per cent, depending on the type of employee. Those may be surprising numbers for many, and the surprise may be part of the reason why disability issues are often overshadowed by other issues on campus. 
"People with disabilities are invisible in our society, for the most part, or they're constrained to very particular areas, so we don't see people with disabilities in leadership positions," Roy says. "We don't see them in key positions where they can affect change. But that's why my position was created, because we realized that we really needed to make this a priority. 
"I think that we have a tendency to look at it as a question of, 'Are people with disabilities getting the services they need?' We've concentrated a lot of efforts on that, and that's great. But we probably haven't put as much effort into including people with disabilities in decision-making roles, where they can advise on policy and practice related to inclusion." 
Discussions set to begin March 29 
All members of the McGill community are invited to participate in preliminary discussions on the Strategic Accessibility Plan on March 29, from 1 p.m. to 3 p.m. in the conference room (Room 832) at the Elizabeth Wirth Music Building (527 Sherbrooke St. W.). Roy will be joined by Angela Campbell, Associate Provost (Equity and Academic Policies), and other members of the Equity Team to listen to community perspectives on accessibility issues, with the goal of kick-starting discussions on what will eventually be contained in the final strategy. 
The event is only the beginning – those wishing to make their voices heard on accessibility will have more opportunities in the months to come. Updates will be posted on the Equity Website blog. 
"Thematic consultations will be held over the course of the coming months where the various University stakeholders will be invited to give their opinions and help shape the future of accessibility at McGill," Roy says. "By the end of the exercise, McGill will have all the necessary elements to start building and implementing a unified vision for accessibility." 
People interested in taking part in the March 29 discussion on the Strategic Plan for Accessibility must RSVP before Friday, March 25, end of day. A zoom link will also be available for those who wish to attend online. To register, contact Catherine Roy.