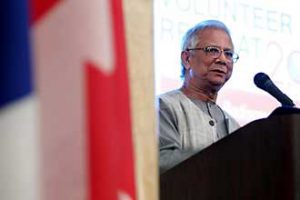 By Tamarah Feder
$27: How much it took for one professor of economics to change the world.
Since the early 1970s, Dr. Muhammad Yunus has been making the world a better place for millions living in dire poverty but who possess an entrepreneurial drive. The 2006 Nobel Peace Prize Laureate pioneered a micro-credit banking system that provides loans to the most deprived, creating opportunities for self-employment and a way out of an endless cycle of poverty and despair.
Delivering this year's Beatty Memorial Lecture, Yunus recounted how he went from being a professor of economics to founder of the Grameen Bank – a major employer and business partner and, ultimately, a game-changer in how we perceive the potential of the most economically and socially disadvantaged.
"I had no idea I would get involved in anything to do with lending money," he said, attributing his career-path change to external forces following his return to poverty-stricken and famine-ravaged Bangladesh from teaching in the United States.
"When you teach economics with lots of enthusiasm and feel totally confident about the validity of what you are teaching and then you walk out of the classroom and see famine all around the country, you start questioning yourself. You feel useless in the face of dire emergency, so out of this emptiness you try to come up with something."
Yunus walked out of the campus and into the villages, "to see if I could make myself useful to just one person, even for one day." The villages of Bangladesh became his university. He witnessed the devastating effects of loan-sharking on the poor. "I couldn't believe people had to suffer so much for so little!" He saw a simple, immediate remedy. "Why don't I just loan them $27? [the total amount owed by 42 individuals]" No interest rates, no payment deadlines. He paid off loan sharks and loaned money to the villagers. They called him an angel. Bemused, he realized, "for just $27! With just a bit more I could become a super angel!"
From there the seed was sown for what has turned into the first and largest micro-credit bank and social business enterprise. Grameen Bank and its subsidiary businesses help millions of the world's most disenfranchised launch their own businesses and find empowerment.
Dismissed and berated by banks, economists and government officials, Yunus sought to persuade naysayers that we are all born with entrepreneurial potential. He wondered, "Why call economics a social science if we remove humans from the equation?"
When banks pushed aside his request to provide tiny loans to villagers and beggars, he offered to serve as guarantor. The banks relented. When the loans were repaid, the loan requests grew. The banks grew nervous and shut the door. Undeterred, Yunus set about changing the laws and establishing a bank more in keeping with his goals to alleviate poverty.
Recipients of Grameen Bank loans had to change their self-perceptions, too. Women had been accustomed to deferring to their husbands on money matters and husbands were concerned about taking on responsibility for their wives should they default. Yunus assured them Grameen would never go after them. Borrowers would pay when they could. And then they could borrow again.
Responding to concerns from some that giving money to women was contrary to Islamic law, Yunus pointed out that after working for her, "the Prophet Mohammed married a businesswoman." He said, "If you want to be a good Muslim you have to follow in the footsteps of the prophet and marry a businesswoman. And if you can't find one, come to us!"
To the business challenges he faced, Yunus had business solutions. He built solar-powered homes that people could purchase through a Grameen loan. When importing solar panels was cost-prohibitive, Yunus opened a solar-panel business.
Grameen has established several business partnerships that serve double duty – employing villagers and addressing health issues. Grameen Danone provides nutrient-rich yogurt for children that villagers can sell. He convinced Adidas to create an affordable shoe – "less than a Euro" – to protect citizens from injuries and infections.
Today the Grameen bank has more than 8 million borrowers in more than 80,000 villages in Bangladesh. Almost all are women. Grameen's repayment rate is 97 per cent. They've also set up shop in Glasgow, Scotland, and the Borough of Queens in New York City.
And if all that were not enough, Yunus was featured on The Simpson's recently, at which point one of his daughters told the Nobel prizewinner: "You've finally made it."
McGill has signed a memorandum of understanding to work with Yunus to promote social business and for it to become one of the strategic models for change implemented by the McGill World Platform for Health and Economic Management, a joint initiative led by McGill's Desautels Faculty of Management and the Faculty of Medicine as part of its knowledge-to-action activities.
Alexa Roland, an undergraduate studying International Development and Environmental Studies, was inspired by Yunus when she met him at a private lunch with students. "I want to follow that path to alleviate poverty and inequality. We talked about incorporating social business into our curriculum. I responded to his humanity and that he's taking a chance in business. To properly understand international development, I need to understand every perspective, so I'm taking some business courses as electives. A lot of good ideas and policies don't work because we can't communicate with businesses."