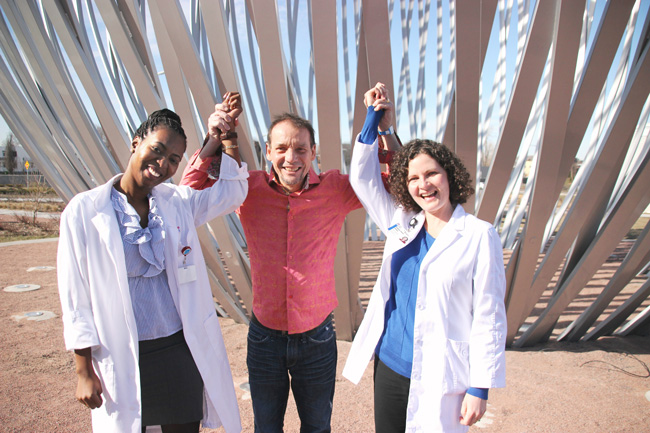 By Fabienne Landry, MUHC Public Affairs
Life is often a series of opportunities, obstacles, efforts and accomplishments. Yvan Martineau, a Quebec journalist and TV host, who is passionate about sports and travel, recently spoke to the MUHC's Fabienne Landry about his life journey.
"Among the great opportunities in my life, I include my career and my 30-year relationship with my partner," he says. "But I also include being a patient for the last 20 years at the Montreal Chest Institute of the McGill University Health Centre (MCI-MUHC). As an asthmatic patient, the care I receive there is a gift of life."
Martineau, who covered the Montreal Canadiens for 25 years, says he lives in an environment where he is surrounded by high performance every day. "To draw a parallel, the team at the Montreal Chest Institute is really an elite, high-performing team. If I didn't receive all the care that they provide, I don't know what my condition would be today and what I would be able to do."
Asthma is a chronic inflammatory disease that affects approximately 300 million people in the world, including 2.7 million Canadians, children and adults. The airways of asthma sufferers are hypersensitive and react to different factors by contracting and becoming obstructed when they are irritated, making breathing difficult. This can cause the onset of several symptoms, such as shortness of breath, wheezing, coughing, chest tightness and secretions. This is what is known as an asthma attack.
"Since asthma is a chronic disease, it has no cure, but it can be controlled in order to maintain good pulmonary function and good quality of life," says Christine Duterville, nurse clinician at the MCI-MUHC Asthma Clinic. "The symptoms can be mild, moderate or severe, and the disease may be difficult to control in some cases."
"Unfortunately, some people think that their asthma is well-controlled, while that is not always the case," explains Kathy Riches, who is also a nurse clinician at the Asthma Clinic. "Our work includes teaching patients to manage the disease. We help them recognize symptoms, adopt a healthy lifestyle and control the environmental factors that can trigger symptoms and asthma attacks."
Martineau admires the thoroughness of the clinical team and their focus on prevention and improving care. "All the team stays on top of clinical and scientific developments, ready to try new approaches and make corrections when the results are not what they expected," he says.
Sometimes, Martineau's condition can deteriorate very quickly, due to a phenomenon called decompensation, which is the body's sudden inability to cope with the disease. "I may feel fine and then, in just half an hour, I may start experiencing some symptoms and feel very feverish," he explains. Depending on the situation, he either goes to the Emergency or calls the Clinic and receives a call back the same day, setting an appointment if necessary.
Martineau has also suffered from pneumonia over the last three years. In addition to follow-ups at the clinic, a few hospitalizations were therefore required to treat the pulmonary infections.
Martineau was recently hospitalized at the D8 Care Unit of the MCI-MUHC at the Glen site. He really appreciates the kindness and professionalism of the Unit's healthcare staff, as well as the private rooms.
"It's wonderful in terms of the recovery period, comfort and infection prevention," he says. "I am convinced that it contributes to shortening hospital stays. We can also order our meals by telephone, and the service is always courteous and efficient. You couldn't ask for better!"
What impresses him the most, though, is the medical and nursing staff's dedication to their patients. "It's incredible how hard they work. On a few occasions, I arrived at the clinic at 7 a.m. for an appointment to see my doctor, Dr. Ron Olivenstein. I would be hospitalized the same day and see him again when he came back to the Care Unit before leaving, around 7:45 p.m.," he explains. "Nurses do the same thing. During my hospital stays, I've seen Christine and Kathy go upstairs to check on their patients."
If asthma is an obstacle, it certainly has not stopped Martineau from pushing his limits and maintaining a high level of fitness. "I don't smoke, I watch what I eat, and I'm always active," he says. An avid sportsman and bicycle enthusiast, he has cycled hundreds of kilometres for both work and pleasure in several wine-producing areas in France, as well as in Quebec, Cuba, and in the United States, from New England to California, through Utah and Arizona.
''Tests show that Yvan's pulmonary function is above normal," says Duterville. "In fact, people with well-controlled asthma should not be limited in their activities. Some people still think the contrary, but it is a perception that needs to be corrected. As proof, many Olympic athletes are asthmatic."
"I am extremely grateful to have access to professionals of this calibre who help me maintain a good pace," says Martineau, "and help me live my life the way I want to."