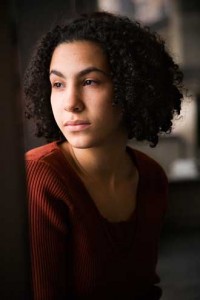 By Neale McDevitt
Arielle Miles likes logic. That's one of the reasons she was drawn toward chemistry at Seekonk High School, in Seekonk, Mass. "The periodic table makes so much sense," she said with a laugh. "You go from left to right, there are certain trends and each element has one more proton."
But Arielle Miles also likes beauty. That's why, when she stumbled across a book in Arabic at home a few years back, she decided to teach herself the language. "Arabic is such a beautiful script," she said. "Once I looked at this book, I knew I had to learn it."
Flash forward to spring 2008 when, after taking two years of Arabic as part of her Arts and Science degree at McGill (for which she is doing a rare chemistry/Middle Eastern Studies double major), Miles got a letter from the U.S. State Department informing her she had won a scholarship to spend the summer studying advanced Arabic in Tangiers, Morocco. The program, part of the National Security Language Initiative, sponsors U.S. citizens to study "critical need" languages such as Arabic, Chinese, Russian, Hindi and Farsi.
Following orientation in Washington, Miles flew to Morocco with the program's 29 other participants for a seven-day cultural tour of Marrakech, Casablanca and Fez. Once the sightseeing was over, however, it was time to hit the books.
The program was run out of the American School in Tangiers, an English-language school for Moroccan students. Studying three to four hours of grammar every morning from Monday to Friday, and with a heavy assignment load, Miles and her classmates didn't get to take in too many sights. "The program director made sure we had at least five hours of homework every afternoon," said Miles. "That made it kind of hard to go into the city."
"Eventually I told myself to stop being such a goody two- shoes and go out and meet people," Miles said.
Once off school grounds, Miles's education in Arabic began in earnest. "Right away, I found out the big problem was that no one in Morocco speaks the kind of classical Arabic we were learning," said Miles with a chuckle. "The Moroccan dialect is notorious for being totally incomprehensible to anyone who isn't from the region."
As a foreigner speaking the highest form of Arabic, Miles got bemused – if not impressed – looks from Moroccans. "They would play along, trying to imitate me," said Miles. "It was fun because they had to try to speak a register of Arabic they hadn't studied since high school." Think wheeling out your rusty subjunctive from your old high school French courses.
Miles says that her McGill studies combined with her Moroccan experience have made her Arabic adventure more than an exercise in linguistics. "You can't learn a language like Arabic without becoming immersed in the culture," she said. "Eventually, I'd like to learn Palestinian Arabic because part of my
motivation is that I'm Jewish and I think it is important to communicate with people as equals."
What could be more logical than that?