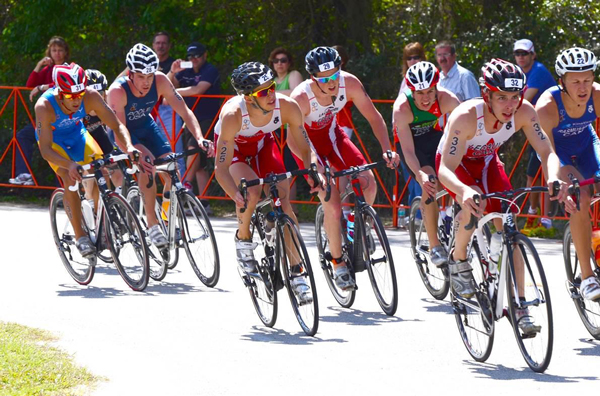 By Neale McDevitt
Antoine Jolicoeur Desroches is a man on the move – in the water, on his bike, running up and down Montreal's icy streets. He's a man in motion who is definitely heading places.
Specifically, the 21-year-old Food & Nutritional Sciences student is going to Guadeloupe, where, on Feb. 21, he will compete in his first triathlon as a professional. The half Ironman distance (known as a 70.3) entails a 1.9-kilometre swim, 90 kilometres on bike and a 21-kilometre run to finish off.
The Guadeloupe event will mark only the second time Jolicoeur Desroches has competed in a 70.3, running only shorter 'sprint' events during his amateur career.
But, last fall, he raced in his first-ever 70.3 and found that, not only did he prefer the longer distance he excelled at it.
"They stagger the start so that a new group starts every five minutes. Pretty soon I found myself all alone in my age group," said Jolicoeur Desroches. "And eventually I caught up to some of the pros."
Jolicoeur Desroches did so well he was given the option to either compete in his age group at the world championships in Austria, or to compete on the pro 70.3 circuit for the entire 2015 season.
While racing at the world championships would have been special in the short run, Jolicoeur Desroches chose the latter because his has more long-term goals.
"I'm one of the youngest pros on the 70.3 tour and I'd like to compete for many more years if I can. Triathlon is a sport where you can compete at a very high level when you're 35 or older. You just keep gaining experience and endurance," he says. "This is a much bigger challenge than racing in my age group. These guys have so much more experience than me – I just want to learn from them."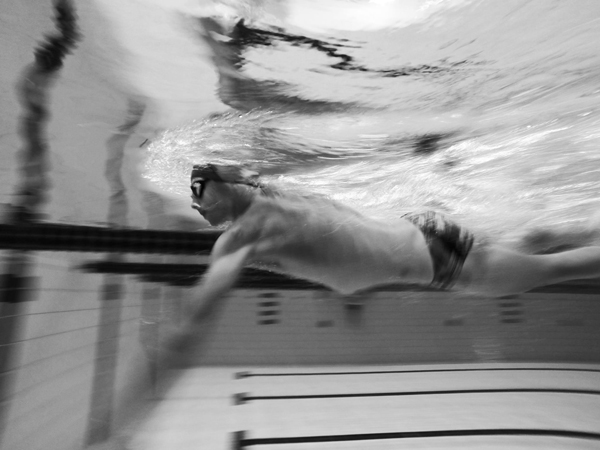 Jolicoeur Desroches will arrive in Guadeloupe on Feb. 19, giving him just a few days to acclimatize to the heat. "I heard it is a relatively flat course with a few hills that are fairly steep but short," he says. "But it is also really warm so the conditions could be a little difficult. I hope to be around 4 hours and 15 minutes."
To simulate the heat he will be facing during the race, Jolicoeur Desroches has spent the last three months doing his indoor training wrapped in extra layers of clothing. "It's like I'm running or cycling in 30-35 degree weather," he says.
Between running, cycling, swimming and work in the weight room, the Sainte-Anne-des-Lacs native trains as often as four times a day. While he cycles indoors on a trainer (like a treadmill for bikes) during the winter, Jolicoeur Desroches does the bulk of his running outside, unfazed by the winter-long deep freeze. "The only thing you have to be wary of is doing interval training outside in the cold because you could damage your lungs," he says. "When it is really cold or icy outside, I run on a treadmill."
Of course, like all McGill student-athletes, Jolicoeur Desroches has to balance his time in the gym with time in the library. Now in his second year at McGill, he says he learned a lot from his freshman year in terms of prioritizing and time management. "Before I was training with another triathlon group so I had to travel a lot more. Now I'm training mostly by myself and mostly close to where I live because I have to be more efficient," he says. "The extra time I've gained goes into my studies."
And his studies are a natural fit for his athletic endeavors. As for all high-performance athletes, nutrition is as important a component as training – maybe more so for triathletes who require huge stores of energy to keep their bodies functioning optimally for extended periods of time. The rigours of his intense training schedule means Jolicoeur Desroches eats six times a day.
"Last year, I became a vegetarian and I had a problem with anemia. Athletes who train a lot often have low iron levels," he says. "My energy level dropped significantly so I started eating fish again. Now everything is OK."
Jolicoeur Desroches says one of the most important lessons he's learned during his studies is how to differentiate sound nutritional information with trends. "I used to get caught up in fads – like how eating beets can improve oxygen levels in your blood. But now I am better at recognizing research that is thorough," he says.
Carb-loading the night before is still popular among endurance athletes, but Jolicoeur Desroches says the traditional re-competition heaping plateful of pasta has given way to rice-based meals. "I love Chinese food, so it is perfect for me – a nice plate of rice and vegetables and some tofu or fish."
While some triathletes will eat energy bars and other small snacks during a race, Jolicoeur Desroches sticks to liquids and gels. And, forget the big endorsement contract, "Gatorade upsets my stomach," he says with a laugh. "Although Coke is very popular among triathletes because the sugar is so refined that it is easy to digest."
Follow Jolicoeur Desroches on his blog.