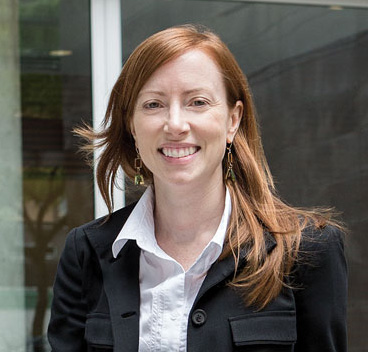 McGill's first-ever Associate Vice-Principal of Innovation to enact change from within
By Kathryn Jezer-Morton
McGill's newly created Associate Vice-Principal of Innovation is a job title that does double-duty, both defining the position's purview and describing its mandate. having assumed the role on June 13, Angelique Mannella is tasked not only with overseeing McGill's innovation agenda, she herself will be innovating. As an accomplished computer programmer, social entrepreneur, marketing strategist and business developer, Mannella will be bringing a host of skills to bear in this new role.
One of the challenges that Mannella expects to face is the pace of change at an institution as big as McGill. "A culture of innovation and entrepreneurship involves collectively committing to audacious goals and having the drive to achieve them with excellence," says Mannella. "It also very much involves moving quickly, embracing change, and adapting in order to generate as much value as possible, as quickly as possible."
Mannella comes to McGill following a successful career in mobile app development, product management, and as an independent consultant to businesses looking to develop mobile products. After having spent significant time working abroad, the Port Dover, Ontario native is returning to Canada hoping to match McGill's entrepreneurial potential with global challenges. She will also be returning to McGill for the first time since having completed an undergraduate degree in Computer and Electrical Engineering in 2001.
Over the past year, she has been advising multi-national materials companies on a range of research and development commercialization activities targeting mobile electronics, Internet of Things, and wearable technology. Meanwhile, she has been working with the infoDev group at the World Bank, supporting digital entrepreneurship and innovation initiatives in the Caribbean and in African markets including Kenya, South Africa and Senegal.
In 2012, Mannella founded Decode Global with seed funding from mobile phone giant Nokia, where she had previously worked as a Senior Product Manager. Decode Global developed mobile games designed to teach kids about pressing global issues through play. In Get Water! players help a young girl collect potable water on the small island where she lives. The game teaches players about the impacts of climate change on low-lying island nations, as well as the impact of young girls being forced to drop out of school in this socially and environmentally precarious context.
Her work on games that can empower players to think differently didn't end there. Recently Mannella has been collaborating with Concordia University on Arcade Our Way, a research project on game design with an all-female team consisting of teens, undergraduates, graduate students and gaming professionals. Together the team is working on creating a counter-narrative game about alternative leadership models.
With over a decade of experience developing technology products with an eye toward positive social change, Angelique Mannella will be McGill's first-ever AVP of Innovation, reporting to Rosie Goldstein, the Vice-Principal of Research and Innovation. McGill is among the first wave of universities in North America to create a position with an innovation mandate. In Canada, Mannella will have counterparts in Ryerson University's Dr. Wendy Kukier, VP of Research and Innovation and UBC's Angus Livingstone, Innovation Catalyst.
In the U.S., similar positions have been created at the University of Pennsylvania's Wharton School of Business, the University of Maryland, and at MIT. Currently, York University and the University of Ottawa are in the process of creating innovation-focused positions within senior administration. "Students are demanding more opportunities to develop entrepreneurship skills," said Mannella. "This is part of the response to that."
At McGill, innovation is defined as the application of academic research findings toward the public good. "McGill has a duty to ask hard questions about local and global problems – and it is in a privileged position to act," said Mannella. The resource contained within McGill's massive research output is where Mannella sees so much untapped potential. "The research is what makes any kind of innovation agenda possible," she said. "The innovation agenda isn't about a path to millions – it's about finding the most impact for your discovery."
Related story
How does innovation come to life at McGill?