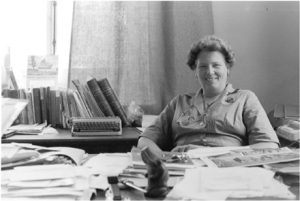 By Ingrid Birker
(Editor's note: March 8 is International Women's Day. To commemorate the Day and the rich history of women at McGill, Ingrid Birker, Science Outreach Administrator of the Redpath Museum Public Education Program, has written the following profile of Alice Johannsen, pioneering educator and conservationist.)
Alice Elizabeth Johannsen was born in 1911 in Havana, Cuba but she was raised in the mountains of Norway and the Adirondacks of New York State. She also worked most of her life at two major cultural institutions sited under two small mountains in the Monteregian chain on the south shore of the St. Lawrence River. She was a geologist, naturalist and educator. She was the daughter of well-known skier Herman-Smith "Jackrabbit" Johannsen, the man who introduced Nordic skiing to Canada. But Johannsen also worked hard for McGill in her own right.
Johannsen studied at McGill when the worst of the Great Depression was in swing, and had to withdraw due to financial strain. McGill granted her a small emergency loan for tuition, allowing her to stay and complete a B.Sc. with Honours in 1934.
Her first job after graduation was an apprenticeship in Outdoor Nature Education at the Newark Museum in New Jersey (1935). When Johannsen returned to Canada a year later she came with a Carnegie Fellowship in Museum Training which she used to get on-the-job training at the National Gallery of Canada, to travel with a roaming museum and art gallery in Manitoba, and to study outdoor folk museums in Scandinavia.
Johannsen returned to McGill in 1939 as a Demonstrator for the Zoology Department and worked part-time at the Redpath Museum, becoming Assistant Curator to T.H. Clark in 1942. Thus began her forty-year career at the University that had given her a little financial help as a struggling student ten years earlier.
In 1949, Johannsen was appointed Assistant Director and Curator of Ethnology at the Museum, and in 1952 she was named Director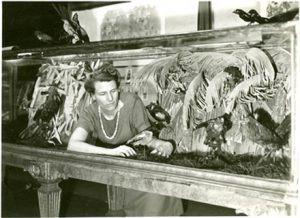 of University Museums. As Director, she emphasized the importance of the role of museums in public education and has been credited with creating extension services for museums in Canada.
Johannsen was also one of the founding members and President of the Canadian Museums Association 65 years ago. The idea to put together a Canadian Museums Association (CMA) came just before Canada got involved in the Second World War. Attempts to officially organize, however, were thwarted by timing: a lack of funding, the war and the fact that each museum in Canada was concentrated on its own daily existence.
By 1947, the tide turned, when a small group of farseeing museum professionals gathered at Musée de la Province de Québec. According to the historical notes on the CMA website, this group had a two-hour meeting with delegates from 13 museums, presided over by Johannsen, and founded the CMA in order to advocate for Canada's museums, art galleries, and sites of historical significance. All of the issues that were to develop in later decades were raised at this first meeting: training, membership requirements, professionalism, and advocacy. Over the next five decades Johannsen would steer the CMA to address these issues while simultaneously directing the Redpath Museum.
In 1972, the Redpath Museum was closed to the public and Johannsen was appointed Director of the Gault Estate where McGill gave her property to live. It was on this property that Johannsen helped establish the Mont St. Hilaire Nature Conservation Centre which is now named after her as the Alice Johannsen Pavilion The Nature Centre / Centre de la Nature du mont Saint-Hilaire. The Nature Centre continues to exist today as "a non-profit organization in partnership with the University and a wide range of other local groups to protect the ecological and patrimonial integrity of the mountain and its surroundings" (from http://www.mcgill.ca/gault/partners).
The Centre is a partner at the Gault Estate. In 1978, the Gault Estate and its immediate surroundings were designated the first Canadian Biosphere Reserve in UNESCO's Man and the Biosphere Program. The groundbreaking negotiations and politicizing have been attributed to Johannsen's far-reaching influence as a Canadian cultural ambassador.
Johannsen retired from the post at Mont St. Hilaire in 1980; however, she continued to live on the Gault Estate property. During her father's lifetime Johannsen acted as his manager and he lived with her on Mont St. Hilaire. After Jackrabbitt's death in 1987, she began writing The Legendary Jackrabbit Johannsen (1992) and began the construction of an addition to his family home that would house the Jackrabbit Museum & Nature Trail, located in Piedmont, Quebec. The Museum is now closed, and many of its artifacts were acquired by the owner of a brasserie in St. Sauveur to decorate his premises, as a mini-ski museum.
Alice Elizabeth Johannsen died January 2, 1992 at the age of 80. Before her death she donated her property to Mont St. Hilaire in order to enlarge and protect the existing preserve. Now called the Gault Nature Reserve, it is officially recognized and protected as a Natural private reserve under the natural heritage conservation act by the Ministère du Développement durable, de l'Environnement et des Parcs du Québec.