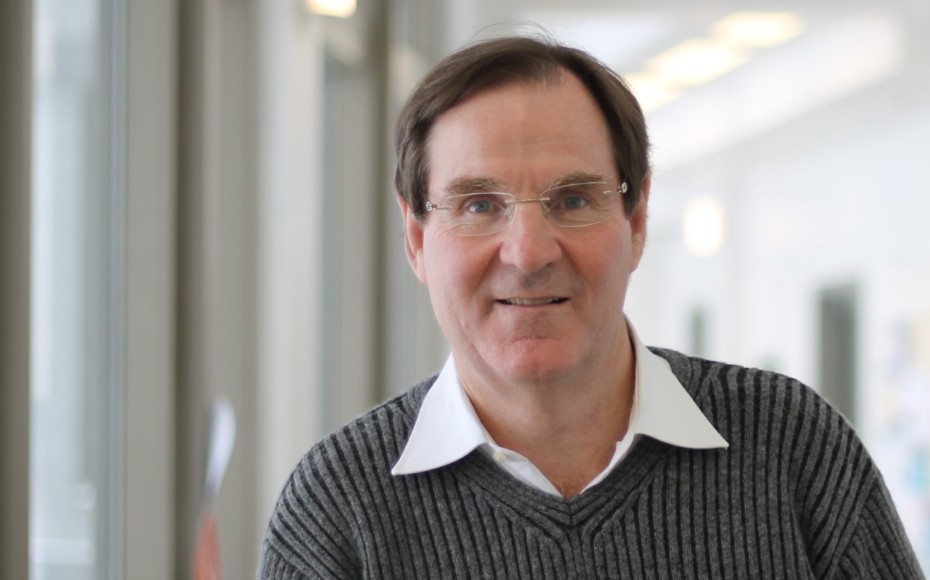 On September 14, the Royal Society of Canada (RSC) announced the names of fifteen Canadian scientists, scholars, and researchers honoured with RSC awards and medals for outstanding achievements in their fields. Professor Alan Evans is the 2021 recipient of the prestigious RSC McLaughlin Medal for important research of sustained excellence in medical science. Evans will formally receive his medal at the RSC's 2021 Celebration of Excellence and Engagement, presented by McGill on November 19.
"I want to express my sincere congratulations to Professor Evans for being awarded the McLaughlin Medal by the Royal Society of Canada," said Martha Crago, Vice-Principal, Research and Innovation. "This well-deserved and impressive medal recognizes Professor Evans' innovative and important advances he contributed to the field of neuroscience throughout his career."
Evans is a James McGill Professor in the Departments of Neurology and Neurosurgery, Psychiatry, and Biomedical Engineering in the Faculty of Medicine and Health Sciences, and a researcher in the McConnell Brain Imaging Centre (BIC) at The Neuro (Montreal Neurological Institute-Hospital). He holds the Victor Dahdaleh Chair in Neurosciences and is the Scientific Director of two initiatives that aim to advance innovative research in neuroinformatics: the Canadian Open Neuroscience Platform (CONP), and McGill's Healthy Brains for Healthy Lives (HBHL) initiative. He is also the Co-Director of the Helmholtz International BigBrain Analytics & Learning Laboratory (HIBALL) and the Ludmer Centre for Neuroinformatics & Mental Health.
"This award means a great deal to me since it recognizes career achievement rather than a specific breakthrough. It tells me that, as a trained physicist who built a career in neuroscience, I didn't make a crazy decision 40-odd years ago," said Evans. "I am forever grateful that I was brought to The Neuro by Bill Feindel, to an environment that fosters cross-disciplinary collaboration at the interface between basic and clinical neuroscience. I have worked, and continue to work, with some amazing people in a fascinating field."
The father of modern brain mapping
Since the McLaughlin Medal recognizes sustained excellence and achievement in medical science, Dr. Evans is the ideal candidate for this prize, thanks to his continuous and substantial contributions to the science of brain mapping. Indeed, he is considered the 'father' of the modern brain mapping field, as he has created, led, and shaped modern neuroimaging over the last thirty years. He has been a leading figure in the massive impact of brain mapping on clinical and basic neuroscience and pioneered the use of advanced mathematical and computational techniques to study the brain's structure and function using neuroimaging, particularly in neurodevelopment and neurodegenerative disorders.
A driving force in the 1990s, Evans' work with Professor Keith Worsley in McGill's Mathematics and Statistics department revolutionized the statistical basis for brain mapping using Random Field Theory. His lab produced the MNI152 template, a 3D spatial reference templates for brain imaging analysis that is used by major neuroimaging analysis packages worldwide. Today, 25 years later, MNI152 is still considered the standard reference space throughout the world, because it lays the foundation for comparability of statistical analysis across thousands of PET, MRI, and fMRI data. Evans also was a founding member of the Organization for Human Brain Mapping (OHBM) in 1995, the premier society for brain mapping research.
Large-scale Neuroinformatic Solutions
Throughout his career, Evans has understood the need of supporting neuroscience with a sustainable infrastructure and spearheaded the development of large-scale neuroinformatic solutions. He helped create the BigBrain dataset in 2013, a full 3D digital model of the human brain, reconstructed from more than 7,000 histological brain sections in a multi-year effort, which resulted in an openly available 1-Terabyte dataset, enabled by High Performance Computing. It was recognized as one of the Top 10 Breakthroughs in 2014 by MIT Technology Review.
He also established CIVET, one of the most widely used computational workflows for brain anatomical analysis of the brain surface, which extracts cortical surface from neuroimaging data automatically. CIVET is an important tool for studies of neurodevelopment and neurodegeneration and has been widely used around the world for cortical thickness analysis. He pioneered the concept of structural covariance analysis, using MRI to investigate inter-regional connectivity in the brain, and its applications in neurodevelopment, neurodegeneration and psychiatric disorders.
Evans runs the McGill Centre for Integrative Neuroscience (MCIN) lab, studying multi-modal brain imaging and structural network modeling. Most notably, his lab built two widely used neurodata platforms that enable high-throughput and reproducible neuroscience, LORIS and CBRAIN. LORIS consolidates imaging, genetics, behavioural, and biospecimen data across sites, and CBRAIN allows for high-performance computing with complex analytic workflows, on supercomputer or cloud-based software. The platforms support over 1,200 users in 30 countries.
One of the world's foremost authorities in computational neuroimaging
To say that Dr. Evans is one of the world's foremost authorities in computational neuroimaging is no overstatement; he has been continuously producing outstanding research contributions since the 1980s, with no signs of slowing down. He has published more than 700 papers and consistently ranks in the top 1 per cent of highly cited international scientists in Neuroscience and Behaviour, with an h-index over 200.
Such a body of work has not gone unnoticed. Dr. Evans has received many prestigious accolades for his numerous achievements in neuroscience research and brain imaging. In 2014, he won the Vezina Prize for contributions to Québec Neuroradiology and the Margolese National Prize in Human Brain Disorders. He became a Fellow of the Royal Society of Canada in 2015 and in 2016, he received the Wilder Penfield Prix du Québec. In 2017 he was awarded the Senate of Canada 150 Medal, ranked #6 in a list of ten most influential brain scientists of the modern era compiled by the journal Science, and became a Fellow of the Canadian Academy of Health Sciences. In 2018 he received the Heinz Lehmann Prize for Outstanding Contributions to Neuropsychopharmacology, the Club de Recherches Cliniques du Québec Mentorship Award, and became the Victor Dahdaleh Chair in Neurosciences. In 2019, he was awarded the OHBM Glass Brain Award for lifetime achievement. In 2020, he was the recipient of one of Canada's most prestigious prizes for careers in research, the Izaak Walton Killam Memorial Prize, also for lifetime achievement.
About the RSC McLaughlin Medal
The McLaughlin Medal was established in 1978 by the RSC through the generosity of the R. Samuel McLaughlin Foundation to recognize distinguished achievements in medical sciences in Canada. The medal is awarded for important research of sustained excellence in any branch of medical sciences. The gold-plated silver medal is awarded every year if there is a suitable candidate.
Read the official RSC press release.