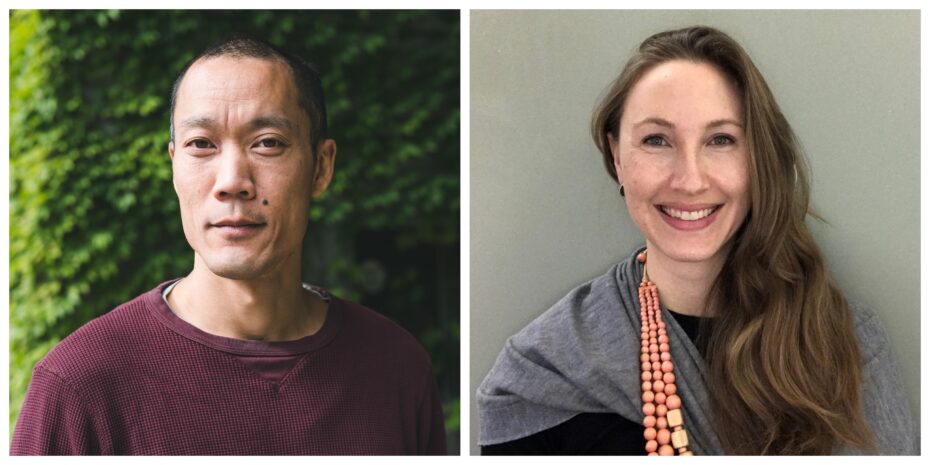 The McGill Bieler School of Environment has announced its first annual round of Spark and Ignite funded research projects. Spark and Ignite are ongoing funding programs designed to help the BSE continue its important work to find interdisciplinary solutions to complex environmental challenges. Among the projects are two that examine agricultural biodiversity and nutrient footprints – from McGill campuses to Panama City.
Increasing agricultural biodiversity
"Every person on earth relies on agriculture," says Fiona Soper, PhD, Assistant Professor in the Bieler School of Environment and Department of Biology, describing the realization that caused her to expand her research focus from strictly natural to production systems. "Today, virtually all of the world's staple crops are produced in mostly mono-cropped annual agricultural systems started from scratch from bare ground every year."
This requires extensive management and continually disrupts the ability of the soil to support diverse biological communities and sequester carbon. Perennial crops on the other hand (such as the newly developed perennial alternative to wheat, Kernza) can be grown in a way that more closely mimics natural carbon-sequestering grassland systems: they require far less farmer intervention and include biodiverse species mixtures with complimentary ecological roles.
"Because these growing systems are still new and not yet widely adopted by the agricultural community, we are in a phase of active research to understand – and optimize – how they function and develop guidelines for producers."
Soper's Spark project, Nitrogen Dynamics in a Novel Perennial, Biodiverse Cropping System, will be conducted with Cynthia Kallenbach (Assistant Professor in the Department of Natural Resource Sciences and Bieler School of Environment Associate Member) and Jessica Nicksy (Department of Natural Resource Sciences and Kallenbach lab PhD student), across both McGill Downtown and Macdonald campuses. Its goal is to measure how incorporating legumes, which create their own fertilizer from the air, into cropping mixtures, can replace human-made fertilizers and improve soil functioning.
"Much of the work of developing these perennial cropping systems so far has revolved around their ability sequester soil carbon, and this project builds on existing work on carbon being done at McGill by the Kallenbach lab," says Soper. "In our new collaboration, I am bringing my expertise in nutrient cycling, usually applied to tropical forests, to also assess how nutrient dynamics can be optimized in these new cropping systems. Incorporating legumes into these cropping mixtures has been proposed as a way to increase nutrient supply to the crop, but the mechanisms have not yet been tested."
The project has direct practical applications for improving the sustainability of our agricultural system. Perennial grain crops are in the early stages of adoption by agricultural producers and the data collected here can help improve crop performance. "Successful optimization is key to convincing farmers to adopt these more sustainable systems!" concludes Soper.
The nutrient footprint of Panama City
"By 2050, the human population is projected to increase to more than 9 billion, with 70 per cent living in cities," says Brian Leung, Associate Professor in the Bieler School of Environment and Department of Biology. "These massive changes will have wide-ranging consequences and will interact with nature's contribution to people, such as biodiversity and water quality, which are central to planning for sustainable futures." Yet, in many places on Earth, basic information on urban footprints and their ecological impacts outside city boundaries are lacking, and countries in the Global South are particularly vulnerable.
For instance, the Panama Greater Metropolitan Area contains 50 per cent of the country's population, and is anticipated to increase by a third by 2050. Nutrient pollution will be part of the urban footprint, and will be affected by urban activities. These can include deposition from traffic (transport and road systems are already saturated), peri-urban agriculture (50 per cent of pineapple crops and rice cultivation occur near Panama City), and urban waste water. All of which generate nutrient input into waterways, both reducing water quality to surrounding, environmentally sensitive regions (e.g., Lake Gatun, which provides fresh water for the city), but also providing nutrient subsidies into ecosystems along the Bay of Panama.
The Ignite project Estimating the Urban Nutrient Footprint in Panama City and its Ecological Impact, conducted with Associate Professor Kevin Manaugh (Bieler School of Environment and Department of Geography), Assistant Professor Fiona Soper (Bieler School of Environment and Department of Biology) and Associate Professor Graham MacDonald (Department of Geography and Bieler School of Environment Associate) will produce the first estimate of urban nutrient inputs into the environment for Panama City.
"We will estimate potential environmental effects, focusing on mangrove ecosystems surrounding Panama City, and develop an urban 'nutrient' model, which has not been done for Panama City, and has rarely been done for cities in the Global South," says Leung. This work will help produce a predictive country-wide model which will serve as a platform to ask sustainability and environmental questions, and provide scientific information needed to make informed policy decisions about the future.
The project builds on existing research and programs in Panama, where McGill has long-standing relationships going back 20 years. "These are some of the most important sites for migratory birds in the Americas, with 2.1 million shorebirds flying through every year," explains Leung. "They are habitat for over 200 resident bird species, provide nurseries for offshore fisheries, carbon sequestration and coastal flood protection, and include a Ramsar Wetland of International Importance. Thus, Panama City's nutrient footprint can have important environmental ramifications."
The project highlights the Bieler School of Environment's commitment to studying and advancing the resilience of socio-ecological landscapes worldwide, focusing on biodiversity and human interactions with other species, and sustaining healthy societies within a flourishing biosphere.