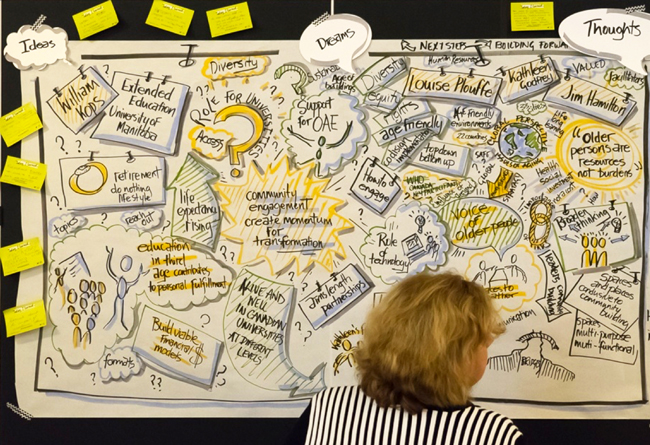 By  Gerri Barrer
About 125 seniors and young people packed the McGill Faculty Club recently. They arrived at 8 in the morning and stayed until after 4. What kept them captivated was the Symposium hosted by the McGill Community for Lifelong Learning, entitled The Challenge of Transformation: Lifelong Learning and Living in the 21st Century. The event met, and surpassed, everyone's expectations.
Opening keynote speaker Christine O'Kelly, Coordinator of the Age Friendly University Network based in Dublin, set the scene for renewed commitment and motivation to enhance the lives of older community-members through education, research and civic engagement. The University of Manitoba and McMaster University are the only Canadian universities that are part of the Age Friendly University Network. O'Kelly wondered out loud if McGill would be next in line?
Today's seniors want their wisdom and experience to augment the richness they already bring to society. They, and the multi-generational symposium audience, paid rapt attention as headline speakers and discussions focused on topics from Artificial Intelligence to the future of lifelong learning and living at McGill.
Neuroscientist Dr. Lesley Fellows, of the Montreal Neurological Institute, had the audience in her hands as she explained how socialization, being with people of any age, is of prime importance for meaningful longevity. The Director of the McGill Bicentennial Events, Gerald Cadet, raised levels of enthusiasm for the celebratory events that will begin in 2020.
Organizers encouraged spontaneous feedback post-it notes for participants to write their comments and ideas, and then stick them on a board at the back of the room. A graphic facilitator transformed the notes into a dynamic, compelling poster that serves as a representative memento.
There are more seniors in Canada right now than there are children under fifteen. The goal is to not only achieve longevity, but to optimize it as well. Agers want to be Super Agers, people whose memory and attention isn't just above average for their age, but on a par with healthy 25-year olds. The McGill Community for Lifelong Learning has done much to swell their ranks. MCLL is a branch of the McGill School of Continuing Studies.
View the videos of the day's events online.
Gerri Barrer is a member of the MCLL Communications Committee