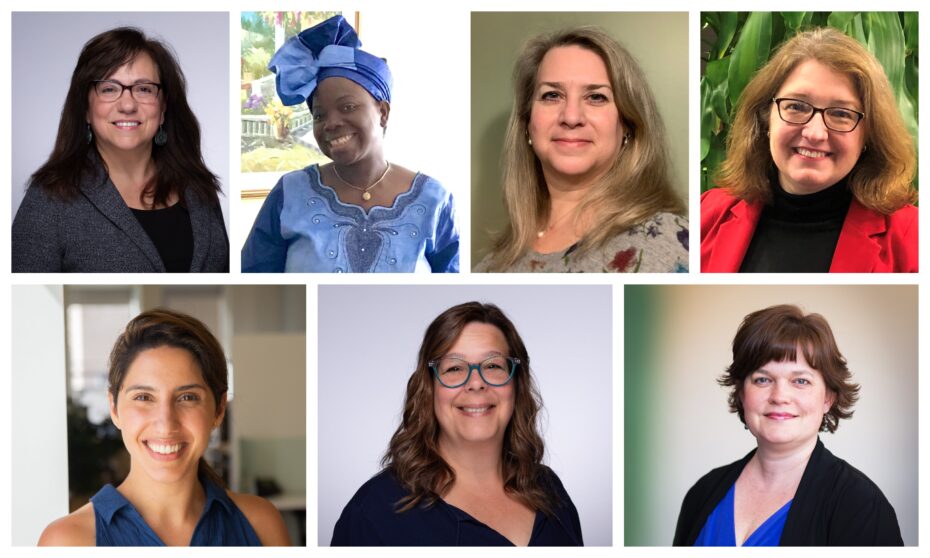 When the world was hit with the initial surge of COVID-19 back in early 2020, educational institutions around the world scrambled in order not to lose the year. While the McGill community transitioned admirably to complete the 2019-2020 academic year by adopting alternative methods of teaching, it was clear that a lot more support would be necessary to sustain alternative teaching methods over the course of a full year.
Enter the Remote Learning Assistant Program Team.
Assembled in July 2020, the Team was given the mandate to design, implement, and support a program in which some 300 students were hired, trained, and deployed to support instructors with the technical aspects of remote teaching over the course of the 2020-2021 academic year. The project was so successful that the Team has been named winner of the Principal's Awards for Administrative and Support Staff in the Team category.
The eight-person Team was comprised of the following members from Teaching and Learning Services; Career Planning Service; and the Scholarships & Student Aid Office:
Maggie Lattuca (Teaching and Learning Services)
Nancy St-Pierre (Teaching and Learning Services)
Sandrine Hoindo-Donkpegan (Teaching and Learning Services)
Sydnee Goodrich (Teaching and Learning Services)
Darlene Hnatchuk (Student Services)
Cara Piperni (Student Services)
Amelia Slone (Student Services)
Linda Webb (Office of Student Life and Learning)
Seamless collaboration
It is impressive, some would say remarkable, that this relatively small team could spearhead such an ambitious and impactful initiative in such a short period of time – and with such resounding success.
"Simply, each member of the team brought their expertise and was driven by the goal to improve the teaching and learning experience in a remote context," says Maggie Lattuca, Manager – Online Programs Portfolio, Teaching and Learning Services. "The collaboration between units was seamless. Team members put in extra hours to get the initiative in place."
It was a classic win-win situation, in which instructors received much-needed technical help and students, many of whom were without a job because of COVID-19 lockdowns, were gainfully employed again.
"As a team we applied for and received over a half-million dollars in federal wage subsidies by way of the TECHNATION Career Ready Program," says Lattuca. "This, combined with McGill's need-based Work Study Program, significantly reduced the cost of hiring remote learning assistants (RLAs)."
Not only were the student RLAs provided with much-welcomed income, the work experience gave them transferable skills. The program was designed to provide both domestic and international students employment and co-curricular work integrated learning opportunities.
"A Community of Practice group was created for the RLAs and TLS Teaching Technology Consultants within the myCourses platform to allow them to share best practices and resources, pose questions, and ask for guidance," says Lattuca. "RLAs were also required to complete weekly reflections on their work experience. One of the most common reflections was that they found satisfaction in assisting instructors and students, and appreciated learning about what goes on 'behind the scenes' in planning course lectures and materials."
Resounding buy-in across McGill
As demanding as the initiative was, Lattuca says it was inspiring to see how the McGill community responded.
"The Faculties were on board immediately," she says. "Everyone saw the value of assisting instructors who had pivot their teaching style, often using technology they had never had opportunity to use."
"The positive feedback we received from instructors and Faculties was gratifying," she says. "We learned about the commitment of McGill instructors to provide students with the best possible learning experiences given the constraints of the COVID context. We learned about multiple creative strategies instructors used to create opportunities for student engagement. We learned about the value to students of gaining insights into the process of teaching and learning. And we learned about the power of collaboration when everyone is focused on the same goal – helping instructors and students."