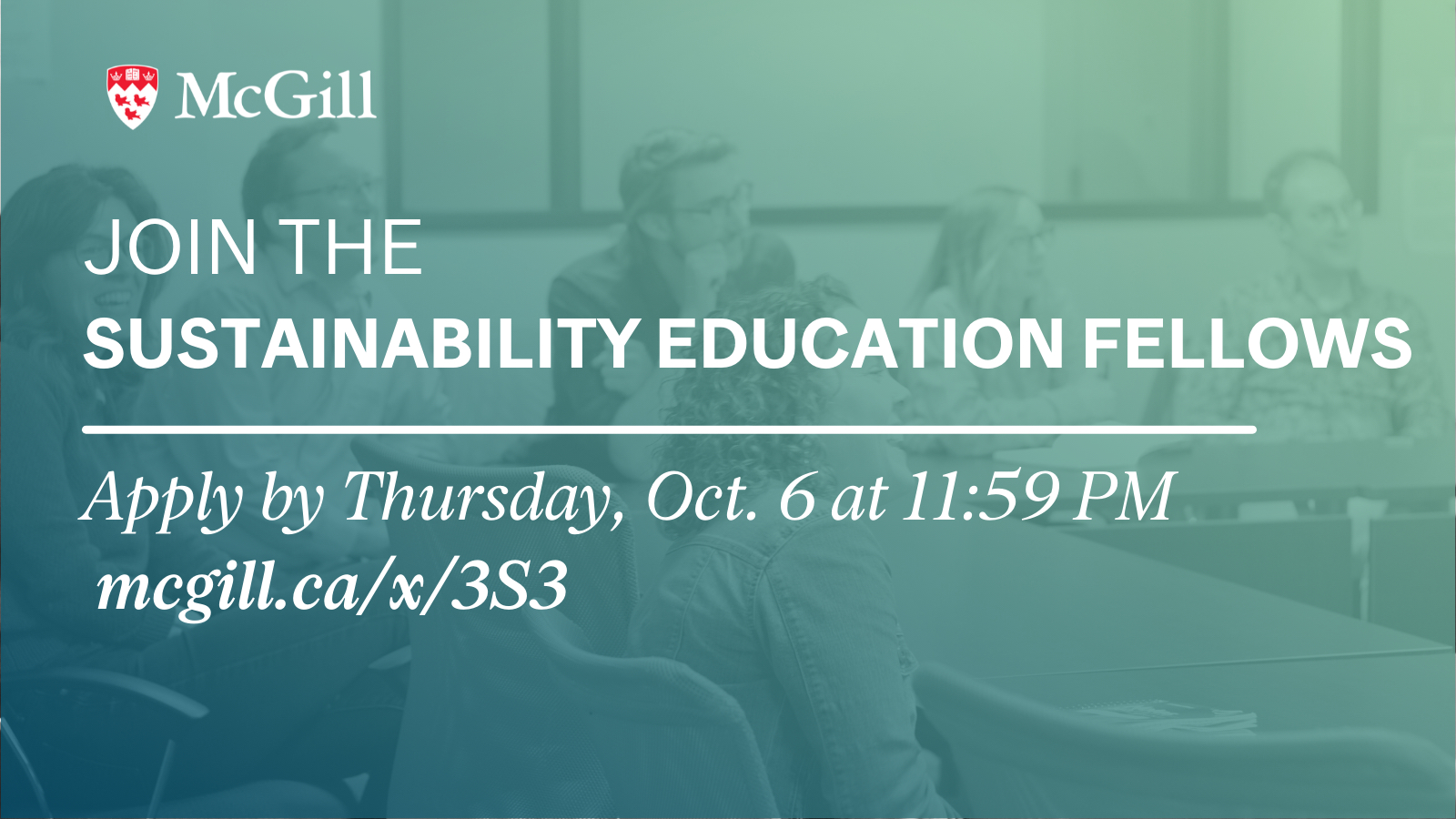 The ambitious targets of zero-waste by 2035 and carbon neutrality by 2040 aren't the only goals in McGill's 2020-2025 Climate & Sustainability Strategy.
The Strategy also outlines the priority of enhancing sustainable research and education, through in part designing workshops to support instructors in embedding sustainability into their curricula.
In working towards this objective, the Office of Sustainability, in partnership with Teaching and Learning Services, the Office of the Provost and Vice-Principal (Academic), the McGill Sustainability Systems Initiative (MSSI), Office of Science Education, and Department of Integrated Studies in Education, has created an opportunity for faculty and students to enhance sustainability in the curriculum.
The Sustainability Education Fellows Program is a cross-campus initiative, supported by the Sustainability Projects Fund, that will bring together faculty and students to advance sustainability in the curriculum and pedagogy at McGill. The Sustainability Projects Fund is the largest of its kind in Canada, valued at $1 million per year. Its mandate is to kickstart sustainability projects across McGill's campuses.
"We're excited that we've received funding from the SPF to launch the Sustainability Education Fellows," says Sustainability Officer Jessica Latus. "This new initiative will advance sustainability in the curriculum in a meaningful way by providing a collaborative, capacity building opportunity for faculty and students to advance sustainability course development."
Both faculty and students will be engaged through a year-long cohort; the Faculty Fellows are current instructors who will use this opportunity to design or revise a course to include sustainability at its core, while the graduate-level Student Fellows will be trained on sustainability pedagogies and will be available to the Faculty Fellows to aid them in their course (re)design.
"Sustainability is a central and foundational priority for McGill University and this includes how we think about sustainability in curricula, regardless of the discipline," adds Chris Buddle, Associate Provost of Teaching and Academic Programs.
"The Sustainability Education Fellows is a perfect way help infuse sustainability into the classroom. If instructors and students work together to modify and adapt curricula through the lens of sustainability, this has the potential to impact thousands of students," he says.
A stipend of $8,000 will be available to each Faculty Fellow to be applied towards hiring a graduate assistant, creating an instructional tool, or other expenses associated with the work.
Learn more and apply for the 2022-2023 academic year by Oct. 6 at 11:59 pm.