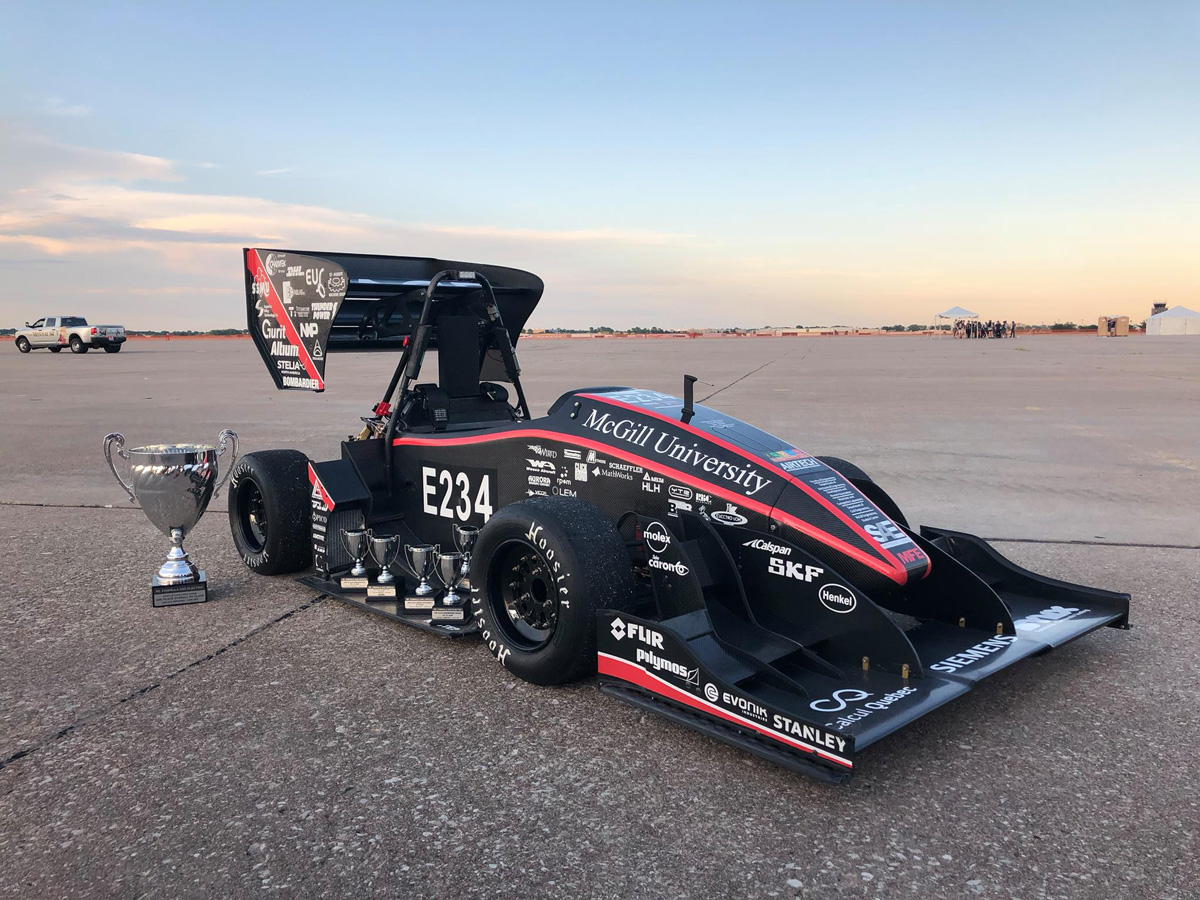 The exhaust may have settled on this year's Grand Prix weekend, but a group of McGill Engineering students are keeping Montreal F1 fever alive with an excellent showing at last week's Formula SAE Electric competition.
SAE is a global organization of more than 128,000 engineers and related technical experts. The group runs an annual series of 20 competitions in which Engineering students from around the world race small, F1-style cars of their own creation. One of these competitions, the Formula SAE Electric, focuses on fully electric vehicles. The 2018 electric competition attracted more than 2,000 students to Lincoln, Nebraska, from June 20 to 23.
The McGill Formula Electric team is made up of some 40 students from an array of disciplines in the Faculty of Engineering, heavy on Mechanical and Electrical, with some students from Chemical and Bioengineering. A few team members come from other faculties. The McGill Formula Electric is an extracurricular activity, not connected to any course requirements.
Throughout the academic year, the team designs, fabricates, tests, and builds a new single-seat electric race car. Summertime is when the proverbial (and literal) rubber hits the road, with the students pitting their creativity and engineering know-how against fellow students from across Canada, the U.S., and Mexico, and even as far away as Japan, India, and Brazil.
This year, the McGill team raced an electric car dubbed the MFE19. The team, led by captain Jean-Christophe Bélanger, put MFE19 through its paces at the Lincoln Airpark in five dynamic categories: acceleration, autocross, efficiency, endurance, and skidpad. (The cars were also judged in three static categories that reflect their potential as a production item: cost, engineering, and marketing.) MFE19 placed second overall in a pack of nearly 30 cars. The McGill students also earned a second-place trophy for their 4.159-second acceleration run, and third-place trophies in autocross and skidpad. The MFE19's performance is particularly noteworthy given this year's torrential rainfall, which covered the track with up to an inch of standing water.
McGill students have competed in every Formula SAE Electric since the competition's inception in 2013. This was the team's best performance yet, after placing 11th last year and taking fourth place three years running.
This year's showing is all the more impressive considering the team itself underwent a major overhaul last August. The previous electric team merged with the McGill Racing Team, which began designing gas-powered racers for SAE competitions in 1994, to focus on renewable energy sources.
"This was my fourth year and final year on this team and it has been by far the best," says team manager Lucas Crea, who graduated with his BEng last month. "Two completely different teams that barely spoke to one another united knowledge and passion to create an incredible vehicle. This attracted some outstanding new recruits that were as passionate and as dedicated as the senior members. This phenomenal team synergy is what made our success possible and I feel incredibly fortunate to have been a part of it. It is by far the best way to end my time on this team and my time at McGill."
He says the rest of the summer will be devoted to further tweaking the MFE19 and "having a big of fun" with some outreach events. In late September, the MFE19 will roll down the 401 to compete in the University of Toronto Shootout, Canada's largest student-run racing event, which attracts students from 500 universities worldwide.
Then it's back to the drawing board. Throughout the fall, a new team of McGill Formula Electric students will design next year's car, which they'll build during the winter semester—and then hit the blacktop in summer 2019.