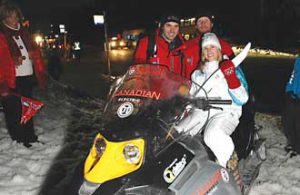 By Neale McDevitt
On Feb. 5, an estimated 10,000 people cheered wildly and snapped photographs as McGill's electric snowmobile trekked across the lower portion of the Olympic alpine ski run in Whistler, B.C. Well, perhaps the enthusiastic response had more to do with the fact that the McGill's zero-emission vehicle was carrying Olympic torch-bearer, Julia Murray, flame held high for all to see. Murray then handed the torch to former Canadian Olympian Steve Podborski, who skied the lower portion of the alpine ski run with it.
In fact, very few people probably noticed the battery-powered snowmobile – which was just fine with Simon Ouellette, the Mechanical Engineering PhD candidate who is doubling as the on-site maintenance technician. "One little glitch and we could have ruined the day for thousands of people," he said from Whistler via email.
While the snowmobile's primary, and most visible task went off without a hitch, Ouellette is still offering its services to Olympic organizers. "One obvious application is at the cross-country ski events, said Ouellette. "They always compete over a very long circuit and end with a two-kilometre loop in front of the crowd. There is always a cameraman on the back of a snowmobile catching the action. But think about it? These athletes have been going at it for 50 km. Their lungs are dead. The last thing they need is a snowmobile burning gas in front of their face."
The snowmobile was brought to the Olympics thanks in part to Canadian Snowmobile Adventures (CSA), a Whistler-based touring company that has helped finance the development of the enviro-friendly vehicle. Ouellette figures the McGill snowmobile would be ideal for some of CAS's smaller touring routes. "It's a great vehicle for people who have never been snowmobiling before. We can limit the speed and it is almost silent, which is perfect for people who want to enjoy nature."
The electric snowmobile is the brainchild of McGill Mechanical Engineering professor Peter Radziszewski. "I'm not a die-hard winter sports fanatic but there is something very magical about cross-country skiing and snowshoeing through a peaceful, snow-covered forest," said Radziszewski. "But then that beautiful silence is broken by a screaming snowmobile."
Radziszewski began developing the snowmobile as an undergraduate class project when he came to McGill in 2001. "And from there it has just snowballed," he said. "Pun intended."
Over the years, students have refined the design, and the snowmobile has evolved into a sophisticated, reliable and green alternative to its gas-powered cousin. This combination of reliability and energy efficiency has attracted the attention of a diverse group of admirers. The U.S. National Science Foundation, for one, has employed its services on the Greenland Ice Cap, where researchers need to take environmental samples untainted by exhaust. "They used to have to carry equipment on cross-country skis for three or four days," said Ouellette. "But our snowmobile was a perfect fit for them."
Last year, the snowmobile worked the slopes at the FIS World Alpine Ski Championship in Val d'Isère, France, where, fittingly, it was employed to tote recyclable materials from the ski slopes to the main facility in the town.
And while the snowmobile performed perfectly in France in 2009 ("I felt like the Maytag Repairman," said Ouellette), the model was upgraded before being shipped to Whistler – adding an extra layer of stress for Ouellette.
"If Toyota still has technical problems with their cars after they have invested millions of dollars and millions of hours in them and have billions of kilometres of driving with them, what are the odds of having a technical issue on our electric snowmobile prototype that has a few thousands dollars invested in it and a handful of test hours?" he said. "But the weight was off my shoulders when it met Steve Podborski at the top of the descent."