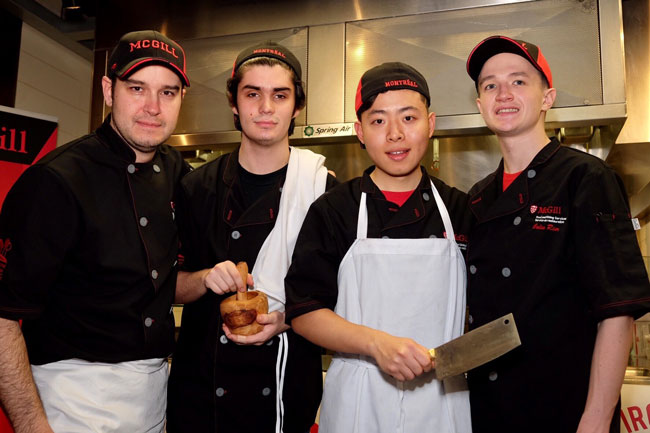 By McGill Reporter Staff
A team of McGill undergrads won "Best Main Course" and placed third overall at the annual Inter-University Iron Chef Competition at New College at the University of Toronto this past weekend. The University of Massachusetts Amherst took first and host U of T came in second.
"It was a fun and friendly rivalry, and if the goal was to bring an interesting and fun experience to the student participants – it was a great success" says Zach Suhl, chef of the Bishop Mountain Hall and Douglas Hall Student Residences and the McGill team's coach for the weekend.
"Sure, they were disappointed that they did not win, but they enjoyed the whole experience and would eagerly participate again, if they could," said Suhl. "The team worked really well together, they were clean and organized and did a great job representing McGill. One student went as far to say that it was his most memorable experience at University so far, and he's a third year student!"
The Iron Chef contest arose from a 2011 culinary contest between 10 McGill residences. The competition grew to include other Canadian and American universities in 2014.
McGill picks its team by holding a preliminary round between the University's residences so the students are almost all in their first year. McGill's team has been training in residence kitchens since early February. Students prepare dishes on their own while the university chefs coach and chime in with advice.
This year's McGill team was comprised of Zhe Li, a native of Beijing, majoring in Chemical Engineering; Colin Hier, from Cambridge, Ontario, who wants to pitch his own degree in 'Culinary Anthropolgy' to McGill; and John MacKay, an Arts Student from the San Francisco area.
U of T's Director of Culinary Operations and Executive Chef, Jaco Lokker helped organize this year's event. Lokker is a friend and former colleague of McGill's Executive Chef, Oliver Di Volpe. "McGill initiated the event by inviting UMASS, Toronto and Ottawa, and now we'll say all four of us are the owners of the activity," says Lokker.
Presented with a mystery box of ingredients, each team had to improvise an appetizer and a main course in two hours. This year's ingredients included a choice of protein (pork and salmon), konnyaku (a flavourless gelatinous ingredient made from the pounded roots of a yam-like plant called konjac), lemon grass, tandoori paste, beluga lentils and blue cheese.
The McGill chefs prepared two appetizers – salmon and konnyaku tartare, with lemongrass infused coconut milk; and a Chinese dumpling with red pepper coulis. The McGill chefs were rewarded for their efforts by earning an award for the best main course.
For their main course they made a roasted blue cheese stuffed pork loin, with spätzle (soft egg noodles, like dumplings, served as a side dish), creamed leeks and tomato confit.
"We needed to incorporate two mystery ingredients per dish for two dishes in total," says Zuhl. "Konnyaku and lemongrass was in the appetizer, and beluga lentils and local blue cheese in the main course. The students practiced with four proteins: whole chicken, pork loin, salmon filet, and whole sole, knowing that two secret ingredients would be revealed for the event. The Black Box revealed salmon and pork as the proteins. The student chefs were very creative, and incorporated the Black Box ingredients without much stress at all."
Next year's competition will be held at McGill.