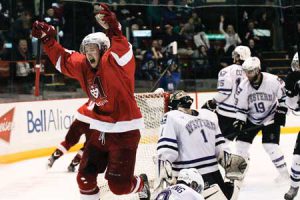 By Earl Zukerman
Andrew Wright, who assisted on the winning goal when McGill claimed their first-ever CIS national championship in men's hockey last March, has signed a contract to play for the Idaho Steelheads of the East Coast Hockey League.
The 22-year-old native of Toronto becomes the fifth member of the Redmen to ink a pro pact since last spring. During his four seasons with McGill, the 6-foot-2, 186-pound forward scored 160 points, including 53 goals, in 162 games overall.
"Andrew is a strong right wing with a history of making big plays in clutch situations," says Brad Ralph, head coach and director of hockey operations for the Steelheads. "He moves well, creates opportunities, and had a terrific college career at McGill."
Wright will be in Boise when training camp begins on Oct. 1. The 16th season of pro hockey in Boise kicks off on Oct. 12, when Idaho hosts the Utah Grizzlies.
McGill, which posted a 32-12-1 record overall last year, opens their 137th season this week when they play host to the Royal Military College Paladins in a preseason affair at McConnell Arena, Friday at 7 p.m. The OUA regular season is slated open on Oct. 5 at Concordia.
The other Redmen grads to sign pro contracts over the past few months include team captain and left-winger Evan Vossen (Stockton Thunder, ECHL), centre Maxime Langelier-Parent (Norfolk, AHL), left-winger Francis Verreault-Paul (Hershey, AHL) and defenceman Marc-André Dorion (Linz, Austria).