As part of the 2019 Fall Convocation ceremonies on Tuesday, October 29, McGill conferred Honorary Degrees upon Irving Ludmer, philanthropist and business leader; and Stuart H. (Kip) Cobbett, Governor Emeritus of McGill's Board of Governors and longtime champion of the University.
Both men offered their words of advice to the graduating Class of 2019. Watch the videos of their respective addresses below.
Irving Ludmer
Doctor of Laws, honoris causa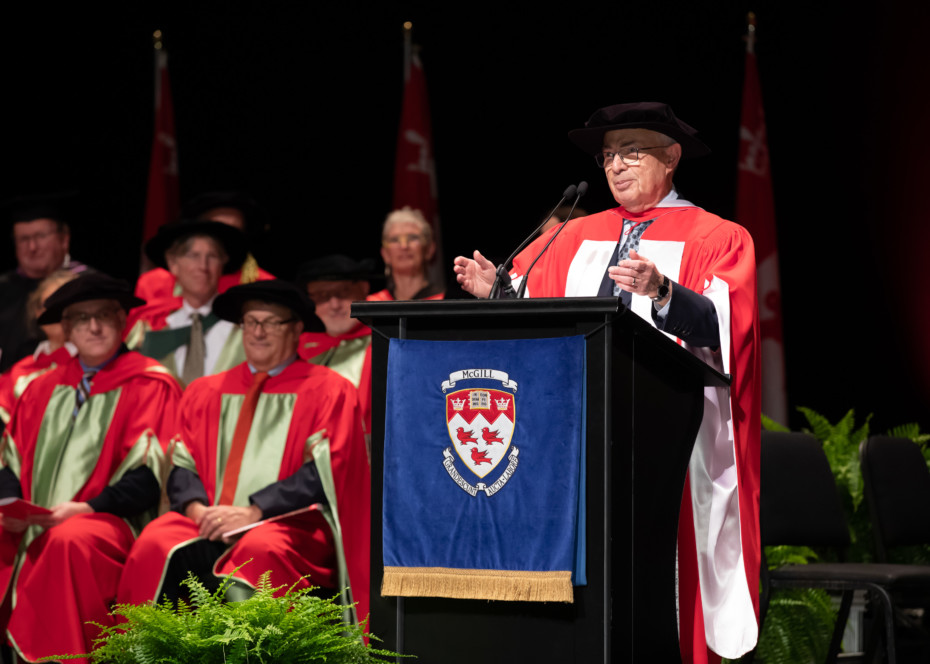 A visionary philanthropist and business leader, Irving Ludmer is dedicated to promoting the advancement of research for brain and mental health. After graduating from McGill, Mr. Ludmer joined the Steinberg grocery chain, where he held a number of positions, including that of vice-president. In 1971, he left the company to become one of Quebec's leading real estate developers. He rejoined Steinberg's in 1983 and assumed control of its real estate subsidiary, Ivanhoe Inc., and then as president and CEO of Steinberg Inc., he played a pivotal role in the firm's successful turnaround. In 1989 when Steinberg's was sold, Mr. Ludmer, along with Dr. Arnold Steinberg and Mr. William Cleman, formed the investment holding company Cleman Ludmer Steinberg. That same year, he established the Irving Ludmer Family Foundation.
The Ludmer Foundation works to improve the quality and efficiency of treatments offered to patients dealing with mental health illnesses as well as supporting a great number of organizations, social services, and health agencies. In 2015, Mr. Ludmer received the award for Outstanding Philanthropist of the Year, for his unwavering commitment to making breakthroughs in brain research more achievable.
A passionate humanitarian, Irving Ludmer has made a difference with his love of science and generosity. He serves as a model of philanthropy among McGillians.
Stuart H. (Kip) Cobbett
Doctor of Laws, honoris causa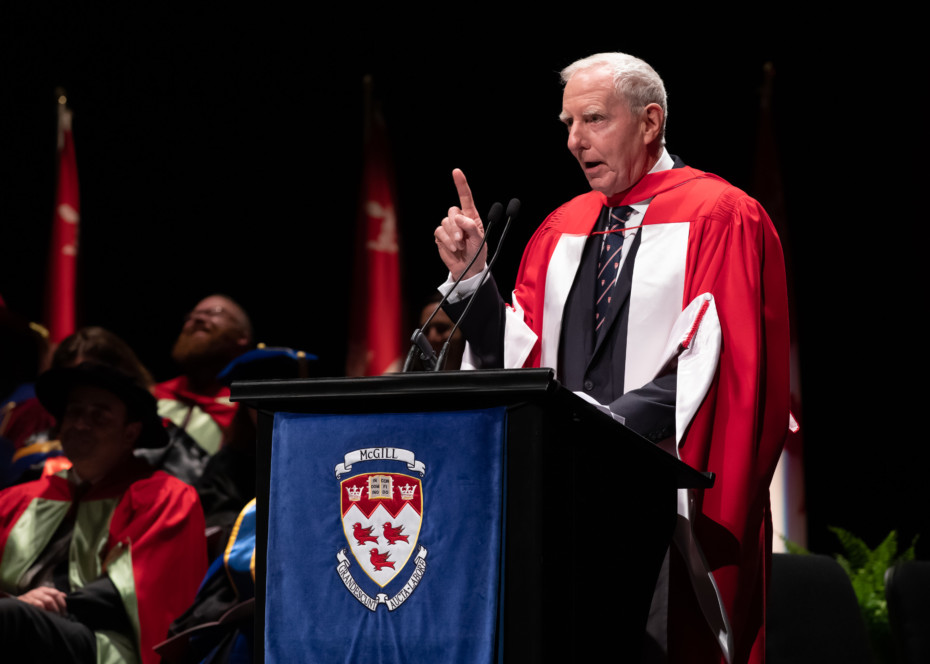 Stuart (Kip) Cobbett's love of McGill began as a student. Highly involved in campus life, he participated in activities ranging from intramural athletics to the Winter Carnival. From 1976 to 1985, he was a part-time lecturer in banking and negotiable instruments in the Faculty of Law and when he moved to London, he took on the role of President of the McGill Alumni Association (MAA) in the United Kingdom.
Kip Cobbett has enjoyed a distinguished law career spanning more than 40 years. During his time as partner at the business law firm of Stikeman Elliott, he served as Managing Principal of its London office, Managing Partner of its Montreal office and Chief Operating Officer of the firm. He worked to place greater emphasis on the firm's corporate social responsibility. For his many contributions to the practice of law, the Barreau du Québec recognized him as Advocatus Emeritus.
A McGillian to the core, Kip Cobbett has received almost every major honour possible from the McGill Alumni Association. He is a Governor Emeritus of McGill's Board of Governors, having served since 2005, including seven years as Chair. In his words: "McGill has provided the foundation for my entire professional and business career. My McGill education transformed my life and set me on a path that I have followed to this day."