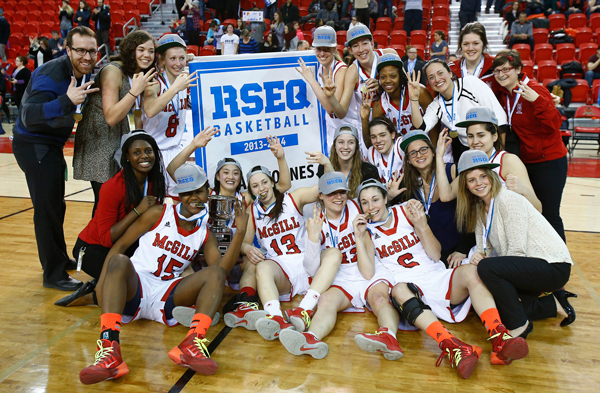 For the second straight year, McGill claimed both the Quebec men's and women's basketball titles after never have achieved this feat.
The Martlets won their third consecutive RSEQ conference banner Saturday and they will be heading the CIS Nationals, slated for March 14-17, in Windsor, Ont.
The Redmen, who swept Laval and Bishop's over the weekend to win the new RSEQ Final Four tournament format, also advance to the CIS Final Eight tourney in Ottawa, March 7-9.
Full game stories below
Sylla sizzles, Citadins fizzle; McGill three-peats as Quebec champs in college hoops
By Ryne Bondy and Earl Zukerman
QUEBEC CITY – Mariam Sylla registered a "double-double" with 22 points and 13 rebounds to lead the top-seeded McGill women's basketball team to a 63-50 victory over third-seeded UQAM in the RSEQ championship game at the Quebec conference's Final Four tournament, Saturday.
It was a school record third consecutive league title for McGill and their ninth since joining the Quebec conference in 1972.
The Martlets will be making their ninth trip to the CIS championships, which are slated for Windsor, March 14-16.
McGill saved one of their best defensive performances for when it matter the most. They held UQAM to 21.2 per cent shooting from the floor (14/66). "The girls followed the game plan defensively," noted Martlet head coach Ryan Thorne. "Having played them four times we know their stuff pretty well, so the girls were able to control the game on that end of the floor."
The intensity on the defensive end gave McGill a 14-6 led after the opening frame. It was a quarter where the Citadins did not knock down a single field goal; all six points came from the free throw stripe. "From the first minute of the game we wanted to make a point, "said Martlet co-captain Helene Bibeau on what she believed was their best defensive game of the year. "We know they like to be aggressive and attack the basket so we tried to match that intensity and meet them at the rim."
Camille Michaud finally broke the ice for UQAM with a transition layup at the 7:19 mark of the second quarter but the Citadins still found themselves down 32-19 at the half. The Martlets continued their strong play after the break taking a 51-31 advantage into the final stanza before coasting to victory.
Sylla, a 6-foot-1 forward from Guinea, was an impressive 9-for-14 from the field and made 4 of 6 free throw attempts. She was aggressive from the get go and took advantage of early UQAM foul trouble including 3 first half fouls on all-star forward Jessica Lubin. "The fact that their best big was in foul trouble and they weren't really deep in the post position we ran a lot of our sets through Mariam," said Thorne. The coach was also impressed with Sylla's hustle and ability to capitalize on second chance opportunities. "She does a great a great job finding rebounds. When other people attack and defenders step in to help, Mariam stays aggressive and hits the glass, cleaning up a lot of our misses"
Diana Ros and Jennifer Silver provided strong secondary scoring for the Martlets. Ros, a third-year guard from Montreal, Que., had 12 points, three rebounds, three steals, and two assists. Silver, the rookie of the year in the RSEQ conference, came off the bench and also attacked in the low paint adding nine points and three rebounds.
The Citadins were led by Valerie Gauvin who had 18 points, four rebounds and three steals. She was 3-for-6 from downtown and scored five points from the line but really struggled around the hoop shooting a woeful 18 per cent from inside the arc. Questeline Celestin also struggled from the floor going 3-for-13. She got the majority of her 16 points from the charity stripe where she went 9-for-11.
McGill shot 42.9 per cent from the field (21/49), went 2-for-9 from three-point range and 19-for-27 from the foul line. UQAM, who managed to throw up a 66 field goal attempts, only made 14 shots from the floor. They went 4-for-14 from beyond the arc and 18-for-22 from the free throw line.
The Martlets will now turn their attention to nationals were they feel they could make some noise. "I think the stress is gone now," mentioned Bibeau. "We have been their two straight years and know the routine, plus we will be the underdogs with no real pressure." Coach Thorne likes the depth of his team but knows it will be long grueling process, "This is probably one of the deeper teams we've had over the past few years. We got a ton of talent but still must take it one game at a time. All our energy and preparation must go into winning that first round matchup."
MARTLET MURMURS: In their previous eight appearances at the CIS championship, the Martlets own a 7-13 lifetime record… Their only medal was a bronze after a 75-72 overtime win over Western in 1996… McGill is looking to be the third women's basketball champion from Quebec (Bishop's won twice: in 1983 and 1984)… Previous appearances were in 1974 (0-2, fourth), 1986 (0-2, seventh), 1988 (1-2, sixth), 1993 (0-2, seventh), 1995 (1-2, fifth), 1996 (2-1, third), 2012 (0-2, seventh) and 2013 (2-1, fifth).
Gaiters rocked, Redmen roll, repeat run as RSEQ basketball champs
By Ryne Bondy and Earl Zukerman
QUEBEC CITY –  Vincent Dufort scored a game-high 18 points and Francois Bourque posted a "double-double" as the No.6 ranked Redmen coasted to a lopsided 73-47 victory over Bishop's to capture their second straight Quebec university men's basketball championship at Laval's Centre PEPS, Sunday.
The Redmen, who swept Laval and Bishop's over the weekend to win the new RSEQ Final Four tournament format, advance to the CIS Final Eight tourney in Ottawa, March 7-9.
The Redmen were never troubled, outscoring Bishop's 24-9, 16-14, and 24-9 in the first three quarters. They were led by a strong performance from RSEQ player of the year and team co-captain Dufort. He scored all of his 18 points in the first half going a lights out 7-for-10 from the floor including a 4-for-5 performance from beyond the arc. "I wanted to take it upon myself to make sure we got a good start," noted Dufort. "I did my best to give us a push and then from there on everyone else picked up and we never looked back."
The third year forward from Smiths Falls, who was nursing an ankle injured suffered in last weeks season finale, also had seven rebounds and three assists. "I rehabbed it all week and did everything I could to be ready. With the adrenalin and atmosphere I didn't even think about it."
Bourque, a freshman forward from Terrebonne, Que., grabbed 12 rebounds including four offensive and scored 10 points finishing off the RSEQ Final Four with an impressive 27 points and 20 rebounds. McGill head coach David DeAveiro however, was most impressed with Bourque's play on the defensive side of the ball. "I don't think Frank gets enough credit for his defence on larger post players. It has been amazing his competitiveness and tenaciousness, he gets after it and it really helps us."
Bourque is one of 10 freshman players that make up the Redmen roster. DeAveiro noted post-game how different it was winning it this time with that type of make-up. "It's really rewarding in a sense because of so many young kids we have. Every time I think we are going to hit a bump in the road they prove me wrong; it's been a resilient group in that sense."
The Gaiters were led by big man Mike Andrews who had 13 points, eight rebounds, and four blocks. He went 6-for-12 from the field and 1-for-4 from the foul line. McGill was able to limit all other Bishop's bigs holding Matt McLean and David Belanger to eight and five points respectively. "Our focus was to take away their inside game," expressed DeAveiro. "We packed the paint and wanted to have them beat us with outside shots." That strategy seemed to work out well for the Redmen as Bishop's only has 24 points in the paint and went 1-for-11 from downtown.
McGill on the other hand knocked down seven of their 13 three point attempts. Overall they shot 47.2 per cent from the field (25/53) and added 16 points on 24 attempts from the free throw line. The Gaiters shot 31.7 per cent from the floor (19/60) and made 8 of 16 from the line.
Following the game, coach DeAveiro said he wants to savour the sweet taste of victory. "I am going to enjoy this right now and want our players to enjoy it as well." Dufort on the other hand has his mind on the bigger prize already. "We want to win the whole thing. Our goal is to be the best in Canada."
On Sunday night, it was announced that the Redmen have been classified as the fifth seed heading into the CIS men's basketball championship, March 7-9. They will meet fourth-seeded Victoria in a quarter-final, Friday at 5:30 p.m. McGill defeated Victoria 80-68 at the Nationals in Ottawa last year, to place fifth overall.
The single-elimination tournament, to be hosted by hosted by Carleton University, gets under way Friday at Canadian Tire Centre in Ottawa and culminates next Sunday at 2 p.m. with the gold-medal final, live on Sportsnet.
Sportsnet also has live coverage of Saturday's semifinals at 6 and 8 p.m., on Sportsnet 360. All 10 games from the competition – including televised contests – will be webcast live here.
Click here to access the championship website.