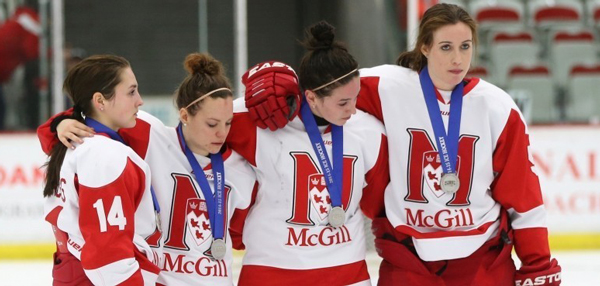 By Earl Zukerman
Goaltender Kelly Campbell of St. Thomas, Ont., made 38 saves as the second-seeded Western Mustangs stunned top-ranked McGill 5-0 to capture their first-ever CIS women's hockey championship, Sunday, at the Markin MacPhail Centre.
The heavily-favoured and high-powered Martlets, who had made appearances in six of the last eight national finals, dominated and outshot Western 38-15 but were turned aside at every opportunity by Campbell, the tournament MVP who saved 93 of 94 shots in the three-game tourney. She backstopped Western to a 3-1 win over Moncton on Friday, then posted back-to-back shutouts over Montreal (2-0 on Saturday) and McGill, the top two-ranked offences in the nation.
"There's no way to describe this feeling," said Campbell, who was named a first-team All-Canadian netminder on the eve of the tourney. "We've worked so hard as a team over the past year and we have the team behind me, I knew we had it the entire time and to get this win against McGill is incredible.
"They did [get a lot of shots] but the shots weren't too bad as my team was blocking a few and keeping them wide so overall I wasn't too worried about it."
The OUA champion Mustangs, making their first-ever appearance at Nationals, became only the third Ontario-based team to win the Golden Path Trophy and the first in a decade since the CIS championship was initiated in 1998. The only other Ontario squads to accomplish that feat were Toronto (2001) and Laurier (2005).
"This was obviously not the result we were hoping for," said Peter Smith, head coach of the RSEQ champion Martlets.  "It was one of those games where we just couldn't seem to catch a bounce or a break. I'm the first one to say that you make your breaks. We had lots of chances but their goalie was terrific and I give Western credit. They played hard.
"We were getting pucks to the net but we weren't getting opportunities. They did a really good job of keeping us away from the net and to the outside so we didn't get a lot of chances and with that goalie, I think that's what you have to do. She's going to stop everything that she can see. We had a hard time getting to the net."
Western defenceman Anthea Lasis was credited with the game-winning tally, on only their second shot of the game, a power-play wrist-shot from the blueline at 12:19 of the opening period.
Early in the second period, the Mustangs upped the count to 3-0 on a pair of goals by Stacey Scott and Stacey Scott at 2:48 and 5:15, prompting a goaltending change for McGill. Starter Taylor Hough, a junior from Toronto, who suffered her first loss in six CIS tourney games, conceded three goals on seven shots. She was replaced by sophomore Brittany Smrke of Oakville, Ont., who was also beaten on the second shot she faced — by Kendra Broad at 9:42 of the second — and ended up with six saves on on eight shots the rest of the way.
Trailing 4-0 McGill with 4:52 remaining in the third period, McGill pulled Smrke for an extra attacker and spent much of the remainder of the game inside the Mustangs zone but to no avail. Casey Rosen rounded out the scoring with a power-play goal at 19:02 of the final frame.
Western went 2-for-5 on the man-advantage, while McGill was 0-for-3. The aforementioned Broad and McGill's Katia Clement Clement-Heydra, were named players of the game for their respective teams.
"It's disappointing but I've got to give our girls credit, they played hard all the way to the end, regardless of the score," added Smith, whose troops finished with a 27-14-0 record overall, including a 21-7 mark against CIS opponents and a 16-4 first-place finish in the RSEQ conference. "But win or lose that final game, I'm still proud of them. They worked hard all year, had a number of speed bumps over the course of the year, learned from them and got better."
The University of Calgary will again host the CIS women's hockey championship in 2016.
MARTLET MURMURS: Two members of the Martlets were named to the CIS all-tournament team, namely defencemanKelsie Moffatt and forward Gabrielle Davidson, both of them named earlier in the week as second-team All-Canadians… The Martlets are expecting to lose five players to graduation, each of whom have suited up for five seasons… Leading the way is team captain Katia Clement-Heydra, an industrial relations senior and two-time All-Canadian centre who ranks second on the team's all-time list for games played (206), fourth in goals (121), second in assists (177) and third in points (298)…  Alternate captain Leslie Oles, a physical education major and four-time all-star winger, ranks third in games (199), third in goals (144), fifth in assists (149), fourth in points (293) and first in penalty minutes (324)… Forward Logan Murray, a major in world religions, posted a career record of 19-38-57 in 188 games… Losses on the blueline includeMichelle Daigneault and Adrienne Crampton, both alternate captains… Daigneault, an arts senior majoring in psychology, had an 8-49-57 record in 195 contests… Crampton, who missed the last 21 games with an injury, will graduate with a science degree in kinesiology. She has an 8-22-30 record in 176 career outings.
TOURNAMENT HONOURS
All-Tournament Team:
Goaltender: Kelly Campbell, Western
Defenceman: Katelyn Gosling, Western
Defenceman: Kelsie Moffatt, McGill
Forward: Kendra Broad, Western
Forward: Gabrielle Davidson, McGIll
Forward: Alex Normore, St. FX
Championship MVP: Kelly Campbell, Western