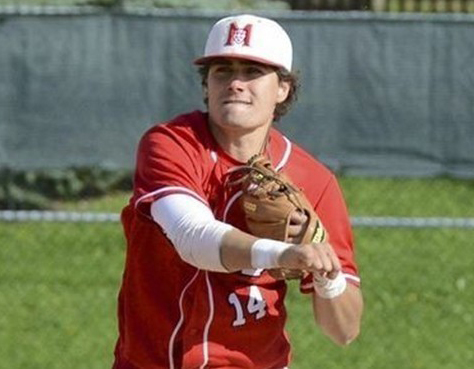 By Earl Zukerman
Tyler Welence of Ridgewood, N.J., continued his torrid pace and collected three hits and as many runs batted in as the McGill men's baseball team doubled the Montreal Carabins 4-2 at Gary Carter Field in Trudeau Park, Wednesday.
The result extended McGill's unblemished record to five consecutive victories in the Canadian Collegiate Baseball Association.
Welence, a six-foot, 180-pound shortstop who leads the league with a spectacular .706 batting average, went 3-for-4 at the plate, singled in the third inning and doubled in the first and fourth innings. Over his five games, he is 12-for-17 batting with a pair of walks and 11 RBIs.
Teammate Zachary Aaron, a junior infielder from Montreal, contributed to the Redmen offence with a 2-for-3 performance at the plate and one run scored.
McGill starting pitcher Adriano Petrangelo, a science sophomore from Montreal, collected the victory, allowing just two earned runs on seven hits. He posted eight strikeouts and no walks over six innings of work. Veteran closer Simon Ehrmantraut, a senior from Vancouver, B.C., put away the final three outs to record the save.
The Redmen took an early lead with a two-run rally in the first inning on an RBI-double by Welence and a groundout by Montrealer Jamie Fuoco. After extended that to 4-0 in the fourth inning, the Carabins scored twice in the fifth on a two-run double by Samuel Groleau, who finished with a pair of RBIs on two hits. He singled in the third inning and doubled in the fifth inning.
Gabriel De Lisi was charged with the loss. He allowed four runs on seven hits, walked two and struck out six over six inning.
McGill, which sits atop the CCBA Northern Division with a 5-0 record, will put their win streak on the line against cellar-dwelling Ottawa (0-4) with an afternoon doubleheader scheduled for Saturday at Lake Road Park in suburban Dollard des Ormeaux. The first game is slated for a 12 noon start.