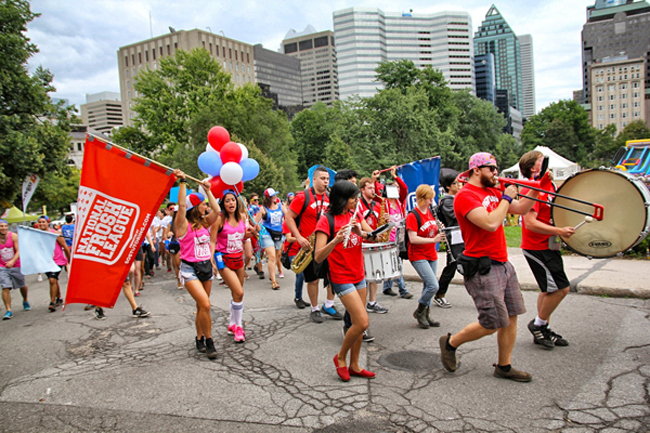 By McGill Reporter Staff
The crisp clean air and bright days of fall are a new beginning for everyone at McGill, but they are really special for first-year students.
First-year university is exciting and even overwhelming – meeting new people, starting a degree, perhaps being away from home for the first time.
Here's a quick guide to what you need to know:
Orientation Week is the whole program for incoming students.
Frosh is a student-run, four-day series of events, coordinated by a club, group, or Faculty student association, as part of Orientation Week. It starts August 31, for most incoming students ("Froshies").
(Frosh is short for "freshman" or "fresh person" and may be rooted in the German word for a new grammar school student: "frosch" or frog, That's why first year students are affectionately known as "Froshies")
Frosh is organized by nearly 100 different Coordinators from the Students' Society of McGill University (SSMU), including 12 undergraduate faculty, departmental, or school associations ("Faculty Frosh").
There are five organizing committees made up of different campus groups ("Non-Faculty Frosh"), with support from staff at Student Services' Campus Life & Engagement office.
More than 800 student volunteers act as Leaders throughout the week, guiding groups of new students, with logistics support from 350 Operations Staff ("O-Staff").
In a message to students, Chris Buddle, Dean of Students, suggests they use their common sense.
"Engage in the activities that work for you! For some, this is about learning about McGill's resources, through Orientation activities. For others, the goal might be meeting people through social events at Frosh. Start developing your support system here at McGill, through friends in Rez, or a club/activity that interests you," says Buddle.
He adds a note of caution.
"Be street-wise and stay healthy. Students need to feel safe at all times, and if you are unfamiliar with Montreal, for example, stay with friends when going out. Frosh is well organized, and students should stick with their groups and listen to their leaders. We have worked hard to ensure events during orientation and Frosh are safe and inclusive. However, if things go awry, speak to your Frosh leader, perhaps your Floor Fellow, or if safety is a concern, call Security (514-398-3000 (downtown) or 514-398-7777 (Macdonald campus)), or call 911 in emergency situations."
All student societies have signed Memoranda of Understanding (MOU) insuring that Frosh events conform to McGill's Code of Student Conduct. (An MOU is a legal document describing a cooperative relationship between two parties working together on an agreed upon objective.) A disciplinary process will start if a student at a Frosh event is alleged to have violated the Code of Conduct.
Other ways in which safety will be emphasized during Frosh include:
The Office for Sexual Violence Response, Support and Education (OSVRSE) will host "How to Frosh" sessions. In addition to the sessions, all Froshies are required to watch a video about consent.
Street teams organized by SSMU of students and staff will walk the streets of Milton-Parc during the evenings of Frosh to act as a resource to safe guard good relations with McGill's neighbours.
 With the exception of the Open Air Pub (OAP), there will be no high profile on campus events serving alcohol. Some student societies have private events, or events at Gerts (the student bar in the SSMU building), but larger Frosh events involving alcohol are off-campus.
 McGill Security services team will be in close contact with the Service de Police de la Ville de Montreal (SPVM), to ensure that there are extra officers around to help students.
Great strides have been made towards making Frosh as safe as it can be. Party on, but party smart.
Click on the thumbnail below to watch the video