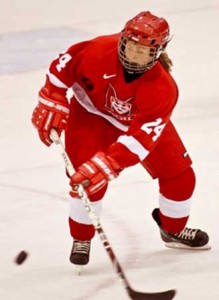 Hockey Martlets stay perfect, women volleyballers sweep AUS visitors
By Jim Hynes
The hockey and volleyball Martlets were perfect this weekend, a busy one for both squads.
The No. 1-ranked hockey Martlets, playing three games in three days, extended their winning streak to 32 with victories over visitors from the Atlantic University Sports (AUS) conference. St. Mary's was the first to go down, absorbing an 8-0 beating at McConnell Arena on Thursday. St. F-X was next at Glenfinnan Arena on Friday. The No. 6-ranked X-Women lost 5-1 in game that featured a pair of power play goals by McGill freshman Marie-Andrée Leclerc-Auger. The Martlets outshot St. F-X 48-16.
On Saturday, sophomore forward Ann-Sophie Bettez, last week's CIS Female Athlete of the week, had five points, including her 100th point as a Martlet, in a 10-3 defeat of Dalhousie at McConnell Arena. Bettez has scored 104 points in 61 career games at McGill.
The volleyball Martlets swept the four interlocking matches they played against visitors from the AUS at Currie Gym. The Martlets defeated UPEI Friday night, UNB and Cape Breton Saturday, and Moncton Sunday. Three of the four matches were three-set sweeps, while the Saturday match with UNB was a five-set marathon that took over two hours to play. The Martlets have an 8-1 record in interlocking play this year and a 10-4 mark in Quebec conference play, where they are tied for second-place with Laval.
The volleyball Redmen also enjoyed their weekend, taking two of three games against opponents from Atlantic Canada. They defeated Memorial Friday and UNB (in five sets) Sunday but dropped a three-set decision to Dalhousie Saturday. All matches were played at U de M's CEPSUM.
In other varsity sports action, the hockey Redmen suffered a pair of losses to Ryerson and Toronto at McConnell Arena. McGill's men's and women's swimming teams both finished third (out of five and four teams respectively) at Quebec Cup II at Laval in Quebec City. The figure skating team placed ninth out of 10 teams at the Queen's Invitational in Kingston.