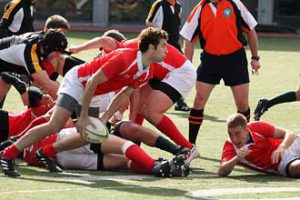 By Jim Hynes
With three games remaining on their regular season schedule, the McGill Redmen baseball team clinched the Canadian Intercollegiate Baseball Associations's Northern Conference pennant after sweeping all four games of a home-and-home series with the Carleton Ravens last weekend. The wins improved McGill's record to 12-1. Redmen leadoff hitter Max Tierno of Manhattan, N.Y., had nine hits in 12 at bats. He was named McGill's Male Athlete of the Week. Conference semi-finals get underway this weekend, with finals following Oct. 16-17. The CIBA's National Championship takes place Oct. 22-24 in Windsor, Ont. McGill won its last and only national baseball title in 2006.
With a 44-0 defeat of Sherbrooke last Sunday, the Rugby Redmen extended their win streak to 14 consecutive Quebec league and playoff games, dating back to October 2008. With two games remaining before the playoffs, the 4-0 Redmen lead the QURL with 19 points, a comfortable nine points ahead of second-place Concordia (2-1). McGill has outscored opponents by a lopsided 143-16 margin. Playoff semi-finals take place Oct. 29-31 at Molson Stadium.
The soccer Martlets had to settle for a scoreless draw against Sherbrooke last Sunday. Coach Marc Mounicot's squad hasn't surrendered a goal since they beat Laval 4-2 on Sept. 16, a sequence covering five games. With six games remaining before the playoffs, the division-leading Martlets are 6-0-2 with 22 goals for and a league-best defensive record of only three goals against. The soccer Redmen fared better in Sherbrooke, defeating the Vert & Or 1-0. With five games remaining before the playoffs, they improved to 4-3-0, jumping from fifth to second-place in the seven-team Quebec league standings.
In hockey action, the Redmen cruised past the Royal Military College Paladins 4-1 last Saturday in the final preseason men's hockey tune-up for both teams. The game was played at the Macdonald Campus's Glenfinnan Arena as part of Homecoming Week festivities. The Redmen, under new head coach Kelly Nobes, improved their pre-season record to 5-0 and will officially begin their 135th season at Toronto's Varsity Arena Fri., Oct. 8. The Martlets played their final tune-up last Saturday, a 2-2 tie against the University of Vermont. They played all seven of their pre-season games on the road, the last five being against NCAA teams. They begin the defence of their QSSF title at home (McConnell Arena) to Concordia Friday before heading to Princeton and Yale the following week.
Sports Kudos: Steven Bielby of Pointe Claire, Que., a 21-year-old electrical engineering honours student with the men's swim team, has been named as one of the 2010 Desjardins Top Eight Academic All-Canadians. Bielby, a 5-foot-8 middle distance sprinter, was among a nation-high total of 135 McGill student-athletes who qualified for Academic All-Canadian status by having maintained an academic average of 80 per cent or better over the school year while competing in a varsity sport. Bielby, who was voted Team MVP, won four medals at the 2010 CIS championship meet. His performance at Nationals earned him all-Canadian honours and qualified him to compete at the 2010 Mare Nostrum Series, a high-profile European tour of World Cup meets. In the classroom, Bielby achieved a stellar 3.86 grade-point average out of 4.0, the equivalent of a 96.5 per cent academic average. He qualified for the Principal's student-athlete honour roll and received the Uldis Auders memorial award, presented to the McGill sophomore who best combines academics with athletics.
-With files from Earl Zukerman, McGill Athetics & Recreation