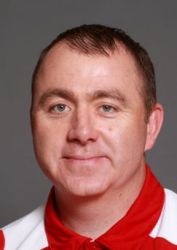 By Earl Zukerman
Clint Uttley has been appointed head coach of the McGill University football team. The 38-year-old native of Orillia, Ont., who is the 20th bench boss in school history, had handled the team on an interim basis for the final three games of the recently completed season after Sonny Wolfe stepped down last month.
"Clint has been instrumental in helping us change the direction of the Redmen football program and we have confidence that he is the right fit for McGill going forward," said Drew Love, the University's executive director of Athletics and Recreation. "We are dedicated to creating a winning program with Clint at the helm of a professional staff with a great mix of experience, knowledge and leadership."
Uttley, who has signed a three-year contract, is regarded as an up-tempo instructor who interacts well with players and has a solid background in Canadian university football. He joined the Redmen staff as a linebackers coach in 2008 and last year become a full-time associate coach and defensive coordinator. He has also been a guest coach at training camps with several teams in the Canadian Football League, notably the Toronto Argonauts (2003, 2005 and 2008) and Calgary Stampeders (2011).
Prior to joining McGill, he was the special teams coordinator and handled defensive backs at the University of British Columbia for two seasons after six campaigns at Acadia University, where he was initially responsible for receivers (2001), then linebackers (2002-03) before serving his final two years with the Axemen as assistant head coach and defensive coordinator (2004-05). Uttley began his coaching career as an assistant with the Huronia Stallions of the Ontario Varsity Football League in Orillia each summer from 1998 to 2002.
A product of Park Street Collegiate Institute in Orillia, he went on to play junior for the Burlington Braves, then played at Champlain Regional College in Lennoxville, Que., where he was part of their 1995 Bol d'Or junior college championship. Uttley then played five seasons at middle linebacker for Acadia (1996 to 2000) where he was a four-year starter and team captain in his final two seasons. He graduated with a bachelor of arts in 2000, followed by an education degree (2004) and a master's degree in education (2011).
He is expected to announce his coaching staff shortly.