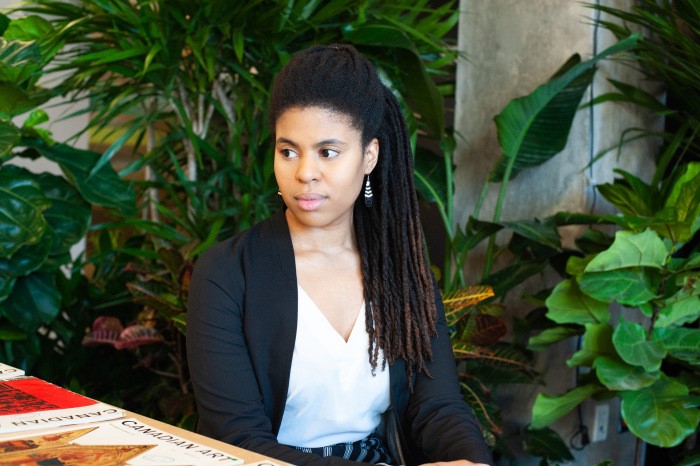 With the McGill bicentennial just around the corner, it is an important moment for the University to reflect critically on its past. This includes examining in a transparent and scholarly way McGill's connections to slavery and colonialism.
Joana Joachim earned her PhD in the Department of Art History and Communication Studies and the Institute for Gender, Sexuality and Feminist Studies at McGill University. She is one of two postdoctoral researchers appointed as a McGill Provostial Postdoctoral Research Scholar in Institutional Histories, Slavery and Colonialism. The Reporter also interviewed the other Scholar, Melissa N. Shaw.
This fall, Joachim will begin a project to better understand the lives led by the women enslaved in the James McGill household, an approach she hopes will deepen our knowledge of how Canadian slavery and Black-Indigenous relationships can serve towards anti-racist and decolonial work in contemporary society.
McGill University has decided to take steps to better understand its past and the connections the institution has to colonialism and slavery. What questions do you hope to answer through your postdoctoral research?
I hope to focus on the women who were enslaved in the James McGill household. For now, we don't know much about them except their names (Sarah, Marie, Marie-Charles and Marie-Louise). I'm interested in learning more about their lives so that we can begin to think about the micro aspects of slavery and colonialism and how it impacted individuals. Often, when we talk about difficult histories, they tend to be discussed in broad strokes, but I think it's really important to remember that these were individuals and that's why I'm curious about who they were.
The other thing that I'm hoping to establish or learn more about with this project is the relationship between the Black and Indigenous peoples who were impacted by the James McGill household or were enslaved by it because a lot of times these histories are sort of thought about as being parallel, but I'm really interested in thinking about the overlap between the two, and what impact that might have had in today's society.
How challenging is it to dig in historical records to find the information you're looking for?
For my PhD project, I've been looking at the very early colonial period in Canada, specifically the French Empire, and my focus has been on Black women who were enslaved here. Most of the work I did for my dissertation was anchored in archival research and I've had to develop methods and strategies to deal with the holes Canadian archives have when it comes to Black history.
In America, archives related to slavery are very well indexed, but in Canada, historic documents are not categorized in terms of ethnicity or racial groups which makes them difficult to navigate. For example, when I go to the archives in Quebec City looking for Black histories, I had to almost contort myself and find strategies to locate the information I want, so the approaches I've developed to do this will be useful.
I've also tried to think about the reasons why there's so little readily available information and reflect on what that means. I think this will be useful in directing my approach to the James McGill archives and thinking through the different strategies that were used by slaveholders to really talk about their assets.
The wealth James McGill used to create the University came from his colonial assets. Looking into these can give us many clues. When you think about the history of slavery and colonialism, it's not solely about one person claiming possession over another human being. There was a whole financial system linked to slavery, so I'd like to look at the extent to which his wealth came from trading things like rum, molasses, sugar, coffee and chocolate. Following McGill's money and the paper trail it left behind might help us unpack this history.
What impacts do you hope this research will have?
I'm going to dig as deep as I can and hopefully produce pieces of knowledge that are useful, but I especially hope that this information will help Black and Indigenous members of the McGill community – and Montrealers – feel seen and acknowledged. For me, this is the really important part.
I'm a trained museologist and one of the things that irks me is when I go to history museums in the city only to find that when they talk about the history of Montreal, they're talking about the history of the white settlers.
There are hundreds of years of Black Canadian history, thousands of years in the case of Indigenous history, that still need to be honoured and reflected on. I really hope these initiatives will help start a national conversation about why there are no Black studies programs in Canadian universities and maybe change how history is taught in Canadian schools.
These projects are a fantastic start and I hope they will set a precedent for other similar types of initiatives, but this will only happen if the University continues to put its money where its mouth is and continues to support Black and Indigenous students and faculty to do this work.
The University will soon celebrate its 200th anniversary, do you feel this was a good time to dive into the controversial parts of its past?
I have mixed feelings and often get disenchanted about these types of anniversaries or things like Black History Month because they tend to start conversations that rarely go very far. Events like these bring difficult issues to the forefront but very few people actually take the results of those conversations and apply them.
When I hear about the coming "celebration" of an institution that is so highly regarded, I can't help but think about the fact that the Indigenous Studies program is not even 10 years old and that the University still doesn't have a Black Studies program. McGill has hundreds if not thousands of faculty, but less than a dozen are black.
That being said. I'm cautiously optimistic. McGill has decided to dive into the darker sides of its past by appointing two Provostial Postdoctoral Research Scholars in Institutional Histories, Slavery and Colonialism and that's a really great thing if the results of these projects are actually used as a tool to move forward.
That being said, in order for the Bicentennial to mean anything, we need to realize that this "celebration" can't be about James McGill. Rather, the focus should be on the Black and Indigenous lives that he profited from and that he destroyed. It's about looking at the fine print of history and really reckoning with the lives of those who are still left out of the historical record and putting them first.
You mentioned that we often collectively start conversations on difficult themes, such as racism, and these don't usually go very far. Are you hopeful that the recent global Black Lives Matter protests might lead to significant change?
With regard to the global protests against anti-Black racism, the murders of unarmed Black people, calls for defunding the police or removing colonial statues, it's all good and well that a larger (white) group of people are having these conversations. However, the key is for people to understand that the statement "Black Lives Matter" is the starting point and a continuation of the work that Black folks have been doing for centuries. What needs to happen now is for non-Black people to do their part.
As I said before, the conversation isn't enough, concrete action must follow. This work involves many, many conversations that white people need to be having with other white people and these have nothing to do with Black folks.
This involves putting money behind those words and unlearning and dismantling harmful and violent systems. It involves giving up white privilege and comfort.
Taking a knee means nothing if once you stand up, you continue to perpetrate violent anti-Black acts or support anti-Black legislation. Posting a black square is pointless unless you follow that up with educating yourself and applying what you've learned by uplifting Black voices and protecting Black lives.
We can't unlearn for you, we can't talk to your racist uncle for you because he won't hear us. We aren't at your family dinner table to tell Grammy that she's said a messed up transphobic or anti-Black thing, but you are. We can't raise your kids to be anti-racist. Those efforts and that work will have to come from outside of the Black community.
Read the interview with Melissa N. Shaw, the other McGill Provostial Postdoctoral Research Scholar in Institutional Histories, Slavery and Colonialism.