For University Services the key word is services.  The group's motto – Service is at the root of any organization; everything flows from it and is nourished by it – sprang to life earlier this year. The first annual meeting of the University Services team kicked off with a series of presentations aimed at showcasing major projects accomplished in the past year.
Team members who are usually happy to work behind the scenes took on a different role, this time to present their most important projects to their colleagues. Richard Courtois, Senior Human Resources Professional and whose idea it was for the gathering, explains that the meeting was meant to celebrate the teams' successes. "We realized that a lot of our people are involved in a number of major projects and quite often, they don't see the end result of their work. We wanted to give the whole team a 360o view of University Services, which served as the underlying theme for the presentations."
"Whether it is construction, maintenance or renovation, planning or prevention, printing or a hundred other ways in which the University works and grows, someone from the University Services team is there to contribute and make a difference," enthused Jim Nicell, Associate Vice-Principal and a passionate leader of his team. "This gathering serves to applaud the team's contribution toward reducing McGill's footprint and doing our part in view of sustainability at McGill."
Greening the campus
Almost one hundred men and women from across University Services were out in full force to celebrate their colleagues' achievements, starting with an overview of the greening of McGill campus.
Paul Guenther, Physical Planner, explained how McGill's downtown campus has made great strides in recent years to implement the sustainable policies that guide its development.  Through assistance from the provincial and municipal governments, McGill has made significant efforts to transform the campus to reflect these green principles:  redesigning existing infrastructure with sustainability in mind, replacing grey space with green space and bringing a social element back to spaces.  This is best exemplified in the removal of parking spaces, the transformation of the campus and McTavish Street into a pedestrian zone and the redesign of public spaces to encourage social interaction.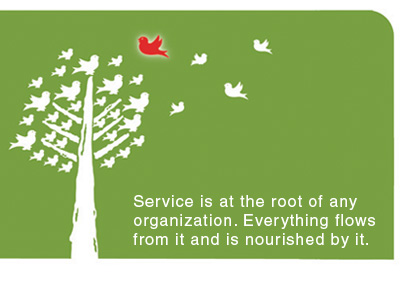 Trees, new and old
Next up were Éric Champagne, Horticultural Supervisor and consultant Luc Nadeau, Forest Engineer. They described how their teams preserve McGill's leafy legacy, relating to McGill's 120 species of trees, totaling more than 1,100 trees on the downtown campus.   Several species were reintroduced after 100 years of having disappeared from campus grounds, using a book dating back to 1891 as reference. It quotes Sir William Dawson, McGill's fourth principal who described some of the rare trees that had been planted by McGill professors back in the early days.  Today, with all the construction on campus, measures have been taken by the Grounds Department to ensure that the trees are unharmed and well preserved.
Ranking McGill's top 10 buildings
Luc Roy, Director, gave an overview of Building Operations and ranked McGill's top ten buildings in terms of footprint.  These include McIntyre Medical Sciences Building; McLennan Library Building; Burnside Hall; Life Science Complex; McConnell Engineering Building; Bronfman Building; Education Building; Wong Building; Macdonald Engineering Building and Otto Maass Chemistry Building.  In fact, with over 200 buildings at McGill, the top 23 buildings on downtown campus account for 50% of the total footprint. It is not surprising that these buildings require major financial and human resources to keep them operating.
Some 85 Building Operations employees are committed to operating and maintaining this campus. McGill University is a special place for 30,000 students every year. The team is there for them to make their experience unique and memorable.
Some numbers
Every year:
176 elevators are serviced (Empire State Building has 73)
1,346 bathrooms are cleaned
5,500 keys are cut
40,000 work orders are filled at the Facilities Call Centre – 200 per day every working day
14,000,000 watts of back-up generator power are used
27,000,000 watts of electricity are used – 1.04% of Manic 5
28 chillers of 200+ tons are used
Project Management
The Project Management team took turns presenting their accomplishments.  Robert Stanley, Director, talked about the $34 million renovation of the Otto Maass laboratories, built in 1963. This project was funded by the federal government's Knowledge Infrastructure Program, the Canada Foundation for Innovation and the Quebec government. The new lab concept is aimed at improving safety, visibility and teamwork. These renovations have transformed the biggest energy hog building on campus into one of the most energy-efficient.
Donald Nycklass, Senior Project Manager, described work on the smart classroom in room 627 of the Education building. The goal was to create an active learning classroom that encourages teamwork through collaborative technologies like screen sharing, writable walls and flexible computer access to laptops and the internet.
Biagio d'Onofrio, Project Manager, shared his experience of creating the new Macdonald campus undergraduate food lab. The lab did not meet current food inspection health and safety standards.  Today, every aspect of the room completely conforms to inspection standards and all the equipment in the lab is now of professional grade. The glimmering new kitchen space is truly inspiring.
Nuha Himmo, Senior Project Manager, talked about Service Point, a prime example of designing and integrating streamlined services for students into a single space.  This new concept has eliminated the student runaround caused by administrative services previously located in four separate buildings.
Kudos to the Life Sciences Complex
McGill's Life Sciences Complex last year was selected as a finalist and was awarded second place in the commercial award category of the Urban Development Institute of Quebec 2010 Real Estate Awards of Excellence. These awards are granted to innovative real estate success stories that have a positive contribution to the community.
The 4Rs: rethink, reduce, reuse and recycle
Jerome Conraud, Energy Manager, Utilities and Energy Management, presented McGill's energy dashboard, the first in the University's energy management program.  Last April, the team released its online tool to visualize building energy performance in real time.  Not only will this new tool help optimize the operation of building systems, but it is also a way to raise awareness about energy efficiency in the community.  The dashboard has already given rise to three student-led projects that focus on practical ways of reducing energy use on campus by targeting different audiences, from residence students to lab users in the Life Sciences Complex.
Jason Kack, General Manager, McGill Bookstore, presented the store's textbook buy-back project.  Last year, sales of used books totaled $512,823 representing savings of $128,205 to students.  A total of 23,551 books were recycled. The environmental impact was significant:  715 is the average number of pages in a textbook; 8,333 is the average number of sheets of paper derived from a single tree; 11.6 is the average number of textbooks printed from one 40-foot tree; 23,551 recycled textbooks divided by 11.6 equals 2,030 trees saved in the last academic year alone.
Daniel Faucher, Associate Director, Ancillary Services, talked about the much publicized uPrint solution, a university-wide initiative aimed at printing smarter and printing less.  The initiative emerged from an initial needs analysis whereby some 75,000,000 pages were printed annually using 4,000 print devices, 578 different models and 29 different suppliers, with a ratio of 1.5 staff member per device. The first phase, focusing on student needs, has been completed, with the next phase targeting faculty and staff, bringing this project to completion by the end of 2011. Not only is this program aimed at reducing printing, but it also offers flexibility in being able to print anywhere on campus or at home, using the McGill ID card.
Safety is front and center
The presentations ended on a safety note.  Wayne Wood, Associate Director, Environmental Health and Safety, presented the new Automated External Defibrillators installed in 47 locations on McGill's campuses.  His presentation was followed by a brief description of a recent simulation of a crisis situation on campus, coordinated by Bruce Lapointe, Emergency Measures Officer.  The exercise was aimed at testing current emergency policies and procedures. It also helped to identify gaps and areas of improvement. Finally, it was an opportunity for all University Safety personnel to train and work together in a controlled, paced and safe environment.
Jim Nicell closed the meeting by thanking his teams for their efforts.  "For me, there is no greater privilege than working with this group. You contribute to the well-being of some 45,000 people on campus every single day. You have every reason to be proud of what you do and to celebrate your accomplishments."