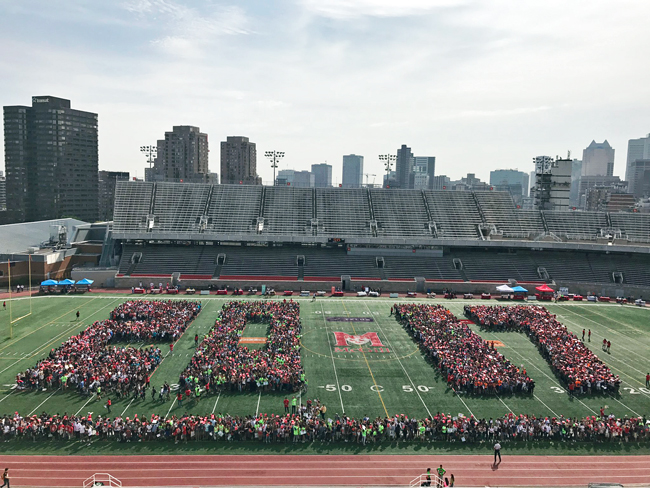 Frosh 2017 is now in the books and the consensus is that it was probably the most successful in University history. With an added emphasis on student wellbeing and safety, this year's Frosh has garnered positive comments from many interested parties, including the SPVM (Montreal police), citizens of the Milton-Parc neighbourhood next door, McGill's Security Services team, and students participating in Frosh.
Amanda Hills has been Frosh Coordinator for the last two years, and a Frosh leader the year before that.
"I have never received as much positive feedback from the participants as I did this Frosh," says Hills, a U3 student in Honours Political Science with a minor in Philosophy. "People felt happy, safe, and included, and it was a privilege to be a part of this event. There was a sense of community, an affirmation that everyone belongs here as they are, and a strong support system for all participants. It was a huge success, and I am so happy that so many First Year students were able to begin their time here at McGill on such a positive note."
Hills says team work made all the difference.
"All members of the organizing community, from the Dean of Students to the student coordinators, took our shared goals of creating a fun and a healthy Frosh, and we translated that into something truly special. I can't wait to see how Frosh continues to improve in the years to come," she says.
Dean of Students Chris Buddle says "I can't express how important collaboration is, and how it bodes well for the future. There were some logistical challenges for this year, but despite the challenges, people worked together on solutions, and on the fundamental principles of student wellbeing. "
Buddle stayed in Rez for a couple of nights during Frosh to be close to the event and to trouble-shoot if needed. "University administrators, including me, took part in 'Street Teams,' with SSMU and O-Staff," he says. "As I was going up the elevator in La Citadelle one evening, I noticed writing on the white-boards on the different floors – students had written about the importance of consent, and messages about being safe. Clearly the entire community was united in a positive Frosh culture."
In all, some 4,500 students participated as Froshies. About 1,200 people acted as organizers and helpers for this years edition of Frosh.