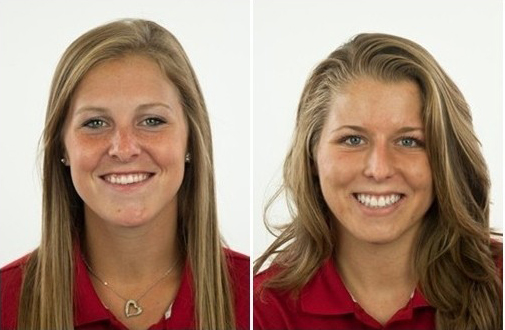 A pair of McGill rugby players helped Canada win bronze in women's rugby sevens at the 27th Summer Universiade in Kazan, Russia by thumping Great Britain 36-0 in the bronze medal match.
Caroline Suchorski of Kirkland, Que., scored a try and Brianna Miller of Pointe-Claire, Que., added three conversions as Canada romped over the defending FISU world champions to win bronze.
Chelsea Guthrie of Edmonton scored her seventh try of the tournament at the end of the first half to put Canada ahead 19-0. The University of Alberta student and 2013 Canada-West MVP collected the ball deep in the Canadian defensive zone after the squad made a lengthy defensive stand against the defending FISU world champions. She then ran the length of right sideline, outlasting the three British defenders who tried in vain to knock her down.
"I saw the ball and was just thinking about pumping my legs, keep getting there," said Guthrie of the play which marked the turning point in the match. "It was a huge momentum build for us and I'm just happy I was able to make it there in the end."
Canada also used their speed to score the other two tries of the first half. Miller passed off to Natasha Watcham-Roy of Gatineau, Que. (Ottawa) for first try of game just 1:47 in, and Argyle Shore, P.E.I. native Jean Baker (St. Mary's) followed up by taking a quick turn to the outside for a try at 4:10.
"We got the start we wanted, we wanted to get up early and put them under a bit of pressure. It's always tough to come back in these medal games," said head coach Matt Parrish. The University of Alberta coach also acknowledged Guthrie's score as the turning point. "It calmed some nerves for me," he laughed.
Miller made a long run back on the opening kick-off of the second half, establishing good field position which Canada would maintain throughout the final seven minutes. "We tried to keep them on their toes and keep pushing them forward," said Guthrie. "Once we put pressure on them, they couldn't really handle it."
Canada had complete control over the second half, protecting the ball well to maintain possession.
Sarah Meng of Waterloo, Ont. (Ottawa) and Kathleen Keller of Quebec City (Laval) each added a try to pad Canada's victory.
The medal is the first in rugby sevens at the Universiades as the sport made its debut in Kazan. Having the championship included in the sport program was a positive change for the experienced international players on Canada's roster.
"The atmosphere was absolutely amazing," said Guthrie. "It was an outstanding experience for all the girls."