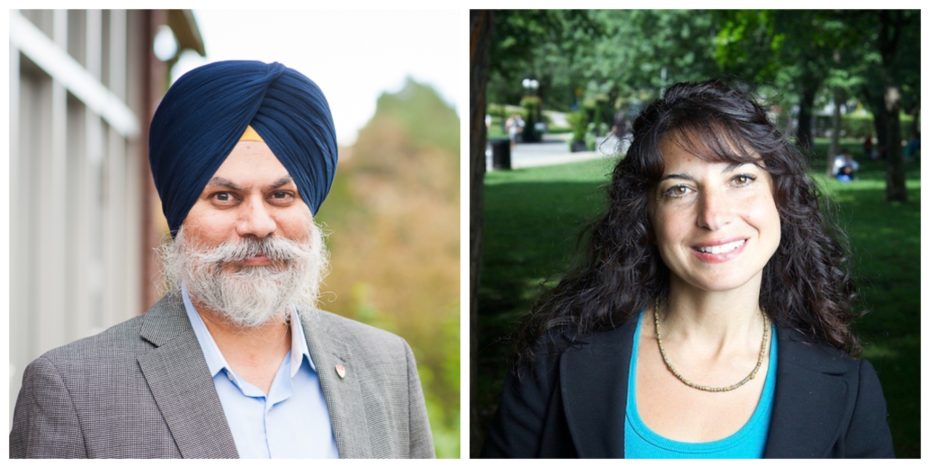 Hanadi Sleiman of the Department of Chemistry and Jaswinder Singh of the Department of Plant Science have each received $1.65 million in research grants, to be distributed over six years, from the Natural Sciences and Engineering Research Council of Canada's (NSERC) Collaborative Research and Training Experience (CREATE)Program. The CREATE Program supports the training of teams of highly qualified students and postdoctoral fellows and encourages collaborative and integrative approaches to tackling Canada's scientific research priorities.
The Canadian government announced a total investment of $28 million in CEATE grant funding to 17 research teams across Canada. According to the granting guidelines, training programs chosen for funding must foster the acquisition and development of important professional skills among students and postdoctoral fellows that complement their academic qualifications, preparing them for careers in industry, government, non-governmental organizations and/or academia.
"I am thrilled that the Government of Canada and NSERC have invested in two of McGill's excellent researchers, who in turn support emerging researchers to pursue fundamental, long-term research while gaining the skills needed to bridge gap between academia and industry," said Martha Crago, Vice-Principal (Research and Innovation). 
Programmed Molecules for Therapeutics, Sensing and Diagnostics
Sleiman and her colleagues at the McGill Chemistry Department received the CREATE training grant for the program, Programmed Molecules for Therapeutics, Sensing and Diagnostics (PROMOTE). PROMOTE's training program focuses on nucleic acids research, which is a multidisciplinary field uniting chemists and biologists to address important problems in medicine, materials science and green chemistry. This research area has the potential to advance knowledge of diverse themes, from genome sequencing, to personalized medicine, to nanotechnology, to environmental and agricultural sciences.
The PROMOTE training program brings together 11 laboratories from six universities across Canada, representing some of the most innovative research groups in nucleic acids and biomaterials chemistry in the world. The teams will work together to prepare trainees to enter the Canadian workforce. The program is composed of six training areas: collaborative training, mobility, management and entrepreneurship, enriched academic training, leadership and professional skills workshops, and women in science.
Genome Editing for Food Security and Environmental Sustainability
Singh received the CREATE for his training program, Genome Editing for Food Security and Environmental Sustainability. In a world where climate change continues to threaten crop and livestock production through unpredictable heat, drought and diseases, Singh seeks to provide sufficient, nutritionally rich and sustainably produced food to a rapidly expanding global population. His research goal is to integrate molecular and genomic tools with plant biology to develop enhanced crop plants that are high yielding and less sensitive to unpredictable weather changes. The use of genome editing technologies has fundamentally changed the way biotechnology can be applied to agriculture, as it offers plant and animal breeders with opportunities to optimise their biological resources for stable and abundant food production.
Singh's training program is helping students translate their bench science – that conducted in a lab – into practical genome editing approaches to food security and environmental sustainability by collaborating with government regulatory professionals and industrial partners. While Singh anticipates that gene editing, similar to other food biotechnologies, will face intense public and government scrutiny due to growing demand, the CREATE program will help prepare professionals of the future to answer broad concerns. By both training students in a set of 'core competencies' in genome editing and in professional and social skills, the program hopes to result in highly trained graduates who will assume leadership roles in government and private sectors to protect national interests.