On Tuesday, November 13, the Honorable Kirsty Duncan, Minister of Science and Sport, announced over $156 million in funding for 187 new and renewed Canada Research Chairs (CRCs) at universities across Canada. Of the 23 CRCs awarded to McGill researchers, six are new and 17 are renewals.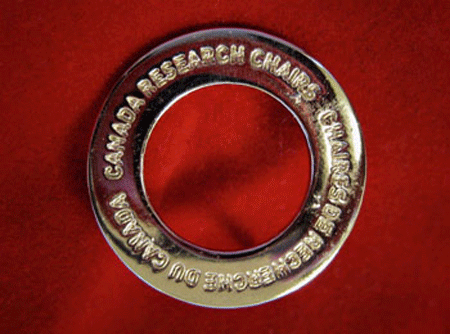 CRCs recognize and support outstanding researchers acknowledged by their peers as world leaders or potential world leaders in their fields. The CRC program enables Canadian universities to attract and retain some of the world's most accomplished and promising minds. This season's cohort reflects Canada's diverse research talent and ushers on a new era of discovery.
McGill's research projects supported by this new round of CRC funding range from sustainable nanotechnology for food and agriculture to neural dynamics of brain systems to music perception and cognition.
"Our government is committed to promoting equity and diversity within research and to supporting the next generation of research leaders," said Minister Duncan. "These prestigious Canada Research Chairs are improving the lives of Canadians and pushing the boundaries of human knowledge, helping ensure a bright future for Canada."
There are two types of Canada Research Chairs:
Tier 1 Chairs, valued at $200,000 annually for seven years with one opportunity for renewal, are for outstanding researchers, acknowledged by their peers as world leaders in their field.
Tier 2 Chairs, valued at $100,000 annually for five years and renewable only once, are for exceptional emerging researchers, acknowledged by their peers as having the potential to lead in their field.
McGill researchers received five new Tier 2 Chairs and one new Tier 1 Chairs in this round. Seventeen McGill researchers earned renewals on their Tier 1 and Tier 2 awards.
"I would like to extend my heartfelt congratulations to our latest Canada Research Chairs cohort," said Martha Crago, Vice-Principal, Research and Innovation. "McGill is grateful for this significant investment by the Government of Canada. We share the government's commitment to supporting a more diverse and inclusive Canadian research enterprise, which is essential to creating innovative and impactful benefits for our country."
McGill's fall 2018 round of CRC recipients:
Sylvain Baillet, Canada Research Chair in Neural Dynamics of Brain Systems – Tier 1 New
Rowan D.H. Barrett, Canada Research Chair in Eco-Evolutionary – Tier 2 Renewal
Robert Brandenberger, Canada Research Chair in Theoretical Cosmology – Tier 1 Renewal
Lilian Childress, Canada Research Chair in Experimental Solid-State Quantum Optics – Tier 2 Renewal
Melania E. Cristescu, Canada Research Chair in Ecological Genomics – Tier 2 Renewal
Isabelle Daunais, Canada Research Chair in the Esthetics and Art of the Novel – Tier 1 Renewal
Kolja Eppert, Canada Research Chair in Cancer Stem Cell Biology – Tier 2 Renewal
Christian Genest, Canada Research Chair in Stochastic Dependence Modeling – Tier 1 Renewal
Saji George, Canada Research Chair in Sustainable Nanotechnology for Food and Agriculture – Tier 2 New
Simon Gravel, Canada Research Chair in Statistical and Population – Tier 2 Renewal
Matthew J. Harrington, Canada Research Chair in Green Chemistry – Tier 2 New
Laurie Hendren, Canada Research Chair in Compiler Tools and Techniques – Tier 1 Renewal
Irah L. King, Canada Research Chair in Immunology of Barrier Surfaces – Tier 2 Renewal
Susanne P. Lajoie, Canada Research Chair in Advanced Technologies for Learning in Authentic Settings – Tier 1 Renewal
Mark G. Lathrop, Canada Research Chair in Medical Genomics – Tier 1 Renewal
Stephen E. McAdams, Canada Research Chair in Music Perception and Cognition – Tier 1 Renewal
Aaron James Mills, Canada Research Chair in Indigenous Constitutionalism and Philosophy– Tier 2 New
Krista R. Muis, Canada Research Chair in Epistemic Cognition and Self-Regulated – Tier 2 Renewal
Anastasia Nijnik, Canada Research Chair in Hematopoiesis and Lymphocyte Development – Tier 2 Renewal
Daniela F. Quail, Canada Research Chair in the Tumour Microenvironment – Tier 2 New
Rodrigo Reyes Lamothe, Canada Research Chair in Chromosome Biology – Tier 2 Renewal
Hamed Shateri Najafabadi, Canada Research Chair in Systems Biology of Gene Regulation – Tier 2 New
Silvia Vidal, Canada Research Chair in Pathogenesis of Infection and Inflammation – Tier 1 Renewal