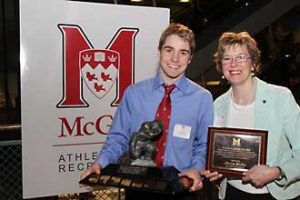 By McGill Reporter Staff
Hockey players Francis Verreault-Paul and Cathy Chartrand were named male and female athletes of the year, respectively, at the 33rd annual McGill Intercollegiate Sports Awards gala held at the AMC Forum on April 8.
Verreault-Paul, a science sophomore from Mashteuiatsh, Que, and Chartrand, an education junior from Lac Nominingue, Que, received the Stuart Forbes and Gladys Bean trophies as the student-athletes who brought the most credit to the University by reason of their athletic achievements. Both were also announced as Team MVPs.
Steven Bielby, a swimmer from Pointe Claire, Que., was awarded the Uldis Auders memorial trophy as the top sophomore in any sport, who best combines academics with athletics.
A 20-year-old honours student in electrical engineering, Bielby had a stellar 3.89 cumulative grade-point average. A recipient of a Quebec Foundation academic excellence bursary, he has also earned CIS Academic All-Canadian honours and merited a spot on the Principal's Student-Athlete Honour Roll. In the pool, the 5-foot-7 middle distance swimmer won four medals at a CIS championship meet, including a gold medal in the 1500-metre freestyle. His performance at Nationals earned him all-Canadian honours and qualified him to compete at the Mare Nostrum Series, a high-profile European tour of World Cup meets, in June.
Hockey forward Rebecca Martindale of Kingston, Ont., and rugby flanker Cayse Ruiter of Ottawa, received the Muriel Roscoe and Richard Pound trophies awarded to graduating athletes for proficiency and leadership.
Redmen Quarterback Jonathan Collin of Montreal, and Hayley Warren, a track and field sprinter from Orillia, Ont., were named as the freshmen of the year.
The CIS silver-medalist hockey Martlets and CUFLA Eastern champion lacrosse Redmen received the Martlet Foundation and Harry Griffiths trophies, as the varsity team and sports club of the year.
For more information and a complete list of award winners, visit the Athletics and Recreation website at www.mcgill.ca/athletics.