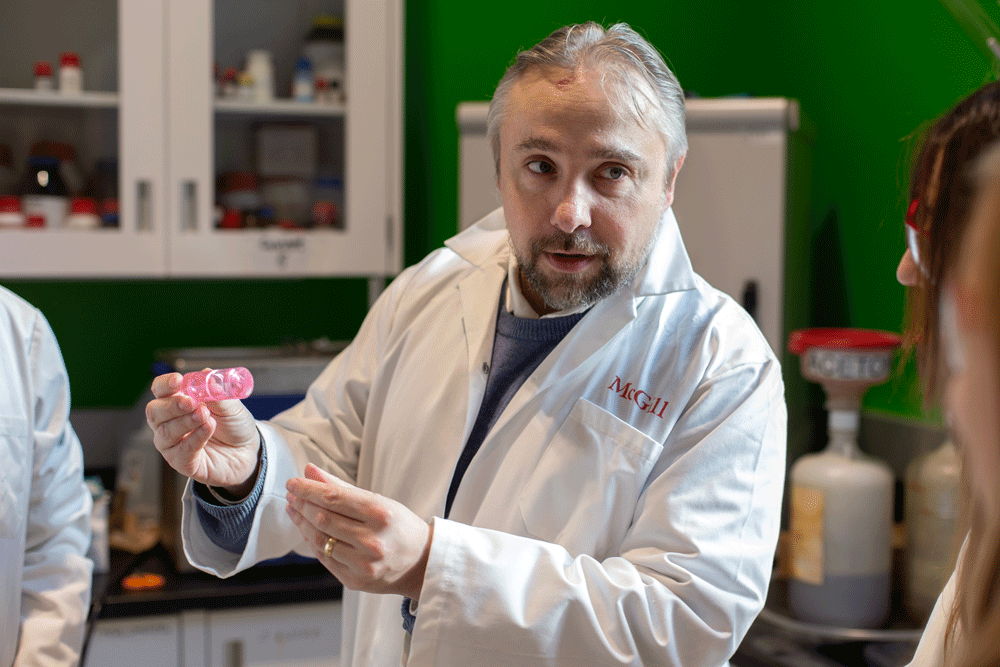 Professor Tomislav Friščić is the recipient of the prestigious Steacie Prize for Natural Sciences for his exceptional contributions to Green Chemistry research in Canada. He is the third McGill professor to win the Steacie Prize, and the first ever McGill professor to win it for chemistry. The two previous winners from McGill are Vicky Kaspi, Physics and Astronomy (2006) and Phil Gold, Medicine (1973).
The Steacie Prize for Natural Sciences is one of Canada's most prestigious awards presented to a young scientist or engineer of 40 years of age or less for outstanding scientific research carried out in Canada. The winner of the prize is selected by a distinguished panel, which is appointed annually by the E.W.R Steacie Memorial Fund, a private foundation dedicated to the advancement of science and engineering in Canada. Professor Friščić was chosen as the most outstanding candidate among 22 nominees for the 2018 prize, in acknowledgment of his consistent and notable research accomplishments in the field of Green Chemistry. The Fund awards one $10,000 prize annually.
McGill ties
This award is particularly special for the Department of Chemistry. Edgar William Richard Steacie – for whom the prize is named – was himself a professor of physical chemistry at McGill for 13 years before joining the National Research Council of Canada (NRC). He became the director of the NRC's chemistry division in 1939, the Scientific Vice-President of the NRC in 1950, and later served as President from 1952 to 1962.
"We are grateful to the Trustees of the E.W.R Steacie Memorial Fund for their support of innovative research," said Martha Crago, Vice-Principal, Research and Innovation. "Professor Friščić is most deserving of continued recognition as one of Canada's most talented young researchers, in pursuit of environmentally friendly alternatives to solvent-based chemical processes."
"The enthusiasm, innovation and international acclaim of his research made Professor Friščić the ideal candidate for the Steacie Prize in the Natural Sciences," said Professor Bruce Lennox, McGill's Dean of Science and Professor Friščić's nominator. "His research is bold, exciting and directed towards transformative ideas in chemical research and industrial manufacturing."
Toward cleaner, faster and more diverse chemical reactions
Professor Friščić and his lab are developing new, innovative approaches to chemical research and manufacturing, pursuing the hypothesis that solid-state reactions will provide cleaner, faster and more diverse chemical reactions. The co-author of almost 200 peer-reviewed papers and 17 book chapters, Professor Friščić has established himself as an internationally recognized leader in solid-state and solvent-free chemistry. His research has created new opportunities and patented processes in a wide range of chemical activities, from pharmaceuticals and new materials for sequestration of greenhouse gases, to safer and cleaner routes for processing biomass, metals and critical elements.
"This award is really a recognition of the hard work and enthusiasm of our research students, associates and postdocs, as well as of the support provided to us by our Department at McGill University and the Canadian research community," said Professor Friščić. "It is the first such award for Green Chemistry – efforts in developing cleaner, safer and more environmentally friendly chemical procedures. Recognizing the importance of Green Chemistry through such a prestigious award is extremely important and illustrates the dedication of Canadian research to tackling the global environmental challenge faced by our society."
Though still considered an early-career researcher, Professor Friščić's research productivity, and proven ability to tackle the current and future challenges in Green Chemistry, make him one of Canada's top scientists. He has received many prestigious awards for his innovative research, including the 2018 Rutherford Memorial Medal from the Royal Society of Canada (RSC), the first awarded to a researcher in Chemistry at McGill. Also in 2018, he became a member of the RSC's College of New Scholars, Artists and Scientists.