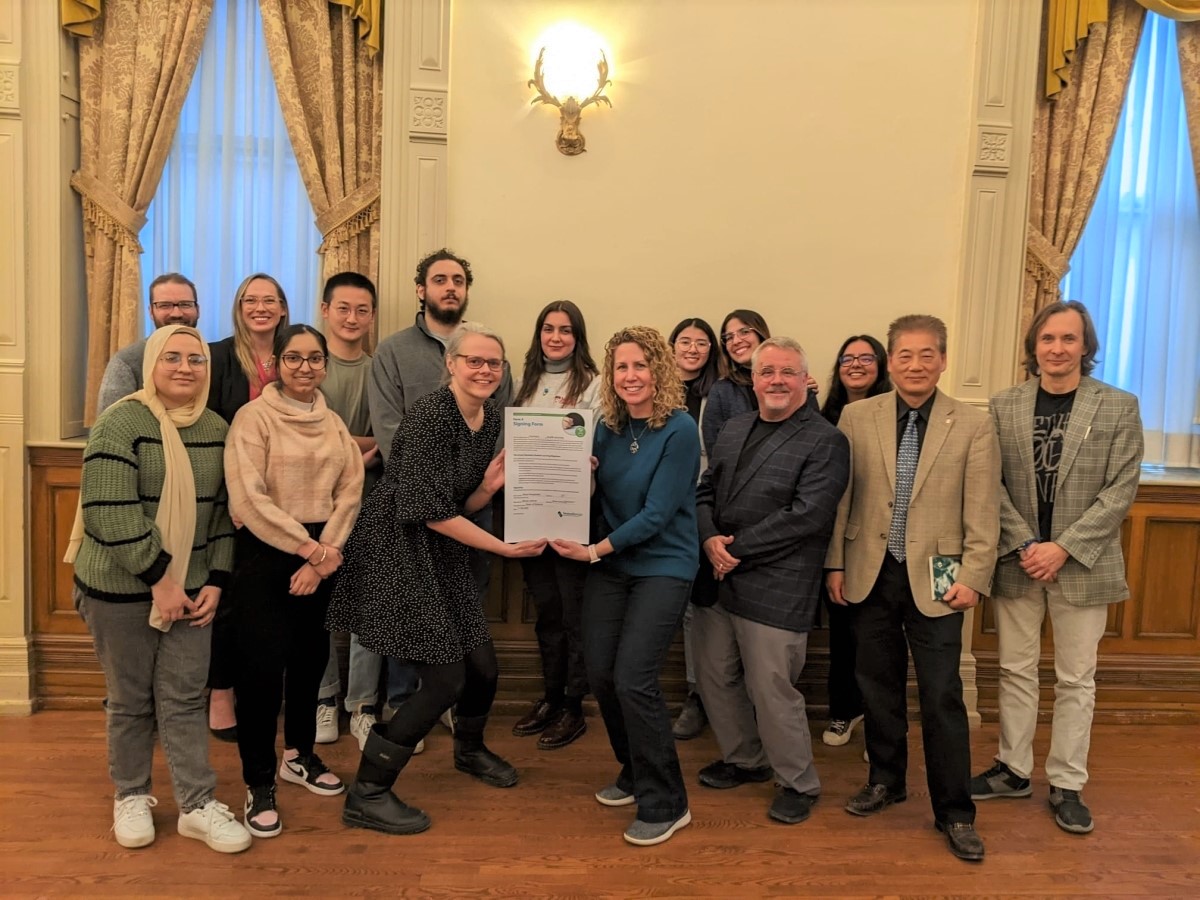 The McGill University Department of Chemistry has signed the Green Chemistry Commitment (GCC) from Beyond Benign, an organization that develops and disseminates green chemistry and sustainable science educational resources and empowers educators, students, and the community at large to practice sustainability through chemistry.
The signing of the pledge was announced on March 13, 2023, during a CCVC Seminar by John Warner, one of the cofounders of the field of green chemistry. Following the talk, presentations on the many efforts in green chemistry already underway at McGill were given by Audrey Moores, Professor in the Department of Chemistry, Danielle Vlaho and Mitch Huot, laboratory instructors, and a group of PhD students in Chemistry led by Jasmine Hong and Daliah Farajat.
McGill already a leader
The aim of the GCC is to ensure green chemistry principles are included and amplified in all parts of the curriculum so that students can learn about the ideas behind green chemistry and how they are implemented. McGill has already been recognized as a leader in green chemistry, and the Department has a rich history of ground-breaking initiatives. In 1997, the first green chemistry course was offered in Canada, and possibly globally, at McGill. Over the next two decades, experts in the field, including multiple Canada Research Chairs, were hired, and green initiatives were progressively created and applied.
The Department already has the tools in place to fulfill most of the requirements stipulated in the GCC; signing the pledge will assure that these practices continue to be at the forefront of chemistry studies at McGill.
Green chem in the spotlight
Green chemistry – which aims to minimize the use and generation of hazardous substances, and instead develops safer chemicals and more sustainable industrial processes – has become an increasingly relevant topic in recent years. Signing the GCC demonstrates McGill's commitment to sustainable practices and innovation of the highest degree moving forward.
"McGill has been committed to developing green chemistry for over 25 years now. We have pioneered green chemistry teaching, research, and leadership," said Moores. "When I travel to meet colleagues, I'm often reminded about the role McGill has played in this community. It's an immense pleasure for us to be now officially part of the green chemistry commitment of Beyond Benign."
In addition to the Green Chemistry course (CHEM 462) offered since 1997 as an elective, the department has expanded many of its teaching labs to incorporate green chemistry principles, such as providing metric calculations for the best reaction paths. McGill courses taught on the topics of organic chemistry, inorganic chemistry, and analytical chemistry equally embed teachings of green chemistry throughout their curriculums. Green chemistry can be found outside of the classroom as well; the Chemistry Outreach Group, which offers a wide variety of free demonstrations to the general public and students of all ages, also puts together some green chemistry activities.
"The only point we do not cover in the pledge is the ideal that all chemistry students should have knowledge of toxicology," writes Moores. "We already have this component in CHEM 462, so over the next couple of years, we will explore how to expose all chemistry students to this content."
New student-led initiative
A newly formed group of dedicated graduate students has also tackled the green chemistry question. The Green Chemistry McGill Student-led Sustainability Initiative seeks to implement actionable changes within research and teaching labs while strengthening community awareness and involvement.
"Jasmine Hong and I had talked a lot about founding a group to help put departmental sustainability initiatives in place, so I sent a Google Form to see if others in the department wanted to get involved. That's how we ended up with our six executive members," said Daliah Farajat, a Ph.D. student whose supervisor, Professor C.J. Li, worked closely with Moores on the GCC signing.
The group's current initiatives revolve around the topics of waste management (i.e., implementing acetone and glove recycling programs) and community engagement, including planning sustainability-related events throughout the upcoming months. You can follow the group's progress on Facebook, Instagram, and Twitter.