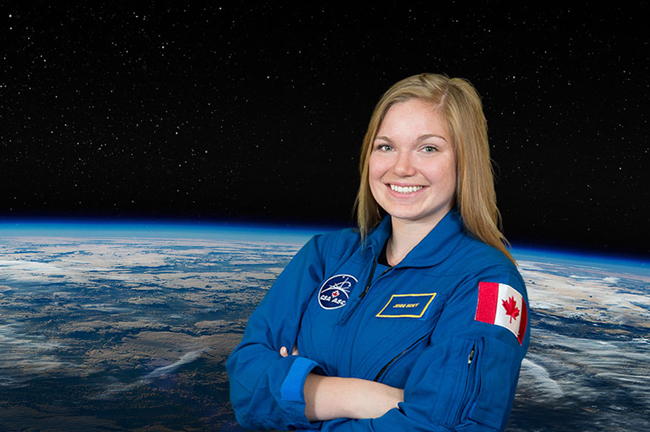 It is a new week at NASA's Johnson Space Center in Houston, Texas, and Jenni Sidey-Gibbons (BEng'11) is ready for anything. As an Astronaut Candidate, she has to be.
On any given day, Sidey-Gibbons could find herself wrangling a heavy spacesuit in the deep water of NASA's specialized Neutral Buoyancy Lab as she perfects her spacewalking technique, or making split-second decisions piloting a supersonic jet through the clouds. She could be in the classroom learning about lunar geology in the morning and, later that day, be brushing up on every system that keeps the International Space Station operational, from water recycling to radiation protection.
"One of the biggest challenges is the change of pace," she says. "The gear shifting can be pretty daunting. Luckily, we have great teachers."
Feet firmly on the ground
When you talk to Sidey-Gibbons about her accomplishments – from being a top-level rugby player, a standout Engineering student at McGill, a faculty member at the University Cambridge and only the third female candidate ever to be named to the Canadian Space Agency's astronaut program – she doesn't wax poetic. At all.
Speaking via telephone, her conversation is peppered with words like "grit," "resolve" and "preparation."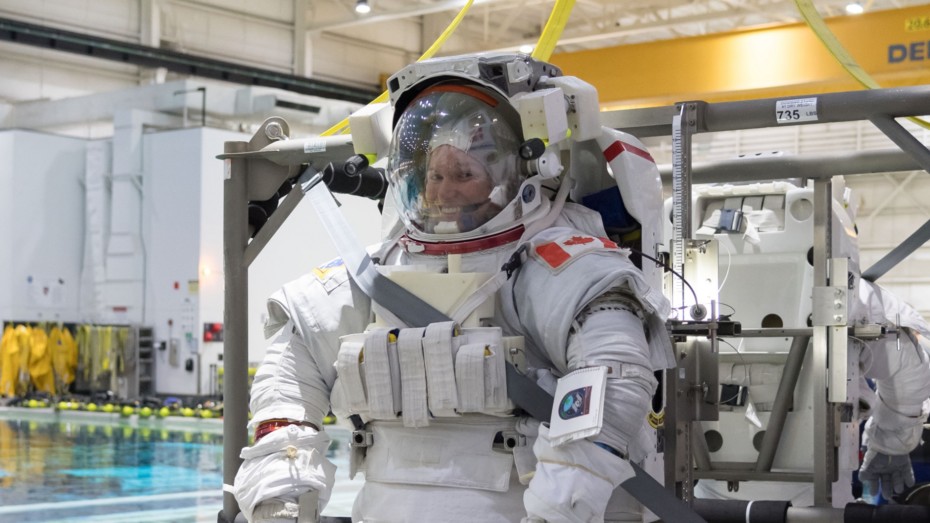 She is, above all, an engineer who "likes to use science to solve problems."
Perhaps this determination and pragmatism comes from being a woman who excels in the male-dominated fields of engineering and space exploration, fields in which obstacles are many and resolutions are often found after numerous failed trials.
When asked what advice she would give to others who also face challenges, Sidey-Gibbons is matter-of-fact. "Actively seek out mentors, and keep trying," she says. "Always keep trying."
It is a formula that has served her well.
Sidey-Gibbons' first mentor was her mother, a woman with an arts background who recognized that her daughter was wired differently. "I've always had an explorer spirit. My mom encouraged me in a lot of different ways," including keeping a scrapbook of news clippings about Roberta Bondar, Canada's first woman in space. "[Bondar's mission] was in 1992, and I wasn't old enough to realize the impact of that moment but my mom emphasized how important it was."
Boundlessly curious, Sidey-Gibbons was a child geologist who collected rocks and always carried vinegar to test for limestone. Eventually, she gravitated toward engineering, drawn to the "marriage of science and creativity."
Impactful undergraduate experience
Sidey-Gibbons came to McGill at the recommendation of a researcher with whom she did lab work on hypoxia and hypocapnia – while still in Grade 11. "She told me McGill's engineering program was exceptional," says Sidey-Gibbons. "She said it was the kind of place that would set you on the right track for whatever career you wanted to pursue. I was sold."
McGill didn't disappoint.
"I came to McGill knowing that I liked science, but I didn't have a mature concept of what I wanted to do with the rest of my life," says Sidey-Gibbons. "I had some pretty influential professors who were welcoming to undergraduates who wanted to participate in research – which was incredibly helpful for my career."
Sidey-Gibbons praises Jeff Bergthorson, a professor in the Dept. of Mechanical Engineering, and a researcher specializing in combustion and energy systems.
"I'm looking at the physics of flames and how this thing, combustion, has a process that's been central to our existence forever, and yet we still have things to learn," she says. "Jeff really set me on the track to studying combustion."
For his part, Bergthorson was equally impressed with Sidey-Gibbons.
"Jenni was an outstanding student," says Bergthorson. "This was a course about thermodynamics and energy and she wanted to understand it – not just to do well on tests, but to really absorb the material… I was always impressed by her thoughtful questions and how she tried to dig deep."
While she was doing her undergraduate honors thesis at McGill, Sidey-Gibbons got the chance to do some microgravity flights at the National Research Council of Canada in Ottawa, her first experience with weightlessness. "McGill was an incredibly encouraging place in many ways," she says.
"Unmissable opportunity"
After completing her PhD at Cambridge, Sidey-Gibbons was hired on there as a faculty member in the Department of Engineering.
While at Cambridge she co-founded the university's chapter of Robogals, an organization that aims to inspire and empower young women to study STEM. In 2016, she was named the Institution of Engineering and Technology's Young Woman Engineer of the Year.
"At that point I thought "Man, I'm in my forever job. Being an academic, teaching, learning, doing outreach. But then…"
Then came the Canadian Space Agency's astronaut recruitment drive in 2016.
"This was just one of those unmissable opportunities," she says with a laugh.
Sidey-Gibbons applied along with some 3,700 other candidates. "I don't think I was particularly confident that I would go all the way but I really wanted to experience the recruitment process," she says.
Not only did Sidey-Gibbons experience the arduous, year-long recruitment process – in which recruits were subjected to a series of exhausting tests designed to push them to their physical and mental limits – she thrived.
On Canada Day 2017, Sidey-Gibbons and Joshua Kutryk were named the country's newest astronauts.
"There were moments when I was very intimidated," she says, looking back at the selection process. "It's natural to see something that you've never done before – like an underwater helicopter escape – and think 'Oooof, how am I going to do that?' Often, I didn't get the result I wanted. It's all about persevering and being resilient."
Lessons learned, lessons still to come
Bergthorson, for one, isn't surprised Sidey-Gibbons rose to the occasion.
"Success in research is so much about resiliency. You have this idea in your head, you build it and it doesn't work like you expected it to. You get frustrated, you struggle," he says.
"The work she did on aluminum-water reactions for her undergraduate honours thesis isn't very important to her career as an astronaut, but going into the lab and facing frustrations, difficulties and struggles is what the research experience is all about. It tests a student's resolve – and Jenni definitely came out as being one of the strongest."
And so, two years after being selected, Sidey-Gibbons continues to study Russian and orbital mechanics and streak across the sky in supersonic jets, preparing for a space mission that, by her own admission is, at best, "years away."
"Spaceflight is the pinnacle of an astronaut's career. The capstone," she says. "It's a lot of training for a very small amount of time in space. One day I hope to get there, but for the time being, I have so much left to learn."