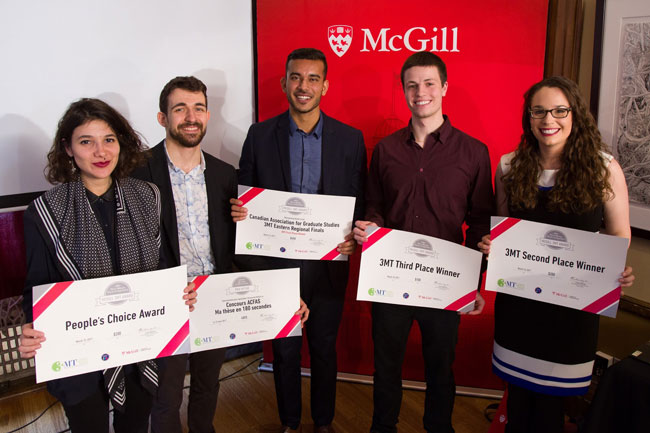 Academics are known for their attention to detail and nuance. Boiling down a complex thesis into a short presentation is really difficult for many scholars. But not for Kashif Khan and the other winners and presenters in McGill's 3-Minute Thesis (3MT) / Ma thèse en 180 secondes finals competition that took place on Wednesday, March 15, at Thomson House. Competitors had exactly three minutes and one slide to present their work to a general audience.
Khan, winner of the $400 first-place prize, has a passion for heart biology and is doing a Masters in Experimental Surgery. His research is on heart tissue regeneration using a cell factor called HIPPO which could eventually be used to regenerate injured cardiac tissue after a heart attack. In his dynamic three-minute presentation he compared the liver, which has the capacity to regenerate itself, to the heart.
Khan will represent McGill at the CAGS 3MT Eastern regional finals in April.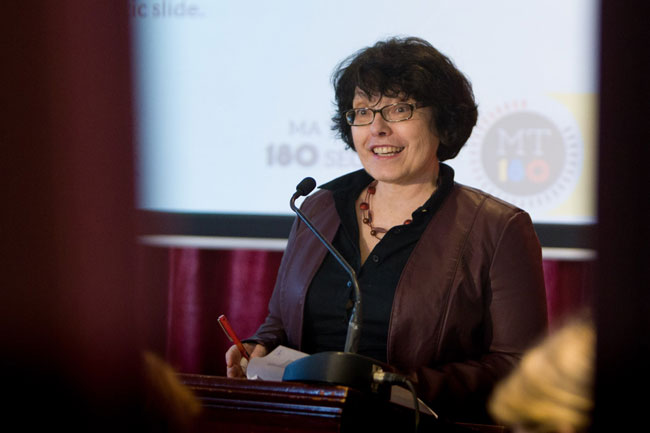 Josephine Nalbantoglu, Dean of Graduate Studies, acted as MC and urged audience members to go back to their departments and organize 3MT competitions. "Students bring a lot of passion and knowledge to their work. There was a big training component leading up to today's presentations. Students wrote an abstract, made a short video, and used training modules to perfect their presentations," said Nalbantoglu. "It's about becoming good communicators, and it is amazing how much you can say in three minutes!"
The judges selected Necola Guerrina for the $200 second-place prize, for her presentation on Chronic Obstructive Pulmonary Disease (COPD) which is the third most common cause of death among adults in the U.S. She invited those present to hold their breath for 30 seconds and then imagine that that was how one felt all the time. Her research is on a protein receptor that seems to protect against respiratory illness.
Third prize and $100 went to Nicholas Zelt who is doing a degree in Microbiology and Immunology, for his work on combatting a parasitic disease he described as sounding like a sneeze, Shistosomiasis, using a bacteria that sounds like a fish, salmonella. Shistosomiasis affects 300 million people in the majority world, which is 10 times the population of Canada.
The People's Choice award and $200 went to Laura-Joy Boulos who is studying in Neuroscience. Boulos was selected in a vote by people who were present at the event or watched it in a live stream, with more than 600 people casting a ballot. Boulos is studying addiction and the way opioids are processed by a small brain component called the Habenula. She also talked about the philosophical and psychological aspects of addition.
The MT180 Ma thèse en 180 secondes prize and 400$ went to Olivier Sulpis, who is studying in Earth and Planetary Sciences, for his work on the acidification of the oceans caused by climate change. Sulpis will represent McGill at the concours ACFAS Ma thèse en 180 secondes.
The Judging Panel for 3MT/MT180 was composed of Angelique Mannella, McGill's first ever VP of Innovation and Partnerships; Nicolas Cermakian, Professor of Psychiatry; Judith Ritter, journalist and writer; Marthe Kassouf, Adjunct Professor of Electrical and Computer Engineering; and Brad Tucker, Executive Director of Analysis, Planning and Budget. Points were awarded for comprehension and content, and engagement and communication.
The 3MT originated at the University of Queensland (UQ), in Australia, and has spread around the world including to most Canadian universities. The idea was inspired during a severe drought in the state of Queensland. To conserve water, people timed their showers using three-minute egg timers fixed to their bathroom walls. The then Dean of the UQ Graduate School, Emeritus Professor Alan Lawson, put two and two together and the idea for the 3MT competition was born.
View the competition by clicking on the thumbnail below