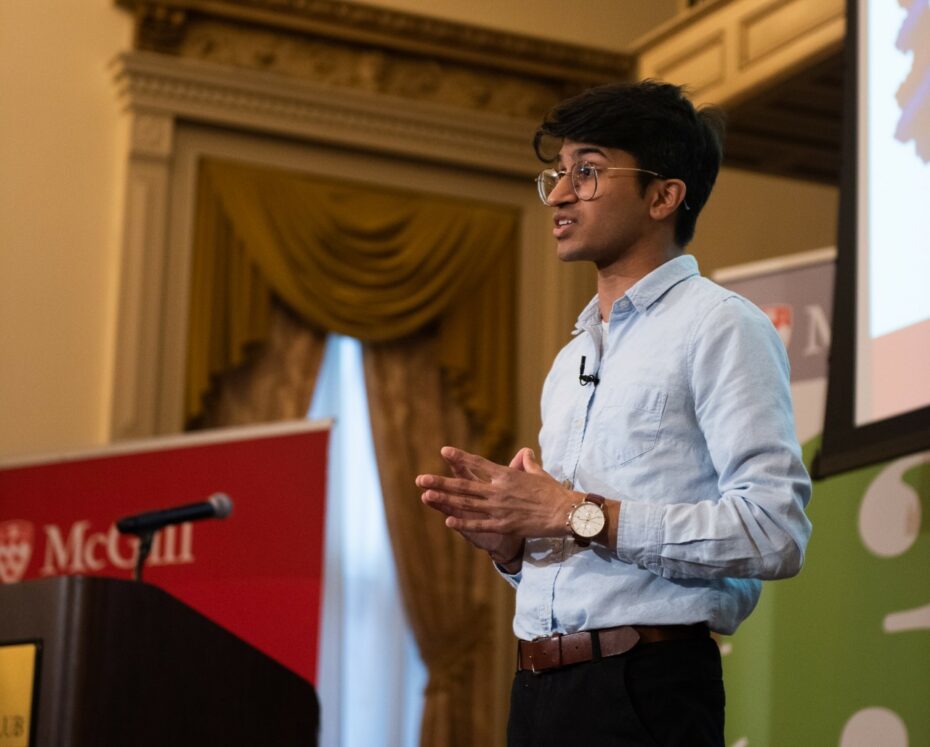 Originally founded in 2008 by the University of Queensland, the Three Minute Thesis (3MT) competition is hosted annually at McGill by SKILLSETS and Graduate and Postdoctoral Studies, where graduate students are challenged to present their research to a non-expect audience, using just one slide – all in under three minutes. The competition gets tougher each year as graduate students undergo a series of training and feedback sessions leading up to a final competition, allowing them to cultivate their presentation and communication skills.
Meet Shayne Gracious, a current PhD candidate in Chemistry and the reigning winner of McGill's 3MT competition whose winning presentation outlines his research designing photo responsive DNA nano materials. In addition to being the first-place winner of McGill's 2020 3MT, Shayne advanced to compete in the Canadian Association of Graduate Studies (CAGS) Eastern Regional, where he placed second, and with the National Association of Graduate Schools (NAGS) competition. As McGill's 2021 3MT final competition approaches on March 18, we had a chance to catch up with Shayne to talk about his experiences with the 3MT and the value of communications skills development.
Why did you decide to participate in 3MT?
Science communication is something that I think is very important. Just getting any experience to present your work is something that grad students have limited opportunities to do. You can present at conferences, but even then, you are sharing your work with people in your field who already know the terminology. So, it's completely new to market your idea to an audience that may not be as technically sound with some of the concepts you throw at them. That was something that appealed to me.
What was your experience like competing in the 3MT at McGill?
Definitely a great experience! I really enjoyed it, but it was also nerve wracking. It was interesting to see the different presentations and research from different backgrounds. It was nice to see what is going on throughout the university, in terms of research, and get a feel for all the progress that is happening.
McGill's 3MT took place on March 10, 2020 and was probably one of the last in-person events. How different was the experience competing virtually at the CAGS Eastern Regional and NAGS 3MTs?
It's a huge difference. Something I discussed with some of the people who help with training through SKILLSETS is that I use a lot of body language when I talk. That is kind of lost in the virtual experience. Another big difference I found is that there is more emphasis on the slide. I had heard from previous 3MT presenters that the slide is not that important, and someone even won with just a black slide – with no text or anything. Typically, when you are presenting live people will focus on you, whereas with the virtual competition I think people are really relying on that slide for a little bit more comprehension. The dialogue is just as important.
Can you describe how you prepared for the different 3MT competitions, and how that may have changed with the virtual presentations?
I went to a school for the arts when I was younger and was in a lot of plays throughout high school. I think that really helped me in terms of my preparation because I approached it the same way I would a monologue. The first aspect was writing the monologue itself; I had to be very careful to avoid using jargon or words that people would not be familiar with. After that, it was just constant rehearsal – going through and making sure it was smooth and the timing was right. Interestingly, the first couple of times I ran through it, I was at about five minutes. Then by practicing, I got to the point where it was under three minutes.
I also had visual cues for different words, for example, I would move my hands when referencing something for emphasis. But for the virtual presentation I could not do that; my hand gestures had to be within the frame of my camera, or I just cut them out completely. In retrospect for the virtual competition, I would have made my slide a little bit more comprehensive and detailed.
What skills did you gain from 3MT?
Presentation skills – it's always good to practice them; even if you think you're good, those skills can always be improved. Additionally, being able to describe scientific concepts to people who do not have a scientific background. I think that going forward, this will be a very important aspect of my career.
How are the skills that you have gained from the virtual competition relevant to the virtual world we now live in?
I think presenting virtually over Zoom is a whole different experience than presenting in person. Developing those skills is very important, especially now because I think virtual meetings are so common. Beyond this, virtual presentation skills can also be useful when collaborating with someone you can't meet with in person. 
Why is it important to communicate your research to the public?
Today there is a huge amount of misinformation, and some people will rely on that information. This has become even more apparent with the pandemic. I think this happens when researchers don't know how to convey their results to the public. If you are making an impact to research in your field, then you need to share those findings with society because that is where they are going to be implemented and make a difference. So, it is very important to develop those communication skills.
What would you tell other graduate students who are thinking about participating in 3MT?
Definitely do it. Regardless of how it turns out, you will get something out of it. The coaching that SKILLSETS offers is also a very nice aspect. I had a training session for the virtual conference, and that was where I realized what my strengths were because the coaches told me what I do very well, what needed improvement, and to focus on my strengths. That is something that you will get out of it, and you can use these skills for all your presentations to come.
What's next for you?
Right now, I am just going to complete my PhD. It is still early in my degree; I have a couple more years to finish. I am not quite sure what I want to do – so I guess we'll see!
Watch Shayne's award-winning Three Minute Thesis presentation at the CAGS Eastern Regionals.
RSVP for the upcoming 3MT final competition, happening March 18, from 3–5 pm.