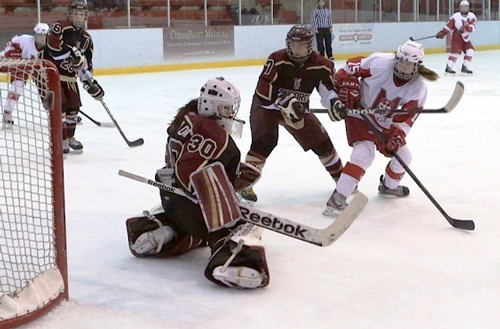 By Earl Zukerman
Two McGill forwards – sophomore Gabrielle Davidson of Pte. Claire, Que., and senior Katia Clement-Haydra of St. Bruno, Que., – were named along with defenceman Brittney Fouracres, a junior from Calgary.
Canada heads into the tournament as reigning two-time champion thanks to a 3-1 gold-medal win over host China in 2009 – when the sport made its Universiade debut – and a 4-1 victory against Finland in the 2011 championship final in Erzurum, Turkey.
Howie Draper, head coach of the University of Alberta Pandas since their inaugural CIS season in 1997-98, will be at the helm of the red and white squad in Trentino. He will be assisted behind the bench by Isabelle Leclaire from reigning CIS champion Montreal and Rachel Flanagan from Guelph.
Rounding out the team personnel are general manager Mike Kraichy from Hockey Alberta, athletic therapist Crissy McPhee from uOttawa and equipment manager Scott Cyr from Saskatchewan.
The roster heading to Italy is comprised of 20 standouts from each of the four CIS conferences, including seven from the RSEQ, six from OUA, five from Canada West and two from AUS. Not surprisingly, defending national champion Montreal and perennial powerhouse McGill lead the way with four and three selections, respectively.

"We chose a team that we feel will provide a high degree of speed and offensive power," said Draper, who has led Alberta to a record seven national titles since women's hockey was added to the CIS program 16 years ago. "We also wanted to ensure that the players coming would play the game with intelligence and skill at both ends of the ice. The group represents these qualities extremely well."
The Trentino tournament will once again be a six-team competition with Great Britain, the United States, Japan, Russia and Spain rounding out the draw.
Canada and Great Britain are the only countries to take part in the tourney for the third time. Japan participated in 2009 and the Americans in 2011.
The Canadians went 14-0 overall in their first two Universiade appearances, outscoring their opponents by a 97-10 margin in the process, including 51-3 two years ago.
The Canucks open this year's preliminary round on Dec. 10 against Spain and will then face Russia (Dec. 12), Great Britain (Dec. 13), the USA (Dec. 15) and Japan (Dec. 16). The semifinals are scheduled for Dec. 18, with the bronze and gold-medal games following on Dec. 20.
"We have high expectations for this group that culminate with capturing a gold medal obviously," Draper said. "It will be a priority for us to strive for growth in team efficiency with each game that we play. Along the way, we want to represent our country and CIS in a positive light while displaying the competitive drive and determination that has come to be synonymous with Canadian hockey players."